Pervcam, 3G & Encrypted Babe Channels
What follows is a blog, originally posted by @Babe_TV on their Tumblr account.  Their's was an incredibly detailed account and charted many of the events of Babestation going back a long time.  Unfortunately, it can no longer be accessed as the account has been deleted.  Luckily we have a number of posts and we will be posting them here and on babestation.tv in tribute to the work that was done.
Selling The Hard Stuff
If you take a look at Babestation's current night time output you'll sometimes see ads for what they describe as pervcam shows.
Babestation's Internet-based pervcam services are a kind of parallel world behind the gloss of TV, generally considered to show participating webcam models at their very most daring. On the evidence I've seen, I'd say that's a fair synopsis. If you want the hottest material, it's probably going to cost you, but equally, you're probably not going to forget it in a hurry.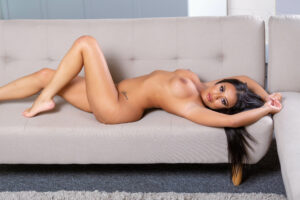 You can trace the marketing of this concept back through time on the Freeview channels to the latter part of 2008. Run back five years to the rise of Party Girls on Channel 46, and you enter an era in which cam facilities were a very big promotion on Freeview's first real sexual babeshow. Back then, however, it wasn't billed as a pervcam show – it was billed as the 3G service. The principle was much the same though. Whilst the 3G term related to Web-enabled phones, there was the alternative option of going online and following a 'Cam Chat' link. Users could opt to enable two-way video if they wished, or, at the other extreme, if they wanted to communicate with the model without her even hearing their voice, they could type messages to her instead.
The 3G service promo was a permanent fixture on the Party Girls screen surround, and would typically feature sporadic bouts of TV-compatible live streaming to a small video window through the first half of the night. But the show also ran walk-on promos, in which the night's featured 3G act(s) would appear in person on the Party Girls set to promote the service. Babestation (the channel behind Party Girls) had its own dedicated 3G girls in 2008 and early 2009. And in addition to the standard service featuring these lesser-known girls, the top Babestation channel babes and UK pornstars and models of the day would also perform 3G specials. Below, you can see some Freeview 3G promotion, Party Girls style…
When Babestation itself went to Freeview in May '09, it still had its own 3G girls, who continued to promote the service on the Freeview show. However, before the spring was through, Babestation's 'in-house' 3G operation was essentially shut down. Most of the specific 3G girls disappeared from Babestation at this point, and the top BS models began to cover 3G on rotation, in addition to the TV babe channels. You can see how a typical late spring 2009 live Babestation 3G promo would look in the illustration below. Most typically, full screen footage of the Freeview babe would continue uninterrupted, and the live 3G promo would appear in a video inset – although 3G promos could also run full screen.
There followed a short period in which Babestation relied on an overseas facility for its 3G service, said by the Babestation girls at the time to be based in Prague. But in mid July, Babestation started streaming a TV-compatible version of Sexstation to Freeview, in a small window onscreen. This was a stream which had already been featured on Sexstation's 'home' channel Partyland for some time.
When Babestation and Partyland fully merged at the end of summer, the Sexstation 3G girls became closely integrated with Babestation. Indeed, quite unlike the outcome with Babestation's previous 3G girls, the most popular Sexstation 3G models became very big Babestation names. Jada and Michelle Moist proved to be by far the greatest successes, although the likes of French Chloe, Cherry also got varying amounts of airtime on the BS Freeview channels.
But Jada, Michelle, and other former Sexstation TV girls such as Karina Currie were not only major names on Babestation Freeview by early 2010 – they were also earmarked to help drive forward a new project, which would be the missing link between the underground backwater of 3G, and the high profile cash machine of Babestation 1.
Going to air on the night of 14th to 15th April 2010, Babestaton Xtreme was an encrypted TV channel, whose USP was exclusive content showing Babestation girls in a more explicit light. It was similar to the 3G concept in that it played on viewers' desire for harder visuals than free-to-air television could offer, but the implementation was a lot more ambitious. For most of the encrypted channel's tenure, the pervcam services so heavily promoted in 2008 and 2009 took a back seat. In all honesty there was barely room to promote the main services during this period, let alone the peripherals, but the uptake on webcam services was always going to suffer with Xtreme on offer, so there would have been little point in trying to make a big deal of them.
Promos for the encrypted channel were far more intensive and powerful than the old 3G promos, and they were often presented by dedicated presenters who were not themselves involved in the encrypted content. There was a much greater do or die element to Babestation Xtreme. It wasn't something that could just sit there in the background – it cost money, and it had to pay for itself.
But Babestation Xtreme was not a universally popular idea – even among fans. There was a strong consensus in some quarters that the channel would drive out Babestation's best glamour models and established UK porn stars in their place. And some of Babestation's top glamour and webcam models did indeed depart around the time of the Xtreme launch. However, Babestation were very fortunate to have girls like Ree Petra, First Lady Dani O'Neal of course, and in particular, Camilla Jayne – the dream glamour star whose exclusive-to-Babestation journey into new, explicit territory was the real backbone of the channel through the rest of the year.
Initially, Xtreme only carried pre-recorded matter, but from the night of 28th to 29th May 2010 it began to feature 'Live Sex Shows'. Below, you can see Jada and Karina Currie on Babestation 1, promoting their live BS Xtreme show on that first night.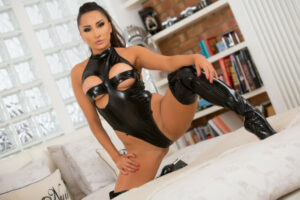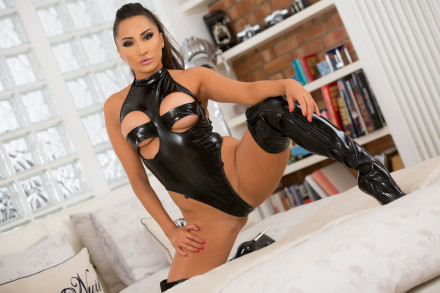 From the beginning of March 2011, Naked Babestation steadily began to replace the Live Sex Shows. Naked Babestation was as near as the encrypted channel got to duplicating the 3G service, bringing phonelines to BS Xtreme for the first time. It was basically just the straightforward Babestation phone sex chat service with more explicit visuals. Naked Babestation appeared to raise the babe channel's revenue prospects, but were the phone calls it attracted actually new business, or just a diversion of existing business?
That question seemed to have been answered by 2012, when Babestation Xtreme looked to be struggling. In the September of that year, Xtreme was reconstituted into Babestation X – the main novelty of which appeared to be an attempt to charge viewers for the kind of broadcasts they used to get for free. That was always going to be a tough one to pull off, and in July 2013 Babestation's encrypted channel closed down.
DEATH OF THE 'X' CHANNEL
The official explanation for the death of Babestation's encrypted TV channel was that the authorities were getting tough, and the organisation could not screen the kind of content it wanted or needed to. I suspect, however, that the real problems were commercial, and stemmed from one huge, fundamental flaw…
Whereas cam or 3G services escalated viewer spend, an encrypted TV channel potentially diminished it. The encrypted channel invaded the territory of Babestation's other core services, providing solutions, at a very low spend per head, that viewers would otherwise have had to pay much more to find. Who, for example, would spend £30+ eavesdropping on a dirty girl/girl telephone chat when they could pay a fiver and see the same girls having actual sex, with all the dirty talk thrown in? Who would spend £20 downloading photos to their phone when they could simply pay £5 and see everything they were looking for in the photos, but a lot more of it? This was the glaring problem with Babestation Xtreme. The channel migrated business from more expensive services, to a less expensive service. 3G had been doing the opposite.
Secondary flaws included the encrypted service's marketing, which interfered with the marketing of other key services on the free-to-air channels, and vice versa. The kind of promotion needed to really drive sales of the encrypted TV service to desired levels (taking into account the low revenue per head) could have ended up virtually obliterating Babestation 1. Meanwhile, the power-selling tactics used to promote the phonelines and photo downloads on BS1 (some even perhaps compensating for business lost to Xtreme) were almost certainly disengaging and losing the attention of the potential encrypted subscriber. Had Babestation's encrypted channel survived, it would have been a virtual miracle. That it continued for so long was a testament to Babestation's renowned tenacity.
Interestingly, in the latter stages of Babestation X (which subsequently became a Web show for a very short time), the channel was used as a sort of 'landing pad' to drive sales back towards the pervcam services. The wheel had come full circle.
[UPDATE – 02/11/2013: Freeview Channel 174 re-commenced transmission of Babestation X from midnight on 1st November 2013. At the time of this update the broadcasts feature pre-existing recorded matter only. There has been talk of a re-introduction of live content, but it's difficult to see how, in the light of history, success could be expected if the channel and its marketing infrastructure follows the same path as before.]