Amazonian Charlie is one of Babestation's hottest and tallest new recruits. You may remember seeing her feature in The Star last week and it looks like she's made headlines again with her breathtaking beauty and colossal height. Amazonian Charlie is a leggy 6ft 5ins tall and nearly 7ft in heels. Amazonian Charlie, whose real name is Charlie Mill, used to be extremely self conscious about her height but since joining the phone sex models and British pornstars on the  babeshows and starting an Onlyfans, Amazonian Charlie's confidence has skyrocketed.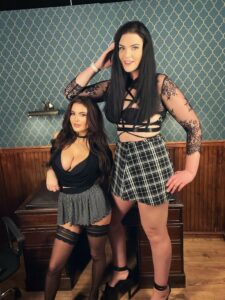 Speaking to the Daily Star, Amazonian Charlie explained how comical it can be to stand next to her co-workers. Charlie made her Babestation debut in February 2023 and she has already climbed to the top of the leaderboard as one of the most popular big tits cam girls. In the photo featured in the Daily Star, Amazonian Charlie can be seen standing next to fellow Babenation model Lucia Maria who is a petite 5ft 1 – that's nearly a 2ft height difference when Charlie is in heels. Charlie told the Star:
"It was very amusing! It is difficult to actually find somewhere that will accommodate my height and find somewhere we can make everything work. It was a lot of fun because she is a lot smaller than me and it is a running joke within Babestation that I pick everyone up. They are amusing pictures and they definitely show off the difference in height because if we were sat down you might not necessarily be able to see it. It's really nice to just celebrate it nowadays because I did have a hard time growing up and it did take a lot of getting used to because of the fact it was clearly something I had always hidden. But now it is something that is celebrated naturally and it makes me different to everyone else and that is a really nice feeling to have."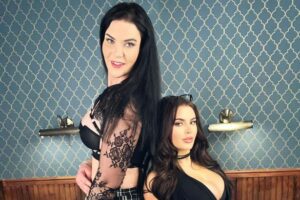 Charlie was first introduced to Babestation by a close friend who was working at the babe channel. She was apprehensive at first but after meeting the staff and some of the other models, she felt instantly at home. She now rakes in over £60,000 a month as a pervcam model on Babestation Cams and also by selling custom videos such as feet fetish vids on her leggybrunette Onlyfans. When asked if she's happy with her spicy new career, Charlie said:
"I am extremely happy. I wish I had done it sooner because the financial freedom that has occurred from doing it and the confidence is something you wouldn't necessarily understand unless you had that financial freedom. I know there is a lot of judgement around the profession and I believe that judgement comes from people who are uneducated in that area. So unless you actually understand what somebody does in that profession it is very difficult to comment or make an assumption. It wasn't even a difficult decision to join Babestation really. I have always been a very open minded person and I certainly don't judge people by their jobs."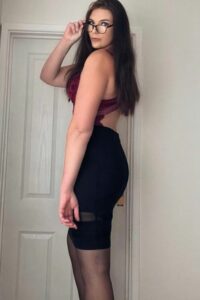 Once bullied for her height, Amazonian Charlie explained that she often receives negative comments from strangers but she knows how to handle it better now. She explained:
"I get a substantial amount of comments which I do find a little odd because if someone was really short you wouldn't go up to them and say 'oh my god you are so short' but people cross the road to come and tell me that I am tall. I am used to it now but it is a very strange thing to get accustomed to and I hear it all the time, things like 'what is the air like up there, is it different, I bet you are the first to know it rains, I bet you can see at concerts'… all those same jokes."
Unsurprisingly, Charlie isn't short of admirers. However, she revealed that despite getting a lot of male attention, there are some who are intimidated by her height:
"I have men who think it is absolutely amazing and the best thing since sliced bread and then I have those who find it intimidating to their male ego and they cannot possibly understand that a female is taller than them. It makes them feel insecure and those particular men turn a bit nasty which I've had in the past and isn't a pleasant thing to deal with."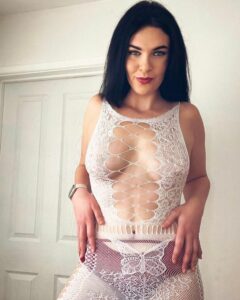 In another article by the Daily Star, Amazonian Charlie shared her woes when it comes to tanning. Amazonian Charlie posted a photo to instagram showing her peachy bum in a bikini as she was trying to catch some rays. However, the Sunbed wasn't quite long enough to fit Charlie's tall leggy figure, which left Charlie's sun kissed pins dangling off the edge of the Sunbed. Charlie laughed it off with the caption: "Someone make me a sun-lounger that would remotely fit me."
Fans were quick to point out Charlie's perky ass as well as her large feet. Charlie attracts a lot of callers who are aroused by foot worship and Charlie is more than happy to cater to a callers fetish needs. Why not register on babecall to enjoy a private cam session with Amazonian Charlie or call her on the babeshows for an adult phone chat.