What follows is a blog about Karina Currie, originally posted by @Babe_TV on 23rd September 2013 on their Tumblr account.  Their's was an incredibly detailed account and charted many of the events of Babestation going back a long time.  Unfortunately, it can no longer be accessed as the account has been deleted.  Luckily we have a number of posts and we will be posting them here and on babestation.tv in tribute to the work that was done.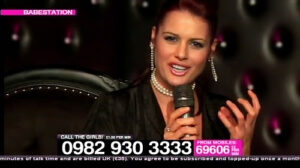 As the babe channels began to gain wider recognition across the UK, they increasingly attracted the attention not only of horny men, but also of women who channel-hopped onto Babestation and thought to themselves: "Hmm, I bet that pays well!". The notion of substantial remuneration, combined perhaps with perceived 'showbiz' exposure, and freedom from the drudgery and stress of a fifty-hour week in conventional work, has, I dare say, brought to the night shows numerous women whose interest was based purely on the potential life-benefits.
But the women who really paved the way for the terrestrial babe show boom didn't have to learn the craft from the ground up, with prompt sheets and a drip-feed of lines from guys behind the scenes. They were women who understood erotica, and who worried not about how far they might be expected to push things sexually, but about not being allowed to push things far enough.
Let's zip back a decade or so to the early days of Babestation's notorious parallel show, Babecast TV, where one of the then newfangled babe channels' brightest stars – Karina Currie – was translating her already considerable experience in modelling, erotica and adult movies, into televisual fantasy for Sky viewers. Karina had the three ingredients which time has established as the Holy Grail for babe channels: pin-up looks, engaging personality, and XXX-compatibility. Even today, that lethal combination of attributes is exceptionally difficult for the babe channels to source. Karina was a 'ready made' babe channel babe, who could cover all the bases, 'off the peg'. And she came with a great deal of integrity. She didn't need to play tricks.
Karina's association with the Freeview channels actually began through mainstream documentary television rather than babe shows. I remember seeing her in a late night Channel 5 programme in 2004, where she spoke about her adult movies. My abiding memory of it was hearing her say that when she watched the movies back she thought: "Is my chin too big?".

Above: Karina (or Kat, as she was known) on Channel 5, almost a decade ago. It was all about the chin, apparently.
But in the context of babe shows, Karina first got to know the Freeview audience as one of the original girls on Babecast's successor – Partyland, starting in March 2009. The series hit Freeview on the 20th of the month, and Karina first hosted the show two nights later, alongside Candy – subsequently known as Kandi Kay.
Karina Currie moved to Babestation in September 2009, when Babestation and Partyland were merged, and she became one of the Babestation sales presenters at the start of October 2010. The image at the head of this post comes from that phase of Karina's tenure with Babestation. The dedicated presenters were a controversial move, I know, but I loved the concept, and Karina in that role, with her offbeat style and trademark idiosyncrasy of talking in rhyme, really lifted a night and gave it a vibe.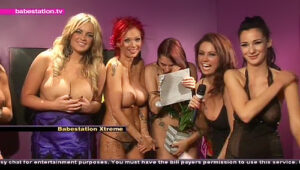 Unfortunately, Karina's days as a Babestation Freeview regular ended on 31st January 2011, and her unique way of entertaining has since been much missed on national TV. Karina held up well emotionally on her last night at Babestation, presenting stark naked pretty much throughout the show. But when the channels shut down mid flow so that all the girls could pounce on her with their best wishes, a card and a send-off, the tears did start to flow – as you can see in the pic above. And Karina wasn't the only one to shed a tear that night. In the photo, from left to right, are: Louise Porter, Camilla Jayne, Karina Currie, Kandi Kay. and Georgie Darby.
Karina Currie has done plenty since moving on from her role as a Babestation regular, but it would be nice to see her back on UK terrestrial screens. Not necessarily on a babe channel – just on TV. She makes you smile, and that's kind of what the telly's there for.