This blog comes from @babe_tv and details  the old school live babeshow, Partyland, as run from the old Sexstation studios and the progression of the babe channel after it became part of Babestation.
4th September 2009: After a period of babe swaps, Partyland fully merges with Babestation and moves into the Babestation studios. Initially, efforts are made to recreate the main Partyland bed set with hanging curtain backdrop, and the old graphics are basically retained but 'Babestationised'. For a few nights, the old Partyland wall sign is seen too. The first show after the move featured Caty Cole and Rachel Cole on split screen. The Partyland wall sign, detached and upended. The general look is very much in keeping with the original Partyland.
10th September 2009: Flo becomes the first babe to appear on both the Babestation and Partyland Freeview shows in the same night. It's a common occurrence forward from this date.
11th September 2009: Old Partyland's familiar hanging curtain backdrop disappears and the show starts to be shot against a plain, mid blue backdrop. I don't know whereabouts in the studio they were shooting these broadcasts, but the location may have been variable as some episodes look like a very tight squeeze and some appear to be shot through glass. Picture quality could be very unsharp too.
The morning of 17th September 2009, Dionne Mendez on her first Channel 50 appearance in what looked to be a pretty cramped setup. There also appeared to be subtle reflections between the camera and the girls at this time, perhaps indicating that the camera was placed on the other side of a window looking into a small space?
18th September 2009: Partyland becomes the only one of Babestation's night shows to retain a dedicated text display box on screen, after BS1, BS2 and Party Girls have their text boxes removed. Also on this night there's a one-off move into a room which is clearly not prescribed as a babeshow set. It has a red sofa and an orange wall with maps on it, and looks like a waiting room of some kind.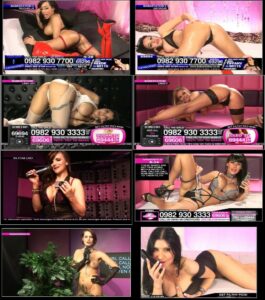 30th September 2009: As part of the Freeview channel changes, shifting adult content to higher numbered selections, Partyland moves off Channel 50 and onto Channel 97. Partyland also physically moves onto what was previously the Babestation 2 set (situated right beside the former main Party People night show couch). The previous mauve BS2 backdrop is replaced with Partyland's new mid blue backdrop. From this point, Partyland is able to use the Party People couch for presenting and text chat. This is particularly important as PL is now the last remaining text show. The displaced Babestation 2 is moved upstairs to the former 3G lounge alongside Babestation 1. The ensuing month will be the only period in which Babestation's Partyland recaptures the engagement factor of the original. On 1st to 2nd October 2009 – Rosie Lee's first night on the babeshows. She was introduced and flanked on her debut by original PL girls Karina Currie and Caty Cole. For some time after BS adopted Partyland, the show's original babes remained the most prevalent faces.
The Partyland pic download slideshows were quickly changed by Babestation from the old black Sexstation version to a mid blue Babestation version. The earliest Partyland pic promo of all – incredibly rare and very briefly preceding the Sexstation black slide.
Because Babestation girls were not featured on Partyland until shortly before the the studio move, black slides promoting BS girls (as opposed to Sexstation/Partyland girls) are not that common. Post-move black slides promoting BS girls who never took part in the August studio swaps are the rarest. Geri's black slide is a good example. Initially, Babestation's blue promos, implemented from around the end of September '09, were not babe-specific and scrolled through a range of girls' photos in quick succession. Dani O'Neal's pic is part of one of these early October '09 multi-babe scrolls. However, this was soon changed to a babe-specific version, styled just like the original Sexstation black promos, but blue. The shortcode for ordering pics was also changed.
27th October 2009: At the culmination of a major physical downsizing of all the Babestation night shows, the Partyland set moves upstairs alongside Babestation 2 and Babestation 1 in a three-in-a-row formation (running left to right in viewing terms, 1, 2, then PL). Roughly opposite to the new Partyland set is the room housing Babestation Xtra. Partyland will basically stay in this new location until it's replaced by Glamourchase in November 2010. However, a new "themed sets" policy implemented at this time means that the look and scenery will regularly be revised.
At this point Partyland also loses its text display facility as the brand new Babestation Xtra becomes Babestation's text chat show. Partyland's graphics block is simply collapsed down so that literally only the telephone numbers (landline, mobile and credit card) remain. Producers sometimes add a 3G promo box, and less often, a text-filled video inset.
18th November 2009: The Partyland graphics block is revised. The text is stretched vertically to make it as tall as it was before the 'collapsing', and a blue background is added. But other than that, nothing changes. The main graphics block still features only the cheap phone sex numbers, and most interestingly, it still retains the old-school Cellcast font styling.  Paige Tyler progressively became the face of Partyland in its Babestation days.  Paige came from the first night with the new graphics, with Lexi Ward with Stevie Ritchie. The set they're on was called the Pink Pleasure Palace.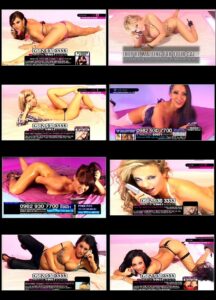 26th January 2010: Partyland's Channel 97 transmission is duplicated to Channel 99 during its normal Freeview broadcast period of 1am to 05:30. PL also gets an extra hour on Channel 99, from midnight to 1am, which is not seen on any other Freeview channel. Because this midnight hour is not restricted by Channel 97's 'softer' licence, it can and does screen stronger visual content, must surely be the Holy Grail for the Partyland 'trainspotter' – images from each of the only two Partyland episodes ever screened on Channel 99.  Partyland in its exclusive (non-Channel 97) midnight hour with Channel 99's red graphics. Day one's hour (26/1/10) featured Sammi J and Karina Currie. Day two's hour (27/1/10) also ran with a 2 for 1 – this time Paige Tyler and Dionne Mendez.
28th January 2010: After just two days the Channel 99 footage ends, but Channel 95 is given an hour of Partyland between midnight and 1am (again, a period not covered by any other Freeview channel). As with the same hour on Channel 99, the visual content is noticeably stronger than on Channel 97. The girls are allowed to get completely naked, snog, etc.
Candy Sexton with Ree Petra. This was Ree's first appearance on the Cellcast Freeview shows after a move from Bang Babes, the night being that of 9th to 10th February 2010. The two images underneath show Daryl Morgan and Kandi Kay at around five to one in the morning on 7th February 2010. The graphics were the same as those used on Babestation 2, and indeed the transmission was listed as Babestation 2 on the EPG. But the broadcast was always introduced as Partyland by the presenters, and it carried Partyland's 69069 mobile number. It also retained Partyland's distinctive background music. The main landline number was not the one used on either BS2 or Partyland's regular Freeview broadcasts.
11th February 2010: The midnight hour of Partyland is replaced with Babestation 2 footage on Channel 95, so there's no longer a 'harder' version of Partyland on Freeview. The programme is now once again exclusive to its restricted Channel 97 in the terrestrial domain.
Partyland seemed to struggle with finding an identity once it became 'just another Babestation show'. It no longer had exclusive babes, it had lost its text chat interest, and on Freeview it was still running on a more restrictive licence than other BS babe channels, making it harder to compete for audience against the more visually sexual output of BS1, BS2, and now also BS Xtra, which was en route to becoming a major phone sex show. One way in which PL marked itself out as different in winter 2010 was through roleplay outfits could be a big part of the performances, and there didn't necessarily need to be any nudity or toplessness at all.
27th February 2010: The very small graphics block with old-school font is replaced by a completely new design which has huge numbers and is almost double the size. This block will remain until the show is replaced in November 2010. This final style of graphics block is shown above, with Stevie Ritchie taking adult phone chat calls.
14th April 2010, the Freeview intro to Partyland, before the main graphics block has been added. Paige Tyler introduced Elise Evans on just her second night on the babeshows.
4th November 2010: Partyland loses its Freeview presence. This seems to have been due to one of the new TVX Freeview shows taking the available transmission share slot.
12th November 2010: Partyland returns to Freeview, but with a shorter broadcast duration, beginning at 3am rather than 1am. Tiffany Chambers is seen rocking up a latter phase Partyland show. Tiffany was one of the girls who spearheaded the 'Babestationisation' of Partyland in August 2009, afterwhich she left the BS babe channels entirely, not returning until late January 2010.
23rd November 2010: Partyland comes to an end, delivering its last broadcast, and being wrapped up by Dani O'Neal. Partyland was immediately replaced by Glamourchase, which in turn was replaced, in 2011, by Babestation Blue, which has survived until the time of writing. Freeview Channel 175, which currently shows BS Blue, traces right back through Channel 97 to the original Channel 50, which introduced Partyland as the first fully adult/topless babeshow to get a permanent broadcasting slot on Freeview, in March 2009. It's interesting to note that the 'Blue' brand denoted in the title of BS Blue extends right back to the very first days after Partyland moved in with Babestation in September 2009. It was only a colour coding then, but even as Partyland, it was kind of "Babestation Blue".