@babe_tv gives us more babe channel commentary, this time all about Bang Babes, with some choice memories and scenes from the Summer of 2010…
Four years is a long time in the world of babe channels, and this virtual rewind to 2010 and the much celebrated era of Tease Me TV (Freeview Channel 98) evokes another sense of what a high quality viewing experience the terrestrial night shows once were. Bang Babes, broadcasting from 3am on TMTV Freeview, would open with a memorable static slide which said: "GET READY…". I've added the actual slide below, but in the pic above, Jet Black is starting things off with her own version. (PIC UNAVAILABLE)
So, now you're ready (if not perhaps a little over-ready), let's get started with ten memories from what was to be the final summer of Bang Babes…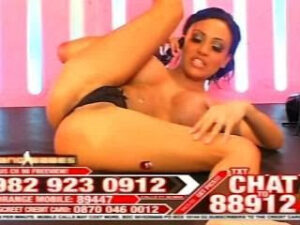 Annie Bullah was a screen-capper's dream during her time at Bang Babes. All her sequences were full of impactive poses and expressions. I'm tempted to say the image above is a typical example, but there wasn't really anything typical. All the sequences were different and quirky, but the 'model factor' was always a straight ten. There probably hasn't been a more intuitive embodiment of modelling on the babeshows than Annie at her best, and in summer 2010, Annie was so often at her best. It should also not be overlooked that the camera work on Bang Babes was routinely very sympathetic and professional. Some Freeview shows are virtually uncappable in 2014 – unless you're into faceless bodies and zoom blur.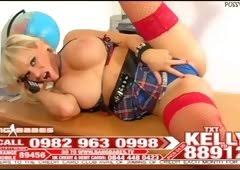 Jemma Jey was at Bang from autumn 2009 to summer 2010, very briefly transferring from nights to daytime shows Early Bird and The Pad before going on extended leave in the August. She intended to return to Bang Babes in April 2011, but Bang had gone out of business in the meantime, and as things turned out she returned to screen on Red Light Central from early March '11.
Megan Coxxx started to appear on Bang Babes in summer 2010, filling one of the vacancies left when Bluebird started up and took on a large number of models from across the range of babe channels. Either directly or indirectly, Bang notably lost Amanda Rendall, Lori Buckby and other well known names to Bluebird in mid 2010. But thanks to Megan and existing Bang Babes who stayed on (some of whom became more prominent on Freeview around this time), the channel comfortably retained its exciting vibe.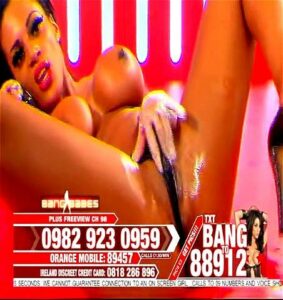 What an enduring memory Jet Black is, encapsulating all that was best about Bang Babes and night time babe channels in general. In Bang's Freeview period, Jet was semi-regular on Channel 98 from October to December 2009, then intensively employed over the Christmas and New Year period, and regularly until February 2010.
She wasn't then seen until May 2010, but only made one proper Freeview appearance, on the morning of the 8th. Her next Channel 98 show didn't come until late June, and once again, this return was very limited in nature, with just a couple of Freeview appearances. In late July 2010, However, Jet returned with a very striking new image – the long hair replaced with a very short style which was not only very different in the babeshow environment, but also very attractive. From there, Jet became a frontline regular on Bang Babes right through the summer and into the autumn, at which point Bang hit its fatal crisis.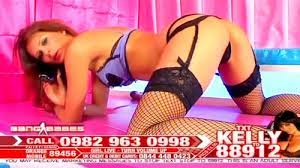 Adele Taylor was another Bang Babes regular who was familiar with Freeview audiences by this time. In fact, Adele appeared on the very first Bang Babes Freeview show back in October 2009. She was a much more subtle performer visually, but her extremely regular shifts suggested that this worked well for her, and she remained at the forefront of the Bang Babes Freeview roster until Ofcom wiped the show off the EPG in November 2010. After Bang Babes, her return to Freeview came in April 2011 with the arrival of Elite TV on Channel 192.
I don't know for sure why Jet's appearances on Bang Babes were so prone to interruption. There was some internal friction between certain girls, it seems, and Jet was considered by some fans to be volatile in nature. However, there was a half hour mic-left-on sequence in summer 2010 which suggested Bang Babes wasn't an easy experience for Jet. In the half hour section she received three separate warnings for visual mimes or poses – one, for example, for putting her fingers in her mouth. It seemed apparent from the warnings that she was allowed to do all of the actions on Sky, but supposedly not on Freeview, although most if not all of the mimes were regularly being used by other girls on Freeview 98, seemingly without challenge. One of the warnings was particularly aggressive – not something I'd envisage a lot of models tolerating. Nevertheless, Jet remained entirely calm, and didn't react apart from to stop the activities she was told to stop. She was also totally professional, friendly and charming with all callers.
I'm not saying there weren't other occasions on which she had diva moments, but when moments like that arise, viewers only see the reaction. They don't see or hear what provoked that reaction. Looking back at old Bang footage quickly shows that Jet was far from the only girl to apparently react adversely to things unseen or unheard. But in the interests of balance, it should of course also be recognised that at this time Bang Media was in massive trouble with Ofcom and some producers would have been feeling the pressure of that. And in the end, I don't think babeshows were Jet's ideal job anyway – from her own viewpoint. Shame though. Incredibly sexy girl with exceptional charm capabilities – not to mention her being one of the hottest performers on any TV babe channel.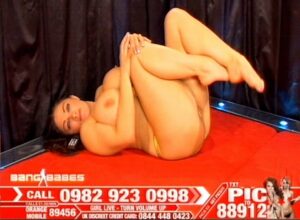 Cathy Barry stepped into TMTV's Freeview arena from February 2010 and featured regularly on Bang Babes for the rest of its tenure on Channel 98 – until the November. She'd actually appeared on the Babestation-run show Party Girls as a one-off guest (co-hosting with Dani O'Neal) in February 2009, and could be spotted around the Bang studios by eagle-eyed Channel 98 viewers late the same year. But by summer 2010, Cathy was as familiar to the Freeview audience as any Bang Babe. She subsequently went on to be the public spearhead of Red Light Central's new dawn after the collapse of Bang Babes.
Those who keep a regular eye on this blog will probably have wondered how I managed to get through almost an entire post about Bang Babes Freeview without any allusion to the luscious-lipped one herself. Well, wonder no longer, because here's Miss Duke at the Bang Babes blackboard drawing euphemistic bananas, cherries and other suggestive fruits. Great days.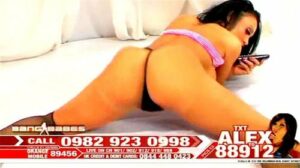 Oh go on then… A little more of the babe you couldn't make look bad.