Sunday 22nd March 2009, just after 1am, Freeview Channel 50. The brand new babeshow Partyland is enjoying its very first weekend on air. Hosts Karina and Candy – both essentially new faces to the now rapidly growing terrestrial babeshow audience – introduce themselves, engage in a short text chat session, and then pitch straight into a 2 for 1 call section. What viewers know, is that Candy is from Liverpool, she's an on-the-ball, upbeat presenter, and she has a letter 'L' tattoo – standing not for Liverpool, but for Leo, her star sign. What they don't know, is that she will subsequently become Kandi Kay, a babeshow 'superbabe' with a huge following and one of the best recognised names in the business. The opening pic (above) recalls Kandi as Candy, on her first Freeview babeshow – Partyland, 22nd March 2009.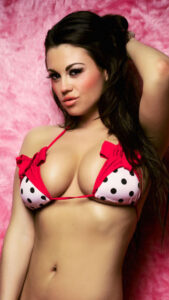 Candy disappeared from Partyland in July 2009, last featuring on the 15th of the month. Five months later, however, news of her return to the shows was leaked by Geri on BS Xtra, and duly, on the night of 19th to 20th December, Candy re-entered the arena of high profile babe channels. This time, though, she was a Babestation girl, and she was no longer Candy, but Kandi.
The change of spelling was almost certainly due to the existing presence of Candy Sexton on the same set of shows, and the confusion it would have caused having a duplicate name in the peripheral sales system. It was awkward for Kandi initially, as her spelling was the unusual one, and it constantly needed to be suffixed by "with a K". This in fact continued until 9th November 2010, when Kandi (with a K) finally became Kandi Kay, but in the long term the memorable spelling has proved to be a great decision. It's become her personal brand.
As the first ever fully adult and topless Freeview babeshow broadcast on a UK licence, the original Partyland show had placed heavy limitations on all the models. But by the time Kandi arrived at Babestation at the end of 2009, a lot had changed, and the girls had much more freedom to play up to viewers' fantasies. Kandi pretty instantly became one of the most powerful, edge-of-the-rules performers on Babestation – particularly in two-girl sections.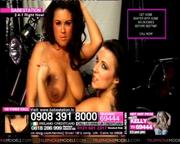 Most fans will remember the many joint performances Kandi did on Freeview with models such as Tiffany Chambers, Dionne Mendez, and in particular, her former Babecast and Partyland colleague Daryl Morgan. Kandi seemed to bring out a side you didn't normally see in a number of girls, but this was particularly noticeable with Daryl. Kandi's 2 for 1s at Babestation could reach beyond adult entertainment. There was a sense of chemistry, and a sense of reality. Even for the most cynical fan it was an explosive experience. Some of the sequences were less "Babestation" and more "art movie" in terms of their sensuality, and as you can see in the Freeview 94 compilation above, Kandi and Daryl did not hold back.
But change was afoot at Babestation, with the channel slowly refocusing its composition away from wall-to-wall 'superbabes', and onto what would really just be a very small nucleus of 'superbabes', heavily augmented by lower profile girls, 'apprentices', newcomers, niche models, etc. The transition came to a head in early 2012, with a mass exodus of well known names, and what could only be seen as the hinge of a turning point for Babestation. Costs would be cut, but so would the channel's status with fans. Kandi left at the end of January 2012 and moved to Playboy TV along with Ella Jolie and Ree Petra – Ava Blue soon to follow too. The list of exits also included an array of other big names, and even some of the premium babes who stayed at BS publicly expressed disillusionment or started to approach alternative employers – no matter how loyal they'd been in the past.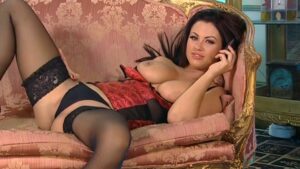 Fortunately, Playboy TV Chat had recently gone live on Freeview when Kandi Kay joined, so the terrestrial audience could continue to catch some of her shows. However, the nature of PBTV (particularly in that it only had one FV channel with a basic, one-girl-per-night policy) meant that finding Kandi on TV wasn't as easy at it had been previously for the majority of viewers. Above, however, there's a reminder of Kandi's Playboy TV Chat Freeview era (circa 2012), and below, another memory from the time with Kandi in a Playboy naked bath scene…
Kandi Kay remained with Playboy/RLC until summer 2014, before moving to S66 from mid July. As I mentioned, Kandi has built a very big fanbase during her years in babe TV, and these days she's the kind of model who can probably do more for a channel's publicity than it can do for hers. It's often the case, amid the world of high glamour the girls occupy, that their non-physical strengths get overlooked. But a 'superbabe' is never built on looks alone. It takes a natural entertainer, a very daring nature and a lot of hard work. Only by creating memories can you come to be remembered.