Whilst there's no sign of them at the time of writing (March 2014), and hasn't been for a very long time, bath scenes have not been as uncommon as you might imagine on a terrestrial babeshow.
The Babestation night time live babeshows used a bath from late October 2009 when they dumped their traditional, generic beds and for some time went for themed sets across the board. Babestation's bath was used for Freeview sections with decreasing regularity until April 2010, after which it was used in some Freeview pic promos that summer. Bang Babes also began using a bath on their Freeview shows from March 2010. The last of the Freeview babeshows to use a bath to date has been Playboy TV Chat, (a.k.a, Red Light Central) which went to terrestrial screens in December 2011 and brought a number of bath scenes to Channel 194/99 in 2012.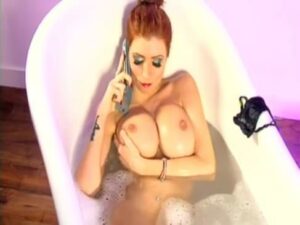 The main focus of this post, however, is Studio 66, (then called Elite TV)'s bath set, which appeared on Freeview during the course of the show's run on Channel 192 between April 2011 and January 2012, but saw particularly intensive use during September and the autumn of 2011. Above is a pic of Lilly Roma in the Elite/S66 bath. Like all the images, this capture is from a Freeview show. The lack of sales graphics on the screen is a tell tale sign that the pic comes from the beginning of a Channel 192 broadcast. Elite would normally run a minute or two of 'clear' footage after the channel went to air, before introducing the telephone numbers and promos.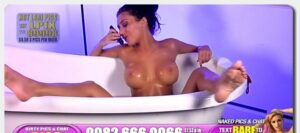 Above: The style of presentation would depend on the model, but in general, Elite's bath scenes were more sensual and laid back than those on Babestation or Bang Babes. In total contradiction of that, however, is this pic of Lori Buckby in the bath on Elite TV, (Studio 66 TV). Lori adopted a very different approach from Lilly's, replacing the elegant eroticism with an explosive and dynamic energy. By this time in September 2011 it was extremely difficult to believe that three years earlier Lori was the innocent face of Channel 46, presenting the programming schedule on daytime TV.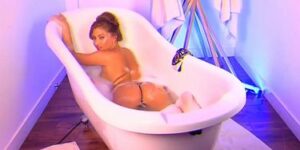 And in the final image (above), Gracie Lewis is captured epitomising the girl next door look. Like all the girls in this post, Gracie had worked on the Babestation babe channels before moving to Elite. But whilst Lori's style was much more 'Babestation', Gracie's was very much out of the classic Elite TV mould.