On the night of 27th to 28th October 2009, Babestation Xtra (or BS Xtra) made it's debut  replacing the short-lived Party Girls 'revival' on Freeview Channel 96. The initial plan with BS Xtra was to run the babe channel purely as a sales hub, with the telephone number on screen accessing Babestation 1 (on Option 1), Babestation 2 (on Option 2), and Partyland (on Option 3) – but providing viewers with no access to the presenters on BS Xtra at all.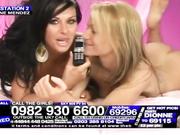 Viewers would see each of the other three Babestation channels on BS Xtra, streamed to picture in picture inserts, whilst the presenter(s) responded to viewer texts and provided promotion for the other shows. Through the night, all of the performing models from the other babe channels would pop onto the BS Xtra sofa for a chat with the main presenter, allowing viewers to get to know them. Importantly, this would keep the bulk of the marketing off the call channels.
BS Xtra's original design, circa October 2009, would open with no graphics except the video insets.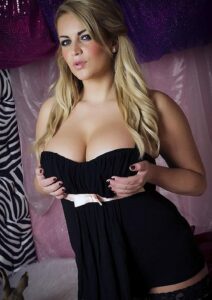 At the time, Babestation were heavily into themed sets and were not typically using standard babe channel 'beds'. Some memories of this time include, former Red Light Central and Xpanded babe, Dionne Mendez on a motorbike, and Louise Porter in a bath. One interesting thing about the streaming feeds was that they were entirely immune to graphics intervention, so when set/scene changes were made, rather than seeing a slideshow, viewers would see a couple of blokes walk on and move the props and mats around.
But this original format lasted just a week, before the picture in picture video inserts were removed, BS Xtra got its own phonesex line, and Babestation introduced two dedicated voice-over presenters (Jodie and Geri) to 'sell' the other live babeshows from behind the scenes.
Babestation did try re-dedicating BS Xtra as a text-only show in the second half of November '09, putting Jodie and Geri back on screen to essentially front the channel. But through the next few months BS Xtra steadily detached itself from text chat and all-night mic ups, as it morphed into another typical Babestation adult phone chat babe channel. They began to experiment with removing the sofa at the beginning of April 2010, and a week into the following month, the set was fully re-designed around a generic Babestation 'bed'.
First Night of BS Xtra
Memories from BS Xtra's very first night include Louise Porter, Stevie-Lou Ritchie and Paige Tyler introducing the brand new show to Freeview, then Charlie C, then the hands of Rosie Lee and Ella Jolie resting on Stevie's rear, and finally, Yvette Merriman with Alex Adams. One great piece of trivia from this show was that Tiffany Chambers, who was working on Elite TV, (now known at Studio 66 TV or S66) after leaving BS at the end of August, texted BS Xtra as a viewer to say she loved the show, and that it reminded her of the way Babestation was when she first started. There was indeed a striking similarity between the initial BS Xtra screen design with its three video insets, and the main Babestation screen design circa 2004.

BS Xtra was certainly a lot of fun in 2009. Probably the most interesting facet of terrestrial babe channel history after Party Girls (Channel 46) and 'Old' Partyland.
There's a lot more about the early history of BS Xtra (2009), in Babeshows Memories: Rare and Unusual. And don't forget about the BS Xtra Retrospective post, which covers the final stage of the transition from the original text show to a cheap phone sex chat show.