An old blog, dug up from @Babe_TV's now defunct Tumblr account.  Some of the pics they allude to may not exist anymore but we hope you'll get a twinge of nostalgia for the old days of Babestation and the old babeshows.
MISTRESS YVETTE ON THE CHAT'S DAYTIME SET
What a fabulously striking image to open the post. It's Mistress Yvette introducing a hardcore Party Girls domination section, but most unusually, on the set of daytime show The Chat. The Chat was situated right beside Party Girls in the same studio, but this is the only time I'm aware of when Party Girls actually invaded the daytime set, with its distinctive white, as opposed to black background, for live transmission. I think Party Girls did subsequently borrow The Chat's 3G desk for a night when it first arrived, but they only used it on their own set.
Even though Yvette is in a crushingly tough mood and clearly dressed and minded to intimidate in this pic, she looks very attractive. I've always loved facial close-ups from the babe channels, but, even though I'm not exactly sure why, the appeal of this one is, for me, hard to beat. On this night (20th to 21st January 2009), Yvette and Dani O'Neal broke the Party Girls record for text requests sent to the show by viewers. As far as I'm aware, the record was never beaten. There's more domination and more of Yvette in the Babeshow Mistresses post.
REEDE IN SEXSTATION'S ARCHAIC LIFT ON PARTYLAND
The positively ancient lift at the old Sexstation studios was extensively used for shooting download photographs of the Partyland babes, but I waited a long time to get a recording of an actual live section shot in there. The opportunity finally came just over three months into the Partyland series on a very warm but wet Friday 26th June 2009, and as far as I know this was the only time the setting was used on Freeview. They started by shooting the approach and entry to the lift, which in itself was fascinating. The model was of course Reede Fox, and what an aesthetic explosion the sequence was, with an amazingly dark and Gothic atmosphere that perfectly suited Reede's image.
EARLY BS XTRA RARITIES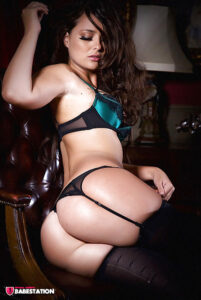 The main pic above is another featuring Yvette (left), but this time she's with Paige Tyler on an early episode of BS Xtra. What's unusual about this? Well, if you only watch babeshows it might take you a little while to notice. But if you actually call them you'll know straight away. That's the clue… Yes, the main pic comes from the extremely short period during which BS Xtra had no telephone number. I've covered the very first BS Xtra broadcasts aleady, but I haven't yet properly documented the 're-launched' version of the text only show which is depicted here. This was the only babeshow broadcast on Freeview to deliberately omit a telephone number from the graphics throughout the whole programme.
To clarify the history (brace yourself), the original, text only version of BS Xtra lasted just seven nights, from 27-28 Oct '09 to 2-3 Nov '09. The original show (depicted for reference beneath the main image on the left) did have a phone number on screen, but the number only accessed the other three BS babe channels (all streamed live to insets on the right of the screen), via options 1, 2 or 3. The 'unusual' factor in the small pic bottom left is provided by the two BS producers shifting a motorbike in the first inset, whilst Reede Fox presents. These normally concealed sequences were seen by viewers because the changeover slideshows could not be implemented on the mini streams.
The second version of BS Xtra (shown for reference beneath the main pic, on the right) was essentially a standard phone chat night show with a small amount of text chat added in. The second version thus did have a direct contact number, and it too lasted just a week, until 9-10 Nov. The small pic of Geri on this babeshow is also unusual, as Geri was at this time a backstage voice over presenter and had only gone onscreen to take calls as a one-off due to a chronic staff shortage. The phone number in use here is different from that in the original version – it's actually the one which had previously been used on the Party Girls revival show.
Then, on the night of 10th to 11th November 2009, BS Xtra Mk.III was launched. That's the version in the main pic above. Whilst, like the original version of the show, Mk.III was text only, it didn't feature any telephone contact number, and instead it just said TEXT THE SHOW! where the number would have been positioned in the graphics. Note also that on the right of the screen, the original show's BS1, BS2 and Partyland live streaming insets have been replaced by one live overseas 3G stream, and regular BS adverts from the time. BS Xtra Mk.III lasted a whopping three weeks until 1st December 2009, at which point the direct phone number was re-introduced and the show moved into a four-month phase during which texting was progressively eliminated.
Even within the basic versions Mk.1, Mk.II and Mk.III there were subdivisions with small updates to the graphics. Mk.IV (1st to 2nd December 2009) is seen above left – looking different again, with Dionne Mendez and Alex Adams presenting, and a full-sidebar messaging promo on the right of the screen. This design was updated after literally one night! The following night's show (2nd to 3rd December) is seen above right. The calls-and-presenting-on-the-same-couch situation went on until around Christmas 2009 (producing some hilarious moments), after which Xtra became much more of a regular phone chat show, often naked or girl on girl. The screen design had, by then, settled into something looking very much like Mk.II, with a pop-up text box in the graphics for use as and when.
DIONNE HANGS A BRA ON HER NIPPLES
(PIC UNAVAILABLE)
Just so no one overdoses on the historical nerd facts, here's a rather more obvious unusual pic. Dionne Mendez, on Bang Babes in 2010, using her nipples as an impromptu bra-hanger.
MISCELLANEOUS MOMENTS OF NOTE
With the length of the post in danger of spiralling out of control, here's a compilation of quickies… Top left: Jemma Buckley presenting Channel 37's 'dating' ad, which appeared regularly in the Party People interval at around 05:29 during the late noughties. The choice of Jemma B for this ad was interesting as she wasn't a babeshow babe – she was a presenter on Cellcast's 'psychic' programmes. Top right: Bambi flashing her legs beside Charlie McDonagh on The Chat. The Chat protested that it wasn't a babeshow, but there were regular moments of surreptitious sexuality. Examples as blatant as this were unusual though. Bottom left: Freeview sections shot in a toilet have, unsurprisingly, been most uncommon. This rare example, from the Party Girls revival series, features Lori Buckby. Bottom right: one of the old New Year party scenes, with all the shows shut down and all the night's Babestation girls on screen together. It's midnight 2009-2010 and the girls are: Camilla Jayne, Dionne Mendez, Paige Tyler, Reede Fox, Dani O'Neal, VO girl Jodie Cox, and Daryl Morgan.
ASIAN CONNECTIONS ON FREEVIEW
Asian Connections is unusual in that it's broadcast on terrestrial UK television, but not transmitted from the UK. It's a real Asian programme, transmitted from Thailand and featuring genuine Asian babes. It went live on Freeview from April 2014, staggered across two channels, as follows…
Channel 176 (Blue): 04:00 to 05:00
Channel 177 (Babestation): 05:00 to 06:00.
Despite some of Asian Connections' Freeview transmission falling into night show hours in the UK, this period is the middle of the day in the show's home country, and the content is strictly daytime compatible. That includes the phone conversation and the 'text chat'. In the pic above, you can see Anne (left) and Nadia, on 19th April 2014 – shortly after the series went live on Freeview. [UPDATE, October 2014: As part of a full graphics makeover, the original terms have now been substiituted for non-specific terms, which no longer stress that the chat is 'daytime' only. Accordingly, I can no longer say what the status of the chat is. "Live From Thailand" has also been removed from the screen display.]