Who doesn't love a MILF?! There is just something undeniably sexy and appealing about a sexually liberated experienced older woman who is confident in her own skin. Milf porn also happens to be one of the most searched genres in the world, bringing in billions of hits worldwide on tube sites such as Pornhub and Spankbang. When I think about mom i'd like to fuck, I often think about the queen bee, Jennifer Coolidge AKA Stifler's mom. No one can forget seeing her in American Pie wearing a lilac dress, cooly smoking a cigarette and asking in a husky sultry voice, "Are you lost?"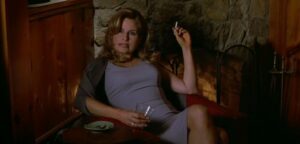 Smoking hot milfs became a staple of every teen boys fantasy after American Pie hit movie theatres, but did you know, Stifler's mom went the original movie milf. That title goes to Mrs. Robinson, who was the star of the the 1967 flick, The Graduate. However, it was Jennifer Coolidge's character that really catapulted the modern stereotype – big tits, curvy figure, tousled hair and a confident sexual prowess. Since then, MILF successors have come into mainstream media thick and fast over the last 15 years – Stacey's Mom, for example. Everyone remembers Rachel Hunter playing the hot blonde milf in the music video for Fountains of Wayne's hit single. Let's not forget Jane Seymour in Wedding Crashers, talking about her tits to Owen Wilson's character, and lastly, the delectable Liz Hurley, Socialite and undeniable hottie.
Now on to the fun side of the genre – porn!!!!  According to Pornhub, "MILF" and "stepmom" are the two most popular search terms. Sexual psychologist Justin Lehmiller says that 88% of straight men have had fantasies about fucking a MILF. He reckons it could be because MILFs exude confidence and portray a more dominant position. Lots of guys fantasise about being submissive to a commanding and experienced cougar and MILF. What could be better than that?!
Here are some of the sexiest MILF's appearing on Babestation. Amber Slutty Milf, Chantel Lane– (Who you will also know from Studio 66) and Lynda Leigh – (Who also appeared on Red Light Central).
These babes know how to get you off and give you the ultimate 1-2-1 experience on cam or the babeshows. Treat yourself to a hardcore XXX private cam show today.
Join any of these babes on their next BSCams show or Pervcam show by registering for Babecall