Nude and topless model Preeti Young is an absolute icon in the glamour and live babeshow world and she has been entertaining viewers with her big tits, XXX lesbian porn videos and phonesex skills for well over a decade. If you cast your mind back to the summer of 2010 you'll know that that summer was the very first time Preeti made her debut appearance on Babestation, or any babeshow for that matter along with her twin sister Priya Young. At the time nobody could have foreseen the impact Preeti and Priya would have on the UK babe channels but fast forward to more than a decade later and Preeti is one of the most popular models in the softcore UK porn and glamour industry.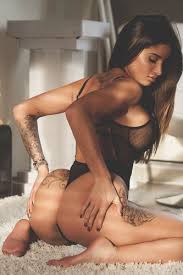 Brunette with a curvy figure and enhanced big tits, Preeti is a stunning model of Indian and Irish heritage. In the early days of working in the babeshows, Preeti had a majority of the shifts over her sister Priya Young, which mostly consisted of themed phone sections on Babestation's sister show Partyland, which was the lesser-known Freeview channel at that time. It wasn't long before twin Preeti started pulling in lots of calls owing to her sultry come to bed eyes, wild sex positions and erotic JOI sex chat. She then progressed to the more popular channels, Babestation 1 and Babestation Xtra before becoming a contract girl and regular fixture across all of Babestation's products including BSX and Pervcam where she could be seen teasing viewers with her pussy and masturbating with a dildo.
Individually Preeti and Priya are incredibly successful models and Instagram / Twitter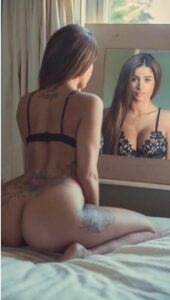 influencers but together they are the ultimate powerhouse of success. As well as having vids and clips on Pornhub and the babestationtube site, the girls are also content creators, actresses and webcam models. Preeti has also appeared on other babeshows including Studio 66 and Playboy TV. The Young twins have even appeared in mainstream TV shows, including My Mum's Hotter Than Me on Channel 5, which featured Preeti and Priya's smoking hot milf mum who went on to describe the family as the 'Kardashian's of the UK'. After the episode aired, the hot twins were splashed all over the tabloids and they received many front page spreads. They also starred in a short film titled Hello Stranger.
To chat to Preeti about all of your wildest fantasies, call her on Babestation or head to her private cam room for XXX action and pussy play. She has experience in all aspects of dirty talk, including JOI, bondage, spanking, domination, dildo blowjob, oiled up tits and MORE!!! Check out Preeti's naked pics and vids in the VIP members area.