This blog about Amanda Rendall was first posted by @Babe_TV on Tumbler on the 11th February 2014, today lovingly re-published for your reading pleasure.
Amanda Rendall has crammed every possible desire of a live babeshow fan into a 5ft package (source: Amanda), or a 4ft 11 package (source: Dani O'Neal) – depending on who you choose to believe. The A-Bomb, as she's been known since back in the noughties, has most commonly been associated with explosively sexual performances of the kind that leave audiences open-mouthed. She's the superfit glamour girl who's taken the babeshows by the scruff of the neck, pushed a stick of dynamite firmly up Ofcom's rear entrance, and lit the fuse – on a regular basis.
But that ignores so much about Amanda, and in this post I want to look beyond the sex symbol, at the presenter, the athlete and the glamour model. But most of all, I want to look at the girl who's fought for the good of her fans… Who's fought at her own expense to put on the kind of shows they wanted to see.
AMANDA THE WARRIOR
This element of Amanda's personality is often misunderstood, but from those who get it, it brings her the ultimate respect. There's only a very limited number of models whose performances on the babe channels have been for the fans rather than the bosses. This type of character has largely been stifled out of the picture by a combination of factors including Teleshopping conditions (enforcing stricter controls), cuts and closures across the industry, and commercial evolution which has forced channels with big audiences to look beyond straightforward interactivity as a means of monetising the shows.
I've looked at some of the real fan-pleasers on this site already, but it should be stressed that Amanda isn't just among them – she stands at the forefront of the group. She's never looked happy on the babe channels unless her fans are happy, and when she's been unable to give them what they want, it's genuinely seemed to upset her.
She does have some extremely dedicated fans as a result of that, but a lot of people still don't seem to get how committed she's been to giving babe channel customers the time of their lives, and how she was prepared to (and did) sacrifice her own progress on principle if necessary. It wasn't just about providing the hottest content either – Amanda has rebelled against short-termist policies and tactics on the channels, regardless of the personal consequences. The stuff that wasn't good for the fans, wasn't good for Amanda, and it certainly appears she made that blatantly clear to those who've wanted her to compromise.
Amanda Rendall also of course rebelled against what she saw as over-cautious moderation. Above you can see her with Jemma Jey during the twosome's infamous Bang Babes rampage of 15th November 2009.
Some babeshow fans have said Amanda was wrong to take the rules into her own hands, but in the end, you can't make an omelette without breaking eggs. Look at anything successful, and it's never born out of blandness and caution. Success is driven by risk-taking, and in truth, if the channels had felt that Amanda was not a risk worth taking, they wouldn't have kept giving her the airtime.
There's arisen a retrospective notion that Bang Babes suspended Amanda after the regulator picked up on a series of transgressions during the infamous November '09 show. That makes it look like the channel took a zero-tolerance line with a rogue performer. But if you look back at the actual lineups for the period, there was no real break in her appearances except for a week or so's holiday she took in February 2010. Bang Babes may not have condoned every move Amanda made on set, but they wouldn't strike her off the schedule. She was babe TV gold.
THE ATHLETE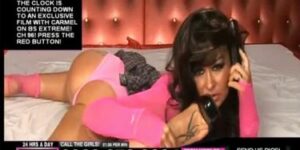 If you've ever seen Amanda pole dance or backflip on the TV channels you'll know that when people refer to her former life as an athlete, they're using the term in its truest sense. Amanda's athletic abilities can really take you by surprise when you first encounter them. Maybe that's because she's never blown her own trumpet, and you don't expect to see a series of professional backflip somersaults with inch-perfect landings from a glamour model, on a babe channel.
Amanda has been asked to do 'the crab' many times, and in the pic above top left she's posed in a slightly amended naked version on Babestation on 3rd March 2011. Her pole routine, depicted above top right, comes from Babestation 1 on 17th September 2009, and was a fantastic display of talent executed with typical mastery and nonchalance. The backflip sequence, from a Bang Babes show on 21st March 2010, is almost impossible to do justice with captures. The sequence is so small because at full size the level of motion blur is overwhelming. You get the idea though, I'm sure.
THE PRESENTER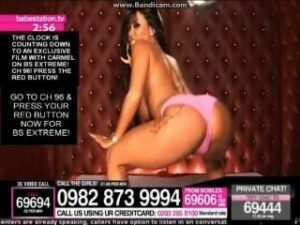 The image above shows Amanda introducing Charlie Monaco at the start of the Bang Babes Freeview show on Tease Me TV (Channel 98), 8th January 2010. Amanda has been a much better presenter on the TV channels than she's been given credit for, and she certainly brought an extra dimension to Bang Babes with her humorous and often unexpected musings.
She was really the first girl to engage passive Freeviewers on Bang Babes and 'chat viewers up' on the mic rather than using standard sales pitches. She had an advantage over some girls in that the terrestrial audience knew her from Babestation, but she still communicated in a way no one else did. Very natural and often funny. Anyone who can pick up a mic on a babeshow, and introduce herself with a rendition of the song All By Myself, followed, in a sweet, innocent voice, by the statement: "Tonight Matthew, I'm gonna be a dirty ho…", should be awarded the babeshows' equivalent of an Emmy in my view.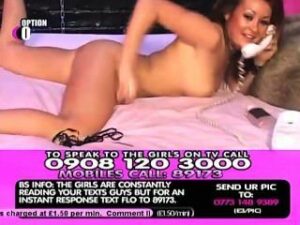 One of the reasons it's taken me so long to add a proper post about Amanda Rendall is that there were so many images I wanted to include and it's taken a while to gather the footage together. Above are some of the moments that stuck in my mind…
Clockwise from top left there's: 1) Amanda with what she described as her "wild hair", on Party Girls. She only made this one Party Girls appearance with the wild hair heavily highlighted to the point of being blonde – on the night of 27th to 28th February 2009. 2) With Constable Tiffany on Babestation shortly after rejoining. Amanda arrived back at BS in December 2010, having left for Bang Babes nearly 14 months earlier. She'd also worked at Bluebird in the interim, and technically, TVX, although TVX never managed to get her onto a show in the short time before she made arrangements to move on to Babestation. 3) On BS Xtra with Babestation luminaries Geri, Louise Porter and Preeti Young. And 4) Kicking ass on Bang Babes.
THE MODEL
So, she's everything I've talked about above. But let's not forget the glamour model status that really made her eligible for the babeshows in the first place. Since gaining such a presence on the babeshows, Amanda has never really pushed forward her glamour model status, but she is undeniably a very attractive and glamorous girl, and it's at this point that I return to the top of the post, for an image from her final Christmas on the Freeview babe channels. The date was 25th December 2011, and the channel was of course Babestation 1.
Amanda Rendall a.k.a. The A-Bomb has, since early 2010, been building up her own business with Shebang TV, and has taken periods of time away from the babeshows in the interim. But shortly after the original draft of this article was posted, she returned to Sky TV with RLC/PBTV. Sadly not at the time of this update a terrestrial channel, but it's always good to see Amanda maintaining a presence on television. Amanda has brought some of the most exciting moments of all time to the biggest babe channels in the business, and her place in babeshow history is forever assured.