Although it appeared on the EPG on 9th November 2009, Freeview Channel 99, the quirky babe channel that remains an interesting chapter in babe channel history stayed out of use for just over two months, before finally starting to carry an unusual duplicate of Babestation 2 between 04:00 and 05:30 each morning.
But this limited-hours usage lasted mere days, until the night of 20th to 21st January 2010, when Channel 99 gained importance, giving the Freeview audience a live babeshow between 10pm and midnight for the first time since Channel 46 went off air in March 2009. In the interim, no Freeview babe channel had started before midnight, and some had kicked off at 1am, or even as late as 3am.  Megan Moore kicked off Babestation 99 at 10pm on 30th January 2010. Whilst the broadcast went out as Babestation 99, or Babestation 2-99, it was simply Babestation 2, with modified graphics.
Between 21st January and 25th January inclusive, live footage on 99 finished at midnight, and an interesting selection of recorded movies would then be played on a loop through the rest of the night. The movies included interviews with the babestation models, photoshoot coverage, etc. Some of the footage was evidently pretty old even in early 2010.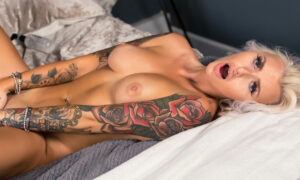 Some of the footage came from the old Sexstation studios, from where the original Partyland run had been broadcast before moving to the main Babestation studios in September 2009. Stevie is in the old building's retro lift, and Karina is outside the building, in the spot where some live Partyland Channel 50 call sessions were shot. The telephone number accessed offscreen call operators only…
From 26th January after midnight, live duplicate footage was restored to Channel 99. Babestation 2 remained on the channel from 10pm to midnight, but the duplicate footage (midnight to 05:30) now came from Partyland. Another big change from 11th to 12th February saw Channel 99 lose its first three hours of transmission, with the 10pm start moving to Babestation 1 – which was newly reallocated to Channel 96 (from Channel 94) that night. Channel 99 was now once again duplicating Babestation 2 – not Partyland. It would be impractical to go into the minor changes and switches, but suffice it to say that around this time the tinkering with feeds and broadcasting hours on Channel 99 was almost a nightly ritual.
The next major change was the inception of Live 99, from the night of 23rd/24th February, running for the whole of Channel 99's remaining transmission time, from 1am to 04:45. Live 99 was a Freeview screening of the Sky channel Live 960. It was a Cellcast show, but not a Babestation show, and it used entirely different models.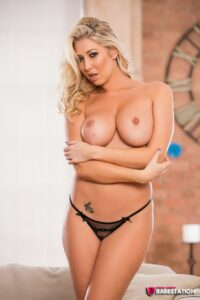 The basic concept with Live 99 seemed to be: save as much money as possible, often by employing just one model for the entire night, and screening duplicate footage of Partyland or recorded footage during her breaks… Then take the entire budget saved by employing only one model… and spend the whole lot on oil. The Live 99 girls were thus invariably drenched in oil from head to foot, and usually, virtually swimming round the studio on a plastic mat.  One of the higher budget shows in which two girls were employed (Tia Jones and Lexi Lowe in this instance), and in which the oil seemed, as a consequence, to be in much shorter supply than usual. In slightly more seriousness, whilst Freeview callers paid £1.50 per minute to use the phone service, Sky callers were charged £1…
On 13th April 2010, Live 99 was pulled from Freeview and Channel 99 reverted back to showing the duplicate Babestation 2 footage. The duplicate BS2 footage became unique BS2 footage a couple of nights later, when Babestation Xtreme wiped BS2 off its root Freeview channel. However, Babestation 2 was scrapped outright from the night of 11th to 12th May, clearing the way for Live 99 to return to Channel 99.
Live 99 was itself replaced on Channel 99 from 20th July 2010, by the niche premium-rate call show 40+ Readers' Wives. 40+ was pulled at the end of August 2010, at which point Channel 99 became purely a marker – an upper boundary for what was then the Freeview Adult Section. Live content was once again broadcast on 99 from mid April 2012, for six further months, when Playboy TV Chat – one of the babeshows made by Red Light Central moved across from Channel 194. However, Channel 99 disappeared from the terrestrial EPG when all Freeview adult channels were incorporated into the 171-198 range, on 17th October 2012. I've concluded, below, with the intro screen from the Babestation 2-99 broadcasts.