Famous British pornstars. Who are we going to mention here? Well, obviously we could make a list of some big porn star names such as Linzi Drew, Mary Millington and more recently, Sophie Anderson. But what we are particularly interested is top ranked British porn stars, who are also truly accessible. Girls like Linsey Dawn McKenzie that are not only big British porn stars in their own right, but who also have made a name for themselves on the babe channels. Accessible means that they don't only get paid a fortune for appearing in porn films, they actually like to get hands on with their public. Plus, they genuinely love to talk one to one with their fans, and to give them hot phone sex and/or are ready to get down and dirty with them on cam.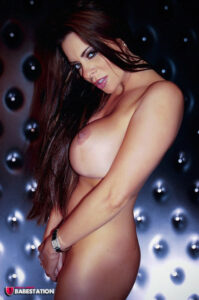 So, that kind of reduces our list a bit. However, there are big names like Paige Turnah, Jasmine Jae, Michelle Moist, Michelle Thorne, Leah Jaye, and Ree Petra, who are all big British pornstars, and who have also made huge amounts of appearances on the babe channels. Few though, are on the official Wikipedia list of famous British pornstars. One of the few who is, who also gave her all to the babe channels and her fans was Linsey Dawn McKenzie. So, why was she so special?
Linsey Dawn McKenzie –
Linsey Dawn McKenzie was one of the top "Glamour Super Models" of the 1990s.  She initially caused a scandal in 1994, when she appeared topless in the Daily Sport, on the day of her 16th birthday. The Sport had planned this well and did a "countdown" to her 16th birthday in the weeks leading up to it. Brunette with big brown eyes and huge natural 34H tits, Linsey went down a storm.
At 16, Linsey became one of the most publicised and well-known topless models, and soon earned the title of Britain's Biggest Page 3 girl. She modelled for the Daily Sport, Page 3 of the Sun and also appeared regularly in the Daily Star. She also featured in the lads mags such as Loaded, and then went completely naked in the men's mags of the time, such as Mayfair and Men Only.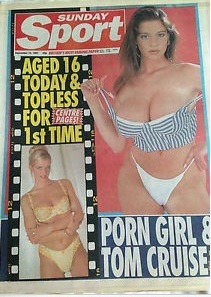 Streaker Fame Game
Just before her 17th birthday, on July 29th,1995, Linsey pulled off a topless streak when she ran across the field at a televised live cricket Match at Old Trafford, in front of a heaving crowd. During this big match between England and the West Indies, Linsey wore only a tiny thong and a pair of trainers and stopped the game in its tracks. The resulting media coverage worldwide helped guarantee her place as a sought-after British topless model with particularly massive boobs.
Once Linsey was 18, she was able to start modelling in the States, and made her adult modelling debut in Score, the American mag for big breast fetishists. Her reputation as a glamour model was already so great, that she was the cover girl of Score's 50th anniversary edition of December 1996.
By this time, Linsey was a very well-known personality in the UK and overseas. She also had several celebrity flings with actors and footballers, that kept her name in the British press on a regular basis. She made numerous TV appearances and worked very hard as an adult performer, appearing in many films but also continued with her glamour model work.
Linsey Dawn McKenzie on the Babe Channels
By the late 1990s, Lindsay was a regular on TVX and on Live TV. But the period we also wanted to look at today was her time on the babe channels, notably at at Babestation. In fact, Linsey had made a guest appearance on Babecast in the early days of the babe channels. But when it was rumoured she was scheduled to appear as a regular TV babe on Babestation, word was buzzing. On the babe forums someone wrote, "hope it's true. if it does happen it would be the biggest signing in Babestation's history"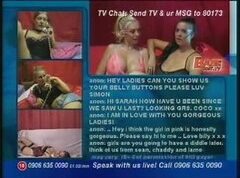 On 11th February 2010, Linsey made her first appearance on Babestation. This was on BS Extra, where she appeared after 11pm with fellow UK babeshow presenter Jodie. Behind the scenes, Linsey was humble, friendly, ready to meet and have adult phone chat with the other Babestation babes to listen and learn. She admitted being nervous to everyone before her first time live on the set. She was a naturally likeable person, who was professional in her approach and preparation, yet had a great sense of humour. She would make a comment, then her eyes would crinkle up in a smile, which would then spread across her entire face. Linsey loved a giggle.
First Night on Babestation
Here is a low down from her first appearance from BSX, again taken from the babeshow forums: "She did well on BSXtra doing a q & a with Jodie about her career and then her and Jodie read texts and pics… Linsey got her boobs out and Jodie licked Linsey's nipple. Linsey then did a short stint on BS1 and was filthy, sucking her fingers very suggestively, spanked her bum and got her boobs fully out and played and fondled them. Linsey was next on BSXtra doing the first stint on BSXtra's cheap phone sex lines and didn't move about as much mainly on her back or sat up but still got her boobs out and spoke filth on the phones. After a break, Linsey reappeared at 1am in a new outfit (black bra, black thong and stockings) and really upped the ante. She was very, very, filthy doing all the things she did on her first stint on BS1 along with playing with herself between her legs, pretending the phone was a cock and pretending to suck it. Linsey also stuck the phone between her boobs and pretended to give it a tit-wank. after this stint, Linsey had worn me out and I went to bed!"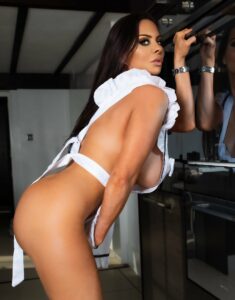 LDM- A roaring success on the babe channels!
What was amazing was that first ever time that Linsey Dawn was live on the babeshow phone lines. I was there that night, and I can honestly say I don't think I have ever seen the phone lines light up the way they did that first night that Linsey was on Babestation. She did do a lot of filthy phone sex. But there were guys and girls who called her to just say hello, to pay her compliments, or who just wanted a chat with her. No doubt the next day, there would be quite a few people who went to work and proudly admitted that they had spoken with Linsey Dawn McKenzie on the Babestation phone lines the night before!
Linsey continued her appearances on the babe channels, moving over to Red Light Central after a long stint at Babestation. She then moved over to Studio 66, now known as S66 on December 10th 2015.  However, she never appeared on Xpanded or Sexstation.
Linsey Dawn McKenzie remains one of the biggest names in the history of the British adult industry. Glamour model, porn star, star of the babe channels. Accessible to all for pervcam shows, BSCams shows and Babecall-cams!