The Daily Star recently released a story about the types of people who do porn and it featured a story on former law student turned live babeshow model and porn star Scarlett Jones, where Scarlett opened up about what it's really like to make a living from phonesex.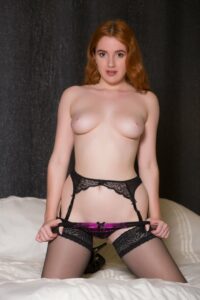 In the article, British pornstar Scarlett, discusses the type of guys who used to call her during her days of working on the babe channels. She first entered the XXX industry when she was was studying law at uni when she was a teen 18+. Redhead curvy Scarlett always had a healthy sexual curiosity which made her the perfect candidate for Babestation and pervcam work. Here Scarlett reveals the most bizarre fetish she ever encountered from a adult phone chat caller:
"This one guy had a fetish and I have no idea what you'd call it. But he wanted me to stab him in the heart. So there I was on television, acting out having a dagger and I was pretending to stab him. It was so funny. Everyone listening in was probably thinking he was absolutely insane but I loved it. It was mental. People would request things like 'bend over' but he just wanted me to stab a dagger into his heart. I got a lot of stuff like that, can I pretend to stand on their neck or kick them etc.
"When he mentioned the dagger I was giggling but he liked it. He was only on the phone for five minutes so he definitely enjoyed it – although it's one of the most disturbing things I've heard someone say."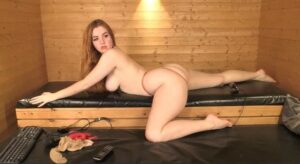 Yup, that definitely sounds pretty bizarre. Although not the craziest thing I've overheard. Scarlett Jones originally started out as a daytime babeshow girl before moving on to the racier nighttime show and progressing into fully nude babecall cam work and eventually boy-girl and lesbian girl-girl porn. Scarlett opened up to the Daily Star about her regular callers from her early days on Babestation.
"I had this old caller called Nigel who was in his 80s and he would ring me every night. Suddenly he disappeared and you have to think the worst and it's really sad."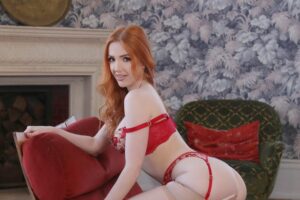 …or he might've just found a new favourite babe…just saying. Scarlett goes on to chat fetishes and kinks:
"One of the big fetishes with my callers was they wanted to get me pregnant, which was really strange, especially as I was 19. Other times I got couples, a husband and wife, who would ring up which was really fun and I really liked those. Then sometimes I got groups of women calling up being like, 'Oh my God, I love your boobs'."
Tbf, the breeding kink isn't all that uncommon but I can imagine for a 19 year old cam Virgin, it being pretty shocking. Scarlett added:
"Other girls would get big groups of men on stag parties but I didn't usually get those – it was mainly really sweet guys. Some were sex calls but most of the time it was just chit chat.
I've had people call up from Ireland, America and all over Europe, it was really surprising. And I was lucky that I had really nice callers most of the time."
Scarlett Jones no longer appears on Babestation and prefers to shoot content for porn companies and Onlyfans but plenty of her XXX pictures and videos can be found in the VIP galleries.