Party People was the first 'live babeshow' to transmit on UK terrestrial screens in the interactive, Babestation-derivative format, monetised through premium rate phonesex lines. It went to Freeview in March 2006 as an early-hours, dead-of-night transmission, but conformed to daytime broadcast regulations, showing no nudity, and advertising only flirty, non-sexual phone chat.  Anna Lovato opened a 3am Party People show, introduced by Camilla Jayne and Jodie Cox.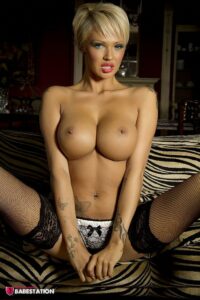 The Cellcast-run show did develop a cult following, and over time its nature became more ambiguous, with the dresses worn in earlier broadcasts being shed in favour of bikinis or underwear sets, and adult phone chat heading into sexual territory. However, Party People made little progress in terms of viral buzz in the two and a half years to September 2008, at which point it was progressively overshadowed by the all-night sexual behemoth Party Girls (also a Cellcast production). Party People (Freeview Channel 37) continued to run throughout the six-month tenure of Party Girls (Freeview Channel 46), but its night portion (03:00 to 05:30) was eventually scrapped on 3rd August 2009 – presumably because the evolution of Freeview babe channels during and after Party Girls had rendered daytime-compatible babeshows with a 3am start commercially untenable.
Recalling some of the faces from the height of Party People's reign, there are: Tiffany Chambers with Dionne Mendez, (who also made appearances on Red Light Central Xpanded, Sexstation and Studio 66, a.k.a S66) Carmen Terrell, Paige Tyler, and Cara Matthews with Lori Buckby. The Party People night show didn't begin broadcasting in Widescreen format until almost the end of its run, finally switching to 16:9 on 3rd June 2009.
It's interesting to recall that just a few months before the demise of Party People, for two nights in March 2009 (18th and 19th), there was a gap between the end of the Party Girls series and the inauguration of Partyland, which briefly rendered Party People the only babe show on Freeview. Inside the final week of the show, from 29th July 2009, caution was thrown to the wind, and the strict ban on toplessness was lifted. Lynsey Atkinson joined Lori Buckby and Rachel Cole on the very last Party People 3am show, marking the end of an era. The 'cult' babeshows was dead, and a much bigger, mass market for cheap phone sex was now in the program makers' sights. Incidentally, on the night when Babestation premiered on Freeview (12-13 May '09), Party People had moved from its long-time home of Channel 37, to babe channel 32.