We've switched from the Babestation Xtreme blogs on the babestation.tv.  Over onto this site for another selection of Mr BSX's first hand accounts of some of their XXX porn picture and video shoots. This week's comes from the May 2012.  And features top names from live babeshows and British porn!
May 14th 2012 – Jordan Price Primes The Cannons – Babestation Xtreme Shoot
We've known Jordan Price for some time now and we're always glad to see her (as you can see from this picture!)  And as you already know, there is never any shortage of studs hanging around the office, just waiting to be let loose over a real woman as opposed to pleasuring themselves over the plethora of porn pictures they play with on their laptops all day long in various cupboards and crevices around the building (the plosive alliteration lends itself to the subject I think!).

However, I don't remember who this fella actually is.  In fact, as I write this I'm getting increasingly concerned that he may have only called in to fix the photocopier or perhaps deliver some stationary or something…he didn't say much, just seemed to grin a lot.
Jordan only came in for a solo photo shoot and we didn't even manage to make it to the set before she got her tits out and began complaining about how horny she was and how little attention she gets "these days".  That's when she spied Mr Mystery here and whipped his cock out as though she were snatching the last candy bar from the shelf in a shop full of fatties!  What could I do other than shoot the scene?  "Their's not to reason why", I thought, as the well known aphorism of the late Alfred Lord Tennyson sprang to mind.  This scene might be a very long way from The Charge of the Light Brigade, but Mr Mystery's cannon certainly "Volley'd and thunder'd"
May 21st 2012 – Big Wet Butts! – Babestation Xtreme Shoot
My oh my!  It's not often I get my head turned but I have to say that this was one of those occasions.  I like to consider myself a professional, but honestly, how professional can a man be when a fantastic wet ass is presented to you accompanied by the face of the lovely Danielle Cole?  Luckily I had my super-duper, high performance, Cannon, steam free lens on!

We like to call this the dirty shower simply because no one ever gets clean in here; but then what can you expect from a porn studio?  As soon as they go in there, they're needed back on set; we're very busy!
When Danielle sashayed into the office, wafting her beautifully perfumed ass around the room, desperately trying to entice the fellas out of the broom cupboard, I had a choice to make.  Just who was going to take her on?  So I went to check out all the usual suspects hiding in the dark of the cupboard beneath musty smelling sleeping bags, ancient porno mags and newspapers, and there sitting next to an old bottle of Vim, was Freddy Flavor.  I could see that he'd been pleasuring himself a little too much and he was indeed, very ready for a hose down.  [incidentally, note to self: we really need to clean this cupboard out!]
So we shoved Freddy in the shower and told him to scrub his bits and bobs before we introduced Danielle to the scene.  Freddy reacted as only a man who had been locked in a cupboard with an 80′s British porn mag could.  He sprang to attention and did us proud.  Well, that came out wrong.  To be more precise, he did Danielle proud.  What a trooper!
May 28th 2012 – Live Sex Shows Never Go How You Expect Them – Babestation Xtreme Shoot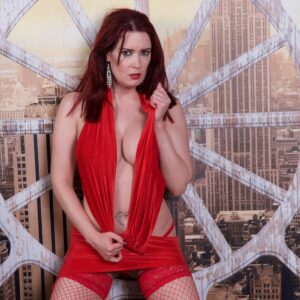 The weather is so hot that no-one in the studio is bothering to wear clothes.  I'm sure you can imagine that this causes a few difficulties in our office.  We're lucky if we get anything shot at all to be perfectly honest.  The guys can't stay in the cupboard anymore, so they crawl out, shading their eyes from the light, in search of water and fresh pornography.
The problems arose when Tanya Cox turned up in a particularly horny frame of mind looking to create "the beast with two backs" with whoever she could get her hands on.  And considering she was the only one that was actually wearing any clothes, she didn't have a tough job on her hands.  Marc Rose and Jack Mason, fresh out of the cupboard, crawled over to her like a couple dehydrated zombies from The Walking Dead, clearly overwhelmed by her powerful pheromones, and proceeded to get it on big time.  I do believe that Tanya was only scheduled to fuck one guy at a time, live on Sexstation, but if you know Tanya like I do you'll know that if there's naked cock hanging around she's going to fill herself up with it and there was quite literally no holding these guys back.  We were lucky to get the camera rolling on time really!