Looking for a laugh? Join Babestation babe Alyssa Jay on the latest episode of the Option One Podcast.  In it, Allyssa offers a unique perspective as a babestation and only fans model. She shares outrageous stories from her dating experiences. From DMs from famous footballers to unforgettable Tinder encounters, and funny dates, this lively episode is guaranteed to keep you entertained.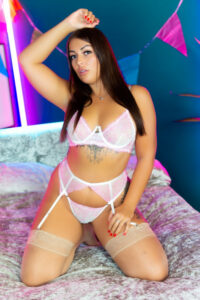 When it comes to her romantic endeavours, Alyssa Jay of Norfolk claims she's heard a lot of horror stories.
Some blokes, according to the Babestation concept, get the wrong idea of her due to what she does.
The 27-year-old also revealed that things went too far on one date during an interview with the 'Option One' podcast recently.
Alyssa, who is also a project coordinator for an off-shore engineering company, said that she actually caught the lad taking photos of her bum to send over to his pals. Classy."I had a guy, we went on a date together, and I caught him taking a picture of my arse," she recalled of the romantic encounter.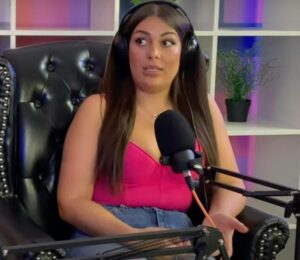 'Everton footballer begged for Snapchat nudes and sent nasty messages when I refused' – Option One Podcast
Alyssa hit the headlines when she revealed a premier ship footballer got angry when she refused his request for sexy snaps
"He was like 'are you going to send me photos' and I refused and he was like 'do you actually not know I am' and he asked who I thought I was too. He was very angry and nasty with me.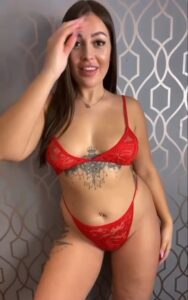 Alyssa Jay Babe Show Boobs Star
Curvy Alyssa Jay, a voluptuous auburn-haired glamour lady with a huge alluring grabbable ass and huge natural breasts, is shown nude. Alyssa Jay Babestation is the ideal option if you prefer a lady with curves and gorgeous, passionate eyes who enjoys speaking filthy.
Check out Alyssa Babestation cams profile here
Look out for her Babestation Schedule here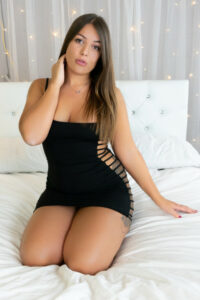 The Option One Podcast is based in the UK, with a team Production experts, committed to making waves with our podcast, discussing a range of topics with some of the UK's most known influencers. Join top influencers for fun, candid discussions on pop culture, personal experiences, & more!