Madonna is getting into the NFT market, having created several animated versions of herself completely nude, legs spread and giving birth to centipedes and trees. Let's be honest, this is from the woman who shared a lesbian threeway kiss with Britney Spears and Christina Aguilera and who also released a coffee table book about sex, so we can't be too surprised.
NFTs or non-fungible tokens, can be anything digital, such as drawings, but a lot of the excitement is around using AI technology to sell digital art. Mother of Creation is a collection of three NFTs by Madonna – Mother of Nature, Mother of Evolution, and Mother of Technology. Mother of Nature depicts a fembot Madonna sitting on a futuristic type of operating table while a tree, covered in moss and flowers grows from her nether region. The NFT's were created in collaboration with Mike from Beeple. Some people have called it a basic attempt to convey rebirth and motherhood. This NY Times article calls it a filthy attention grab.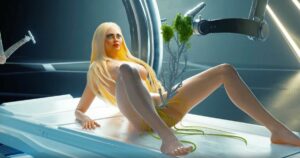 (Did you know Babestation released an NFT?  <— Find out more here)
Unsurprisingly, the pieces attracted worldwide attention, with Mother of Nature, fetching a whopping 170.5 ETH. Apparently the reason Mother of Nature is the most expensive NFT is because the origin of the tree suggests pornography, according to a neuroscientist. Every NFT originated from a 3D scan of Madonna. Here's what Madonna had to say about the project, which was shared on the official Mother of Creation Website:
"When Mike and I decided to collaborate on this project a year ago, I was excited to have the opportunity to share my vision of the world as a mother and an artist with Mike's own unique point of view. It's been an amazing journey building this together from an intellectual idea to an emotional story, giving birth to art. I wanted to investigate the concept of creation, not only the way a child enters the world through a woman's vagina, but also the way an artist gives birth to creativity. Most importantly we wanted to use this opportunity to benefit mothers and children who are most in need right now."
I wonder what other ways we'll see Madge showing off her vadge?! We're always up for seeing an 80s icon baring all. Speaking of baring all, the live babeshow girls love to strip nude in their private BSCam Featured room and give you a good show. Join them for an adult phone chat or check out their Pervcam for the ultimate voyeur experience. Alternatively, sign up as a VIP to gain access to explicit videos of the babe channel models and real-life British pornstars.