Are you curious about girl on girl cam shows and want to know what all the fuss is about? Look no further than Amber Paige and Jennifer Wilde's smoking hot recent cam show! In this post, we will discuss why we love watching girl on girl action and explore Babestation's best ever girl/girl combos.
From the delicious anticipation of a slow striptease to the steamy action that follows, g/g pervcam shows offer a unique and compelling viewing experience. Join us as we delve deeper into this tantalizing world and discover why Amber and Jennifer's shows are a must-watch for any cam show enthusiast.

Amber Paige and Jennifer Wilde's Smoking Hot Cam Show
Amber Paige and Jennifer Wilde's cam show has had an undeniable impact on those who have watched it. Their chemistry during the show was unmatched and the interaction between them and their fans is a special aspect that sets them apart from other babecall cam shows. They are known for being comfortable with each other, which translates to seamless entertainment for the audience.
Fans often comment on the way they move and talk with each other during the show, and how it adds to the authenticity of it. Their smoking hot performances have left viewers in awe, making their show an iconic one in its own right. It is no wonder why Amber Paige and Jennifer Wilde are considered among the front-runners in girl/girl cam shows.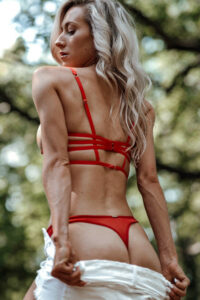 Why we love girl/girl cam shows
Girl on girl cam shows have become increasingly popular among people who are looking for a unique and intimate experience. They allow two performers to showcase the best of each other's personalities while exploring their sexuality in a safe space.
With no boundaries or limits, viewers can indulge in their fantasies and desires without fear of judgment. Watching a g/g cam show is like watching two people explore the depths of their passion before your eyes. It's a truly exhilarating experience, bringing viewers closer to the performers and allowing them to get lost in their imagination. So, if you're looking for hot, sensual and a deep experience, g/g cam shows might be for you!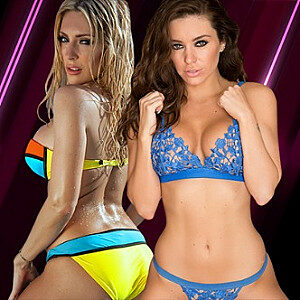 Who are the best ever girl/girl combos on Babestation?
Babestation has showcased several great g/g cam shows, but Amber and Jennifer undoubtedly stand out. Their performances are sultry, mind-blowing and leave viewers asking for more. They have an undeniable chemistry that keeps the audience captivated throughout the show.
Other popular babe combinations include Caty Cole and Mica Martinez, and Ashley Emma and Lori. Studying the artistry of these performers, one can understand how to keep the viewers engaged, create chemistry between each other, and have a successful cam show. So if you're a performer, take notes and learn from the expertise of these top performers!
Babestation cams has become so popular, we've even got recognition from the livecamparison, Top 5 Cam sites list.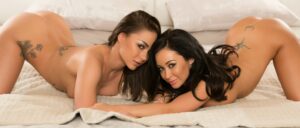 Frequently Asked Questions
Are Amber and Jennifer the most popular girl on girl cam show performers?
It is difficult to determine the most popular girl on girl cam show performers, as popularity can vary depending on the platform and audience. While Amber and Jennifer may be popular among certain audiences, there are many other performers as well. Why don't you sign up to babecall and make your own decision as to which g/g combo is your favourite.
Ultimately, the best g/g cam show performers will depend on your personal preferences and what you are looking for in a performance.
Examples of past g/g shows that have blown us away are Caty Cole and Mica Martinez, who's lesbian shows can be found in the VIP members area. Also Lori and Ashley, and big tit porn babes Alice Goodwin and Olivia Berzinc.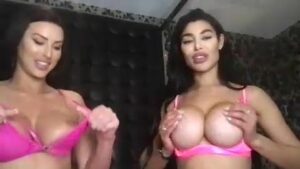 Conclusion
In conclusion, girl on girl cam shows are a great way to enjoy intimate moments with performers who truly enjoy themselves. Amber Paige and Jennifer Wilde's cam shows stand out for their chemistry and sensual performances.
But more than just two performers, Babestation has an amazing collection of babe combos that are sure to ignite anyone's imagination. These shows allow you to explore your fantasies, push boundaries, and get lost in the passion. So what are you waiting for? Dive into a world of pure pleasure with Babestation's girl on girl cam shows.