In an effort to assist their regular customers with the rising cost of living, Babestation stars, Amber Paige, Megan Rox and April Mae have banded together to lower the pricing on their joint girl/girl/girl cam shows.  Rest assured that there are people working to improve the situation for fleeced Brits. Kinky phonesex workers, Amber, Megan, and April have suddenly reduced their rates by 50% while fuel prices have increased nationwide. Because of this, horny guys throughout the UK can keep releasing their stress without spending a fortune. The three babes were interviewed by the Daily Star about their motivations for helping, so check out their interviews below:
Amber Paige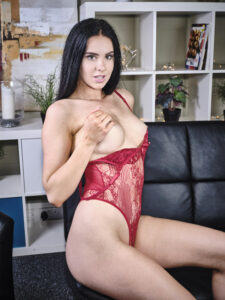 Amber Paige, a stunning brunette from Buckinghamshire, joined Babestation while on leave from her position as a hotel manager during the pandemic. After one shift, she gave her notice, and since then, she has grown to be one of the most popular live babeshow and cam models in the business. Here's what the hot 22-year-told the Daily Star:
"Recently people have opened up more about their financial situations. You have these sex calls multiple times a week and having fun and then people realise they can't afford it. We are almost like threats to them, we are not necessary, we are something extra."
When asked about why she wanted to continue with cheap phone sex calls and make her pervcam sessions cheaper, Amber said:
"I started during Covid so I feel like I have been there through people's worst times. I do feel like people have been so generous and welcoming to me in the industry and I feel like a lot of people didn't anticipate what would happen after Covid and the current financial issues we are facing. I am aware of it myself and I have a mortgage and electricity bills and I keep thinking of the position I would be in if I wasn't in this industry."
She added:
"If I can provide the same service and quality of service as I did before at a lower rate so they can still enjoy it then great. It's hard when you want something so bad but you can't actually afford it. If I can try and make something a little more affordable for them and they can carry on having the same fun as they were before then that makes me feel good knowing I am helping them out a bit."
Megan Rox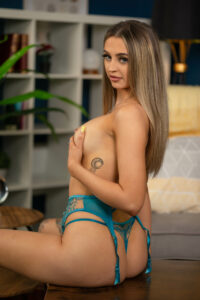 You may have seen Megan Rox's article on the Daily Star last week where she described her transition from palliative care nurse to babe channel starlet. The brummie babe packed in her job as a carer after receiving an Instagram DM from Babestation, asking if she'd like to appear on TV and web cam. The rest is history. Megan is now joining April and Amber in offering a 50% discount. Megan said:
"We are doing really well so we thought 'why not. You see on the news a lot of people are struggling and we wanted to give something back to people. We get people being open about their financial struggles. I don't see a lot of them as callers any more, we have relationships like friends. I have the normal calls you would expect but other times we can sit there and talk about family issues, money issues and it's one extreme to the other. We get lonely people who just want to chat about their day."
As for her sexy friends, Amber and April, Megan added:
"We chat every single day and they are literally like sisters to me at the minute. They are my rocks and anything that is going on I can ring one of them and they are there. They are like life-savers."
April Mae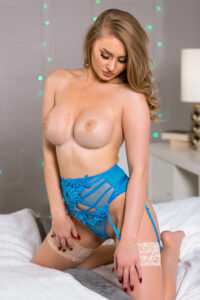 Before becoming a Babestation TV and BS Cam model two years ago, Londoner April Mae was a stripper and lap dancer at gentleman's clubs throughout London. Her fanbase is extremely open and devoted, and many of them have spoken candidly about their financial woes. April said:
"I've had guys call up and tell me about their living situations and things like that. One man talks about his issues and he says I'm his escape from reality. That's exactly what we are. We are an escape from the real world. That's another reason why we should be inclusive to all. I want to have options for people who don't have much money right now and make things more affordable. Obviously we have those big spenders who have a lot of money and they are happy too but others can't afford it because £5 for a minute is a lot of money. So they can pay a tender for a full show then that's amazing."
April opens up about her friendship with the other girls:
"Us three have come together and we are doing shows together as a threesome. We are best friends and we have our own TikTok channel, 'Bae_watch_xx' and we are going to get started on YouTube."
See more sexy videos and porn star level solo pics and other web cam content in the Babestation VIP members area.