Amber Paige is a well-known figure on YouTube Babestation TV and OnlyFans, and she frequently appears on influential podcast and in UK tabloid newspapers. Amber used to work in the hospitality industry, a big change in a short time
'I shocked family after quitting manager job on furlough – now I strip off on live TV'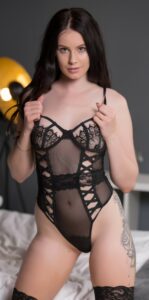 After quitting her hard-earned job as a hospitality manager for a racy modeling career, Amber Paige of Buckinghamshire completely transformed her life during the pandemic.
Amber Paige's path would have gotten the approval of most parents before the pandemic sent the nation into lockdown. Before going on to further education to become a qualified hospitality manager, she worked hard at school. And entering her 20s, the successful young woman was just beginning to make her mark on the industry before Covid-19 caused a global shutdown.
Amber, from Buckinghamshire, was fired after being furloughed and started to wonder where her life was headed. The inquisitive thinker, who was blessed with outstanding looks, started to think about working in adult modeling.
Joining Babestation
Talking to the Daily Star Amber explains "Then I did one shift at Babestation and I thought 'yeah, that's for me' and I handed in my notice and I never went back."
Amber, 22, has now been teasing randy callers by stripping down to her undies on Babestation TV babe channel for two years.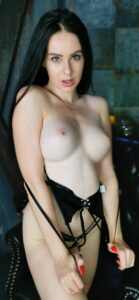 And asked what made her ditch her hospitality job after just one shift with the racy company, she said: "I just had fun and I really enjoyed it.
"It was so natural and I had never done anything like that before, stripping or camming.
"I had my management qualifications behind me so I thought if worse comes to worse and I don't enjoy it after a few months I will have something to fall back on."
But although her mind was made up, Amber then had the tricky scenario of deciding how and when to tell her loved ones of her sudden career switch.
Opening up for the first time, she said: "I didn't actually tell my family for a little while.
"It's quite a hard thing to come to terms with when one of your family members does something like that.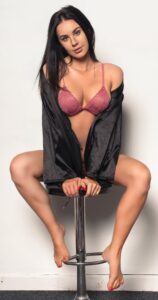 "They have a bit of an old fashioned mindset and they might not even think it's safe so I didn't want to worry them until I was sure that it's what I wanted to do.
"So I gave them a few months until I knew I would stick at it for my career. "When I told them they sorted reacted how I assumed they would. They were not over the moon but they said it was my decision and they supported me."
Getting to Know Amber Paige Video
Looking in our Babestation Video Library we found a 10 questions video Amber made shortly after she'd started
Within one year Amber had been awarded the prestigious Babe of the Month award for March 2021. We asked Amber some questions
BS: O.K, first question…What is your greatest fear?
Amber Paige: Oh my God! That's a hard one! I don't want to say murderers, i think i'm more scared by tarantulas. Little spiders are ok but the big hairy ones are horrible!
BS: Describe the experience of you first night at Babestation.
P: Odd, surprising, some of the comments i got, i wasn't ready for some of them they were kinda weird, like, my first ever message on free chat was put your heel in your mouth like a dog bone!
S: Thanks for taking part in our BOTM quiz! Now we turn it over to you, for a message to your fans…
Amber Paige: Thank you to everyone, nearly been a year since i've been here and it's been a good one! Hopefully all the next years to come will be even better!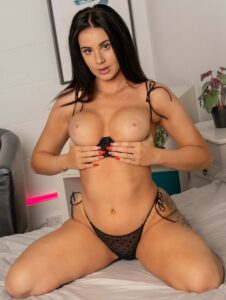 Amber Paige, April Mae, Megan Rox Live babeshow Trio
Amber has been in news with some joint shows and price slash promotions with glamour model her friends Megan Rox and April Mae these are the new stars of the UK Babe Channels
The girls explore the link between food and sex in this video! As the first, they do a blindfolded taste test, join British babe channels hotties Amber Paige and Megan Rox. Not the most complicated test, it has to be said, I think it was just a good way to get a banana in Amber's mouth… 
We wanted to showcase more of the personalities of our performers and do something a little more fun and interactive. This is a clip from our Friday Night Show on Friday 13th Jan, featuring a quick Q&A sessions with babeshows brunettes Amber Paige & Alex Le Tissier.
Whats a Babestation Christmas like?
Amber Paige would rather cam every Christmas Speaking to The Sun she explained: 
"I just thought well I'll give it a go while I have spare time and if I don't like it I can always leave. I was a restaurant manager and then I left to do this. My friends weren't very shocked but my family very much were. I think they were shocked because I had finished my education and I had gotten this great position in a restaurant. But now they're supportive.
YouTube and Podcast
Recently Amber Paige launched her own YouTube channel  where you can get to see her having fun and being interviewed.
Amber also regularly appears on the OptionOne podcast
The Option One Podcast is here to entertain and offer a unique perspective on the influencer entertainment industry. Based in the UK, with a team Production experts, we're committed to making waves with our podcast, discussing a range of topics with some of the UK's most known influencers. Join top influencers for fun, candid discussions on pop culture, personal experiences, & more!
Register now and start to webcam with Amber Paige