I had never even heard of ASMR until a few years ago when it seemed to be all over Youtube. Some people experience asmr by listening to women with long nails drumming on a table next to a microphone were the most commonly watched videos in the subgenre, along with people chewing rather loudly (nope).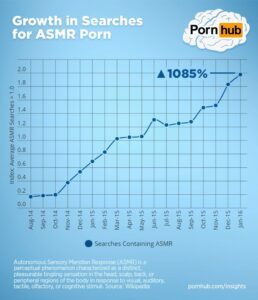 With such a boom in auditory stimuli, the porn companies jumped on it for sexual exploitation and it wasn't long before Pornhub's personal attention came to it with their sexually explicit video content specifically designed to bring on this "brain orgasm" in viewers.
The term ASMR stands for Autonomous Sensory Meridian Response, which is characterised as a feels good, pleasurable sensation when you hear something such as the sound of whispering or watching someone have their head tickled. Searches for it on Pornhub have gradually increased since 2015 and Pornhub has provided statistics on 7 categories of ASMR related searches.
In 2016 and 2017, the number of ASMR trigger searches increased by more than +200% compared to the previous years. The growth in ASMR-related video uploads since 2015 has been consistent with the law of supply and demand, with the highest upload surges occurring from late-2018 to now.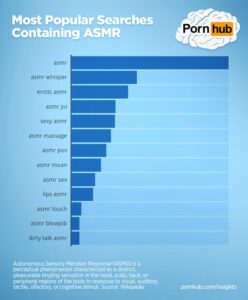 The most common search is "asmr joi," AKA "jerk  off instructions". The terms "asmr role play," "erotic asmr," "asmr moaning," and "dirty talk asmr" are also top searches. Pornhub also looked at what these genres fans enjoy. Stats show that "JOI" is at the top of the list, followed by "hentai", "Japanese", "lesbian" and "POV".
In comparison to women, men are +27% more likely to look for related videos. Pornhub users aged 18 to 24 are +113% more likely to search for ASMR, while those over the age of 35 are far less likely to search for related videos. Users from Vermont are +32% more likely than the national average to search for ASMR within the United States. Users are 27% more likely to come from Oregon, 25% more likely in Alaska, and 23% more likely in Washington.
The likelihood of searching for ASMR is 30% lower in the District of Columbia, along with -24% in Wyoming, -22% in Mississippi, and -15% in Connecticut. Users from Finland are roughly +247% more likely to search for ASMR than any other country. The likelihood of searching is +201% higher in Hong Kong, +99% in Uruguay, +97% in Sweden, +92% in Norway, and +84% in Iceland.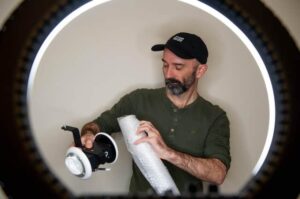 A bit closer to home, Mike Reed, who is one of the tech guys over at Babestation Portsmouth, happens to run his own Autonomous Sensory Meridian Response youtube channel and it's definitely worth a look. Mike spoke to The Portsmouth News about his extracurricular activities.
Mike Reed, 49-year-old Fratton resident of Liverpool Road, currently runs two channels. Along with his binaural microphone, Mike runs 'Fiend's ASMR Show', which has amassed more than 3.5 million views and boasts a fan base of nearly 9,700. Mike started practicing the genre, after being made redundant from his IT job. He says:
"It was no surprise when I was made redundant – I could see the writing on the wall. But when it hit, I was definitely down in the dumps, but I responded to that by making myself busy and looking for opportunities and YouTube at the time was a good opportunity. Now with ASMR I feel like in my own small way, I'm improving my little corner of the world."