Celebrity gossip is a guilty pleasure for many of us, and the latest buzz in town is about Babestationcams performer, Amazonian Charlie. Who is she? What makes her so special? In this blog post, we will delve into the story of Amazonian Charlie. From her unexpected encounter at Tesco to how her towering height contributed to his fame. We will also discuss whether her newfound fame is a blessing or a curse.
And last but not least, we will share with you a hilarious story of how she was recognized in a local pub.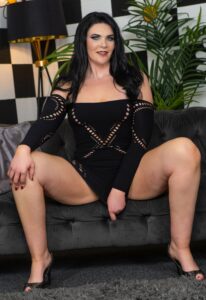 Unveiling the Story of Amazonian Charlie
The journey of Amazonian Charlie to Babestation's tallest new recruit is a captivating tale that has piqued the curiosity of many. Delving into the backstory of this enigmatic figure reveals a series of events that shaped her rise to popularity. The secrets behind Amazonian Charlie's sudden fame unfold, leaving us intrigued and wanting to know more about her fascinating life.
One aspect that stands out is the unique experiences that have contributed to shaping Amazonian Charlie's career. Throughout her career, Amazonian Charlie has faced both admiration and unwanted attention. The substantial amount of money she has made has provided financial stability and opened doors to opportunities she never imagined. However, it has also brought its fair share of challenges.
Amazonian Charlie: Babe Of The Month – March '23
Interviewed by Babestation when Charlie was awarded the Babe of the Month award in March.
Babestation: How did you get started with BS Cams and what do you like about it compared to other cam sites?
Amazonian Charlie: Tegan Jade, a model for Babestation daytime, encouraged me to embrace my distinctive height while working at Babestation. Initially, I had reservations, but I quickly felt reassured by the excellent management, incredible producers, and the unwavering support of every model I've encountered. It is this sense of camaraderie and friendship that sets Babestation apart.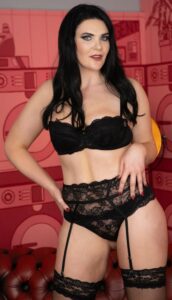 An Unexpected Encounter at Tesco
During an ordinary trip to Tesco, the life of Amazonian Charlie took an unexpected turn. According to Charlie Mill, the curious boyfriend and girlfriend approached her in the freezer aisle. They recognised her for speaking out in the press about overcoming severe bullying for being a 6ft5 woman.
But the fella put his foot in it when he admitted having watched her on TV – where she gets her kit off on Babestation.
Amazonian Charlie Onlyfans
Now, recounting the bonkers experience with the Daily Star through fits of giggles, she said: "I was just popping into Tesco like I normally do and got spotted by a couple.
"I saw them looking and they came up and said 'you're the tall girl from the newspaper, you're Amazonian Charlie, we follow you on Instagram and it is so nice that you're pushing your height and making people feel good' etc.
"Then the female said 'I love watching your Instagram stories, they are funny' and then he said, in the middle of Tesco, that I'm really good on TV as well."
"I didn't know what to say, so I just thanked him. When I do night shows it is more X-rated. The colour drained from her face and she turned to him and said 'what do you mean she's really good on TV'?
"And then he realised, it clocked, and he kept stuttering and she asked 'do you watch her on a night time?'
"He said sometimes he has clicked through the channels and it has been there and she said it's not on free view until after midnight when she is bed and why was he watching an adult channel while she was in bed.
"The poor fella, he didn't know what to say, he didn't know where to go and then they started arguing in the middle of Tesco, right in front of me.
"It was very busy and people were looking. A couple of guys walked past with their wives and they gave themselves a little chuckle and one of the guys winked at the guy as if to say we have all been there.
"It was very funny and it was very cringe actually to be fair, But unfortunately for her, the bickering duo were still going at it.
"They were in exactly the same position," she laughed. "She was pointing fingers, he had his head down, clearly in the doghouse, and she then stormed past me and said 'it was very nice to meet you Charlie, I'm leaving him here' and walked out."

Amazonian Charlie Babestation Recognised in the Pub
When Amazonian Charlie, the famous celebrity known for her towering stature, stepped into a local pub, she found herself amidst a whirlwind of attention. People were quick to recognize her and couldn't help but indulge in gossip about her personal life. The incident highlighted the fascination that individuals have with celebrities and their private affairs.
Describing the events, she provided an account of what occurred.: "I got recognised in the pub and he was earwigging into our conversation and then then came onto a private call [on Babestation] that evening to tell me he had seen me when he was out with his wife.
"It is a bit scary which is why most of the time I go out with security but I only popped to the local pub for a quick drink with a friend, I didn't think it would result in some sort of stalkerish behaviour.
"This particular individual made very inappropriate comments, he said he was imagining me naked while doing x-rated things to me while he was sat there with his wife.
Conclusion
In conclusion, Amazonian Charlie's fame is a double-edged sword. While his height has undoubtedly contributed to his recognition and popularity, it has also brought its fair share of challenges.
The unexpected encounter at Tesco and being recognized in the pub are just glimpses into the life of a celebrity like Amazonian Charlie. It's essential for us to remember that behind the headlines and gossip, there's a real person with hopes, dreams, and struggles. Let's approach celebrity gossip with empathy and understanding, recognizing that fame comes with its own set of complexities.