Get to Know Aemelia Fox: Mommy Fox's Career
Babestation babe Aemelia Fox, a renowned Suicide Girl and Babeshow icon, has recently made a comeback to babestation. In this article, we take a retrospective look at Aemelia's career and explore the qualities that make her an exceptional babe.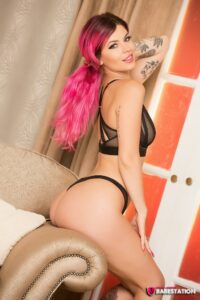 Aemelia Fox's Early Career and Rise to Fame
Starting from scratch, Aemelia Fox worked hard to establish her career. Her talent and dedication propelled her to fame in the modelling industry. Aemelia's early career paved the way for her success as a versatile model, as she overcame obstacles and achieved recognition for her unique style. Her remarkable work ethic gained her popularity among fans and industry professionals alike.
How did Aemelia Fox Suicide Girl to Babestation
Aemelia Fox smoothly transitioned from being a Suicide Girl to joining Babestation, marking a turning point in her professional journey. This career shift expanded her audience and opened up new opportunities in the adult entertainment industry, showcasing her adaptability as a model.
Check out this interview with Aemilia Fox webcam babe on Babestationcams from 2017.
The Evolution of Aemelia Fox: From Model to MILF
The British MILF we adore for her curves! Known for her SLUTTY SMUTTY CONTENT.
The acronym MILF is commonly used to refer to a mature woman who relishes in her sexuality and derives pleasure from being observed during sexual activities. Although the term can be applied to women aged 30 and above, it is most frequently used for women in their late 30s to early 50s.
What makes Aemelia Fox OnlyFans Content Unique?
Aemelia Fox's OnlyFans Mommy Fox content stands out with its exclusive and personalized approach, offering a behind-the-scenes look at her life and career. It creates an intimate connection with fans, showcasing her creativity and authenticity. Her unique and unrestricted content provides a one-of-a-kind experience for dedicated followers.
Your favourite British MILF! 🇬🇧
Come and see your favourite mommy with my massive milkers, and new sexy curves. Im a Suicide Girl and ex Page 3 model, I love chatting and getting to know you, so please don't be shy – I won't be 😼 I gotta big butt & big mouth.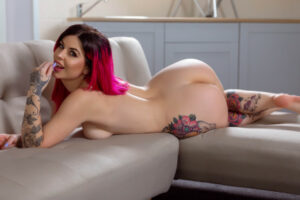 Aemelia Fox Babestation VIP Videos
Discover Aemelia Fox's immersive and versatile VIP video collection.
Picture Day | Pretty In Pink
Mesmerizing in pink, Aemelia Fox shines in captivating photoshoot.
Classic Pics | Booty & Tats
Explore Aemelia Fox's timeless pictures showcasing her captivating tattoos and irresistible booty.
Take It Off
Aemelia Fox entices with a captivating photoshoot, slowly unveiling her allure.
White Lingerie
Explore Aemelia Fox's elegant allure in mesmerizing white lingerie.
Tits & Tats
Explore Aemelia Fox's captivating charm as she flaunts her tattoos and alluring cleavage in these mesmerizing photos.
Body Stocking Babe
Aemelia Fox captivates with seductive allure in mesmerizing body stocking photos.
Blue Underwear Strip Explore Aemelia Fox's tantalizing photos as she sensually undresses in blue underwear and teases with confidence.
Rock Chick
Embracing her edgy and stylish side, Aemelia Fox rocks.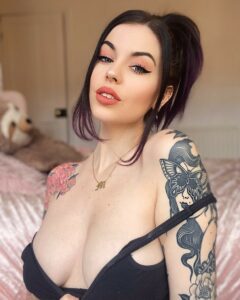 Alternative Goddess
Explore Aemelia Fox's mesmerizing photos, showcasing her alternative goddess allure.
Inked Babes free gallery
Explore the captivating visuals in Babestations' Inked Babe free gallery. and our inked angels
Aemilla Fox on Social Media
AemeliaFox, a popular social media influencer and content creator, shares her experiences as a working mom. She offers advice on parenting, lifestyle, and career development while maintaining a strong following on platforms like Instagram.
Get To Know Aemelia
MY IDEA OF A GOOD TIME:
BARS, AFTER PARTIES, HOME BY DAWN.

STAY IN AND WATCH OLD MOVIES ON TV.

WHEN I GO OUT, ANYTHING CAN HAPPEN.
5 THINGS THAT I CAN'T LIVE WITHOUT:
COCONUT OIL HUMOUR FRANKS HOT SAUCE TEA NETFLIX
I SPEND MOST OF MY FREE TIME:
BEING A PROFESSIONAL DORKDAY DREAMINGDOING PHOTOSHOOTSFULL TIME CAT MAMAMAKING FRIENDS LAUGHWANDERLUSTING
MUSIC:
I LIKE MY COFFEE BLACK JUST LIKE MY METAL
HEIGHT:
5'8″
BODY TYPE:
CURVY
SEX:
IF WE GET ALONG AND THERE'S A SPARK
KINK FACTOR:
I'LL TRY ANYTHING ONCE, ESPECIALLY IF YOU BEG FOR IT.
RELIGION:
RICHARD DAWKINS IS MY CO-PILOT
DIET:
VEGAN
TELEVISION:
BIG MOUTH LUTHER POWER RICKY AND MORTY THE SIMPSONS WALKING DEAD
FILMS:
DALLAS BUYERS CLUB INGLORIOUS BASTERDS ONE FLEW OVER THE CUCKOOS NEST PULP FICTION SNATCH THE SHINING THOR
BOOKS:
THE CURIOUS INCIDENT OF THE DOG IN THE NIGHT TIME
VIDEO GAMES:
ASSASSINS CREED SYNDICATE CRASH BANDICOOTT A GUITAR HERO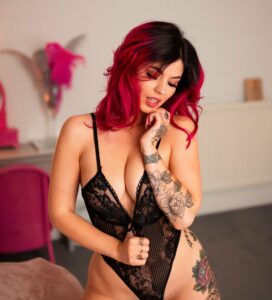 Frequently Asked Questions
What Is Suicide Girls ?
SuicideGirls is a platform showcasing alternative pin-up photos and videos of models known for their tattoos, piercings, and vibrant hair colors.
It combines elements of punk, goth, and feminism. Aemelia Fox, a model and photographer, has collaborated with SuicideGirls.
SuicideGirls is a website that centers around the captivating world of pin-up photography sets featuring models known as the Suicide Girls.
This online community-based platform was established in 2001 by Selena Mooney, also known as "Missy Suicide," and Sean Suhl, also known as "Spooky."
The majority of the website is only available to members who pay for access. It provides members with the opportunity to view images contributed by models and photographers from around the world, as well as personal profiles, blogging platforms, and the ability to join various interest-based groups.
Additionally, there is an online store where a selection of clothing, books, and DVDs can be purchased.
Suicide Girls have been featured in a range of media outlets such as television shows and music videos. They have also been portrayed by actresses in others, such as the character Dani California on the TV show Californication
Conclusion
In conclusion, Aemelia Fox's career has been one of growth and evolution. From her early days as a Suicide Girls model to her rise to fame on Babestation, Aemelia has shown her versatility and dedication to her craft. Her transition from modeling to becoming a mother has also showcased her ability to balance her personal and professional life.
Fans can find more about Aemelia on her official Babestation page and enjoy her captivating performances in various videos. Her social media presence allows fans to stay connected with her and get a glimpse into her life.
Whether it's her inked babe gallery or her recent VIP videos, Aemelia continues to captivate her audience with her unique charm and talent. Check out Babestation Shorts for Aemelia's live updates.