The success of AI generated women might be giving Onlyfans models a run for their money in the not so distant future. A picture went viral on Twitter over the weekend showing a seemingly perfect group of blonde models posing in bikinis with their big tits and hourglass curves on display. However, these models were not real women, but in fact AI generated models, created to tease men into thinking they were looking at pictures of the real deal.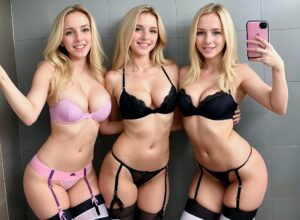 However, if you look a little closer, these seemingly flawless women have defects and flaws. A TikToker explained that the biggest indication of an AI generated woman is all in the hands. With all the technological advances in AI there seems to be trouble creating life-like hands. If you zoom in to some of the pictures you'll notice that some of the fingers appear too long or stubby for a human hand. It's almost like the software that created the model glitched when it got to the hands. However, a horny man might not notice the hands of a nude woman.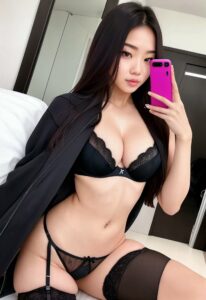 This brings us to the subject of Onlyfans and what this could mean for the future of the subscription based content sharing site. Models on the site have expressed their concern that subscribers might unknowingly start paying for videos of AI generated females in the future, leaving their income in jeopardy. Of course there are models who will always have their fanbase but unlike AI generated content, real life models have to spend days, sometimes weeks shooting and editing gallery pictures and high budget porn scenes. The turnaround of AI is much quicker – hours or even minutes and you've got a full photo set of a beautiful woman.
AI is still a little way off of being able to stream cam shows and videos, but I suspect in the next decade we will see men purchasing expensive software to create lots of individual Onlyfans accounts featuring AI generated naked models. One Twitter user wrote:
"I am totally starting a fake AI generated Onlyfans for gullible idiots if I fail this trading thing."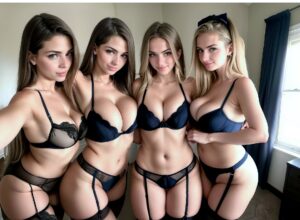 We've already seen image generation technologies like deep fakes/DALL-e and many men surveyed said they didn't care that the women were not real. However, it's not all dystopian. Over 70% of men expressed their preference for real life women and live babeshow models. There's no comparison to having a steamy phonesex chat with a genuine person who you can banter with and have an enjoyable time with.