Exploring the Taboo: Understanding the Smoking Fetish
Did you know that many babeshow models cater to a variety of different fetishes and kinks, including smoking fetishes. It is a fairly taboo topic that many people may find uncomfortable to talk about but we believe in exploring all kinds of kinks and understanding why people may be drawn to them. Believe it or not, having a smoking fetish is not uncommon. Models such as Dannii Harwood and Lucy Zara (a.k.a. Zarwood)are known for their smoking fetish content along with babeshow models Danni Levy and British mature porn star Michelle Thorne. In this blog, we'll delve into the world of smoking fetishism – from its history and evolution to why it's considered taboo.
What is the smoking fetish kink?
Maintaining safety is crucial when exploring any kink or fetish and a smoking fetish kink is no different. This particular fetish involves sexual arousal by observing someone smoke, whether that be cigarettes, cigars or a pipe. It is a relatively common fetish that has many online communities and websites dedicated to it. While the origins of this fetish isn't clear, it may be associated with the rebellious and sexual connotations of smoking in pop culture. If you're pushing 40 like I am, you'll no doubt remember watching movies in the late 80s and 90s where the cool kid was always puffing a cigarette whilst dressed in a black leather biker jacket. Some say it's from pop culture while others insist that their smoking fetish was sparked by a small act like watching an attractive woman light her cigarette. It's clearly a very personal and seductive fetish.
History and evolution of smoking fetishism
The history of smoking fetishism can be traced back to the early 1900s when smoking was associated with wealth, sophistication and rebellion. The fetish has since evolved with changing cultural attitudes towards smoking. Some people are drawn to the physical act of smoking, while others find it appealing as a form of power play or dominance. The use of cigarettes in pop culture has also influenced the development and acceptance of this fetish, from film noir to modern music videos. However, it is important to remember that any form of sexual activity should always be consensual and safe for all adults involved. Check out adult work for loads of smoking fetish content!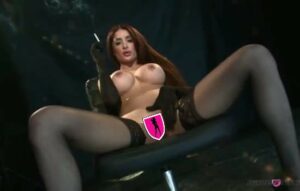 Why is having a smoking fetish considered taboo?
Despite being a common fetish, smoking fetishism is still considered rather taboo. This is largely due to the widespread view that smoking is an unhealthy and harmful habit. The fetish can be stigmatised by society, which may cause people with this attraction to feel embarrassed about their kink. Many people with the fetish keep it private due to social stigma, which can lead to a lack of understanding and acceptance of their lifestyle choices.
Types of smoking fetishes
When it comes to smoking fetishes, there are several categories that people find appealing. From inhalation and exhalation fetishes to cigarette, ashtray, and equipment fetishes with each category offering a unique attraction. The reasons behind why someone may be drawn to a particular type of fetish can vary but the common factor is the enjoyment of smoking in some form or another.
Exotic smoking fetishes around the world
Smoking fetishes are not limited to any specific geographical location. In Middle Eastern countries, shisha smoking is often associated with relaxation and socialising with friends and has become a popular hobby of many lounges and cafes. In Latin America, cigars have been linked to power and masculinity, leading to the development of cigar bars worldwide. Check out what they do in Poland with sex kamerki porn.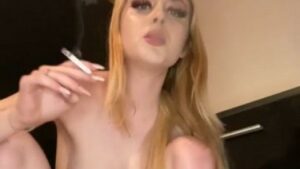 Smoking fetish categories
For those who find smoking fetishism arousing, there are several popular categories to choose from. These include exhaling smoke, voyeuristically watching others smoke, and fixating on smoking paraphernalia such as lighters or ashtrays. It's important to note that the reasons behind these fetishes can vary and may be rooted in personal experiences or cultural influences. While some people enjoy smoking fetishes for sexual pleasure, others turn to this fetish as a way to relieve stress.
Health implications of smoking fetishism
We all know that smoking is bad for our health so if you are going to participate in Smoking fetishism you need to be aware of the exposure to harmful chemicals and toxins in tobacco, which could lead to respiratory issues such as coughing and shortness of breath. Long-term exposure could potentially increase the risk of lung cancer and heart disease.
Explore your kinks and fetishes with a professional Dom such as Chantel Lane, who specialises in edging, pegging, feet worship, humiliation and sissification. Browse the girl's individual profile pages to find more Doms and cam girls dedicated to various fetishes and kinks.
Sign up as a VIP member to access fetish content and kinky videos featuring smoking pornstars Jasmine James, Paige Turnah and Lynda Leigh.