You don't have to be a cam girl or porn star to enjoy sex toys. However, girls in the XXX industry certainly have to be mindful about the cleanliness of their sex toys. In fact, every woman or identifying, whether in the sex industry or not, should know how to keep one's vagina healthy as sexually transmitted infections are never fun. One cam girl spoke to YNOT about how she keeps her toys clean and in top condition. She mentioned that one's vagina is actually what makes you money as a webcam model, therefore you want to keep it healthy so you can perform as many webcam shows as you can comfortably. The unnamed cam girl feels that standards shouldn't slip just because you're working alone in your bedroom.
A cam model and babeshow tv girl's box of toys is a huge selling point to viewers. A woman's bag of tricks can entice a viewer to enter her private webcam chat room or not. For example, a performer offering a variety of up to date sex toys from realistic dildos to strap on dildos and even double ended dildos is always going to trump a performer with a meagre selection of dated toys. Whatever toys you have in your box, literally, you need to make sure you know the cleaning method of all the different materials. An unwashed dildo or vibrator can cause havoc with the vaginas PH balance which can affect the vagina in all sorts of different ways from bacterial vaginosis to yeast infections and other nasty infection. Although sex toys can enhance one's sexual arousal and add excitement to a pervcam show, they can also cause things such as viruses or bacterial illnesses (BV). Some unwashed sex toys have even been found to contain parasites.
Cleaning methods may vary depending on the material your sex toy is made of. Below is a list for all you sexually active dildo fans of the most common materials and how best to clean it.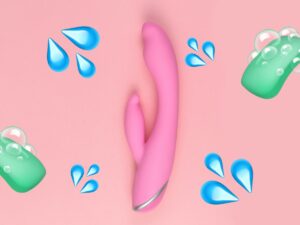 glass, Pyrex, silicone, stainless steel – motorised: wash in warm water and soap or use a sex toy cleaner
non motorised: use boiling water or sanitise in the dishwasher
jelly rubber, latex, cyberskin – wash in room temperature water and a soapy washcloth
leather – spot clean with a damp, soapy cloth
PVC and vinyl – wash in warm water and a soapy washcloth.