Olivia Attwood, a renowned British reality TV star who first found TV fame on Love Island, recently ventured into a new genre – British porn. Before you get excited, Olivia isn't the one participating in X-Rated activities. She's actually the host of a new ITV2 docuseries. The series focuses on women in the sex industry and films Olivia as she investigates the phenomena of OnlyFans and the rise in pornographic demand online.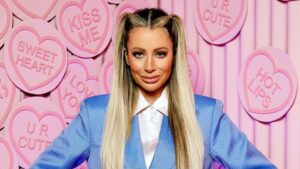 Unsurprisingly, a few of the Babestation girls popped up on the show (obviously!), including a rather interesting clip of babeshow icon and British porn star, Scarlett Jones, who spoke about getting chlamydia in her eye (who even knew that could happen?!) However, that wasn't the most interesting part of Scarlett's appearance on episode 2 of 'Getting Filthy Rich'. Another clip shows Scarlett shooting a lesbian porn scene with Lola Rose. Olivia Atwood agrees to be an extra in the XXX movie (fully clothed to our dismay), who happens to 'walk in' on the girl-girl action. Scarlett and Lola ask Olivia if she'd like to 'join in' but Olivia is seen shaking her head and making a quick dash for the door.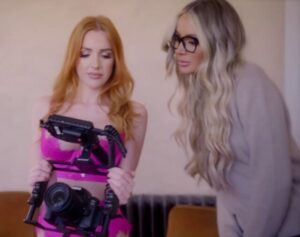 Olivia Attwood spoke to Birmingham Mail about her appearance in the porn scene:
"I'm actually just laughing because I've just fully been in a porno that's gonna go on PornHub. I've not told my fiancée, my agent, any of my family, like, no-one. Oh, I'm so excited for this to go out."
Here's a word from Scarlett about her career as a content creator:
"I think what we as content creators do is very interesting. Thanks to sex work, many people have found new and thriving careers in adult entertainment, and I'm fortunate to be one of them. I was thrilled to be a part of Olivia's documentary, and I think it reflects positively upon our industry."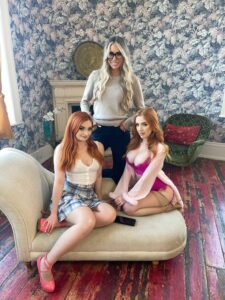 Another babeshow model featured in the documentary is Babestation Cams and pervcam fan favourite, Alex Le Tissier (daughter-in-law of footballer Matt Le Tissier). Alex spoke about her successful career as a cam girl and Onlyfans content creator while showing her down to earth side. Alex's Q&A regarding the show can be found on her YouTube channel:
The docuseries comprises four episodes: Porn, Cam Girls, Onlyfans and Sugar Babies. All episodes focus on the sale of sex online and the show has been widely talked about on Twitter after it's release. Other babe channel stars featured on the show are Ivy Hope from Studio 66 (S66) and a financial dominatrix called Jennifer.