From Ladette to Lingerie Model – Louise Porter
Former mainstream TV star and cheeky glamour model Louise Porter is a name that still garners a lot of interest among babeshow enthusiasts despite her not being on the channels for quite some time, and there's a reason for it.
The hot blonde scouse babe originally made a name for herself when she starred in mainstream TV show 'Ladette to Lady' as a self proclaimed geezerbird. For those who aren't aware of the show's premise; it was series that ran from 2005-2010 that followed a group 'ladettes', who are given an old-fashioned five-week course in learning how to behave like a traditional "lady". Louise Porter made headlines with her wild antics on the show and fans fell in love with her cheeky mischievous personally and quick wit.
After completing the five-week course at Eggleston Hall in Ladette to Lady, Louise caught the interest of some of the top UK lads mags where she was invited to flaunt her big boobs and curvy ass on the pages of their publications. Being a fun-loving and down to earth babe, it wasn't hard to see why people fell in love with Louise and she started expanding her glamour career into the babeshows.
During the time that Louise was venturing onto the babechannel circuit, Freeview was just starting to feature more adult material and Louise made her terrestrial babeshow debut on Partyland on 16th July 2009. From the beginning it was obvious that the glamorous blonde was a prize catch for Cellcast's night shows and her naughty phone sections became immensely popular.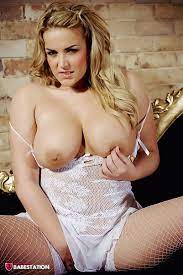 Louise's distinctive Scouse accent was one of many attributes which made her stand out on the babe channels, and whilst she was clearly nervous on her first Partyland shift, she instantly fitted in and her offbeat banter on the mic gave her the likeability factor. Louise loved building a rapport with her callers and she never shied away from kinky or taboo topics. Louise would happily flash her tits or spank her round ass whilst discussing naughty roleplay scenarios, tit wanking, blowjobs, anal or pussy play.
Louise Porter's Partyland appearances were packed into the period between 15th July '09, and 20th August '09. She literally finished work at the Partyland/Sexstation studios on the morning of 20th August, and started on Babestation that evening. Babestation was much faster paced than Partyland but Louise took it all in her stride. One of the first shows Louise appeared on after PL was BS Xtra on Freeview, where Louise starred alongside presenters Stevie-Louise Ritchie, Kelly Carter, Ella Jolie and Rosie Lee.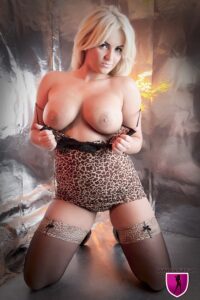 By the summer of 2010, Louise Porter was one of the top 10 babes on Babestation and was well versed in all kinds of fetishes and fantasies. She slayed the competition right up until the day she left the industry in 2015. Even though she no longer appears on the babechannels, there are still plenty of topless pics and vids to keep you entertained in the Babestation VIP Members area.
This article was inspired by Tumblr account BabeTV and some excerpts have been taken directly from his Tumblr.