Disclaimer: This fantasy fiction porn story about Victoria Summers has been submitted by a fan and has no connection to the babe.
I clicked onto Victoria Summers' porn website to check out her naked pics and I saw she was running a competition where a fan could win a date with her. All I had to do was enter into a raffle to be in with a chance of winning so I signed up and crossed my fingers. A week passes by and I had pretty much forgotten all about the competition when suddenly an email comes through whilst I was doing my food shop. I won! My heart starts pounding as I read through the list of rules and stipulations like no touching and be respectful. I never actually thought I'd win so I start panicking in the middle of the supermarket wondering what the fuck I'm going to tell my girlfriend. In the end I decided to keep it a secret and just go on the date without mentioning it. I mean it's not like anything untoward is going to happen. It's just a dinner date after all. The day of the date arrives and I tell my girlfriend I'm meeting a friend so off I go.
I arrive at a swanky restaurant where I'm directed to a private dining room. I wait for half hour before Victoria Summers walks in looking amazing in a short dress that showed off her perfect long legs and peachy ass.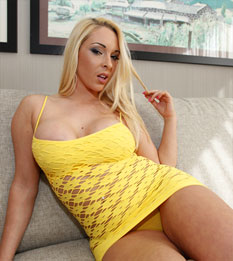 Her big tits were concealed under the slinky black fabric but I could see she wasn't wearing a bra underneath. Victoria Summers greets me with a kiss on the cheek and I immediately start picturing her boy-girl porn scenes just like i'd seen her do on BSX Live. Thankfully we take a seat and begin small talk which takes my mind off of her red lips and incredible cleavage. Victoria tells me that she's never run a competition before and that she's really pleased I won because she never imagined she'd have such a hot fan. I'm touched…and aroused. After a few rounds of drinks the conversation starts getting flirty and I feel Victoria's hand resting my leg. She begins to tell me all about her favourite porn scenes including the time she gave a blow bang to 4 guys.  I feel my cock getting hard and she tells me she's going to make this date an evening to remember.
(Look out for Victoria Summer's filthiest scenes in the Babestation VIP Archives)
Victoria drops her napkin and slides under the table to retrieve it. Only she doesn't come back up. She starts unbuttoning my jeans and whips out my cock, putting it to her lips and flicking her tongue over the tip. I can't believe what's happening. Victoria takes the length of my cock to the back of her throat, deepthroating and gagging. There's spit everywhere and I peak under the table to get a POV glimpse of the most incredible blowjob I've ever had.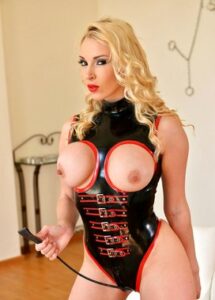 A waiter walks in with our appetisers and Victoria slows down the temp of the BJ in the hopes that he won't notice. He clearly knows what's going down because he gives me a wink and begins exiting the room. I feel like I'm about to give Victoria Summers a cum facial but just as I'm about to blow my load, she comes up for air and squats her tight wet pussy down onto my cock. She's riding me cowgirl style, her big tits pressing against my chest. I grab her ass and slide a finger in her asshole. I love a bit of anal fingering. The feeling of my finger up her ass and my cock filling her pussy was enough to make Victoria squirt all over. She practically screams the place down as she hits climax. I had to put my hand over her mouth to keep her quiet. I finish my blowing my hot load deep into her pussy, giving her a frothy creampie. Best date I ever had!