Live babeshow legend Danni Levy hasn't always been the big breasted babe channel icon you see today. She was previously an air hostess working for Ryanair air and she revealed to the Daily Star that she once flashed her new boob job to a pilot while he was flying the plane. I bet that gave him a stir in his cock…pit.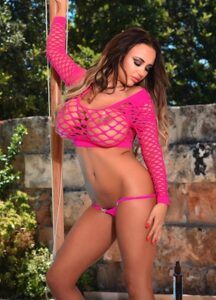 Essex babe Danni Levy made her Babestation debut over a decade ago where she has become one of the top adult phone chat operators and high ranking cam girl for Babestation Cams. Reminiscing on her Ryanair days, Danni told the Daily Star:
"I was an air stewardess there and I still have the uniform. I got my first boob job when I worked there and I am not kidding you. I used to bring the pilots in their coffees and I would show them. They were like 'oh you look different Danni' and I was like 'yeah I just got my boobs done' and I showed them while one of them was actually flying the plane. I remember it as clear as day."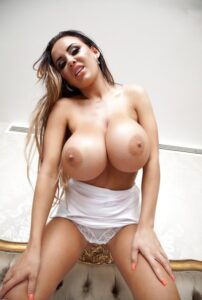 When asked if she misses being an air hostess, Danni replied:
"Oh god no. I used to nick the vodkas from the mini bar, three little voddies, that was good, but no, that ship has sailed."
Danni Levy is well known on Babenation for her nude webcam shows and witty banter on the mic so if you're looking for a babe who can give you an unforgettable pervcam display as well as great conversation, Danni Levy is your girl. During her time at Ryanair, Danni was also moonlighting as a stripper in clubs across London and Essex as a way to boost her earning. That eventually led to Danni appearing on Babestation. She's never looked back. She continued: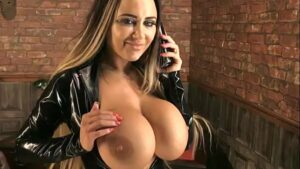 "I still love it. I love my callers and I feel like I've got a nice rapport and friendships with a lot of them. I enjoy all the dirty JOI talk and it still makes me feel sexy. The highlights are working with my mates and just having a laugh. It's a nice environment and some of the callers really crack me up and I just love getting my tits out, honestly I will never stop!"
Danni Levy's videos are extremely popular in the VIP members area with Danni pulling in thousands of views. Fans can't get enough of her huge tits and tasty big ass. Danni has been open about her love of breast enhancement and in the next few months she will be undergoing another operation to enhance her 1200cc implants to a whopping 1600cc. Asked why, she said: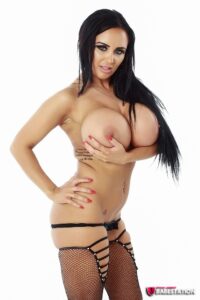 "I just really love big tits and I want to have the biggest ones and be the boob queen and for my Onlyfans just rocket."
Speaking of OnlyFans, Danni is currently in the process of converting an old pub and wine cellar into a photo studio where she and her friends can shoot racy content and put on cam shows. Why not chat to Danni by calling her on the babeshows or taking her private on webcam for an intimate C2C experience. You could always try sexting if you're looking for a more discreet service.