Dedicated to big booty babes 
Back in the 90s it was all about the boobs. You couldn't open a newspaper without seeing a peroxide blonde with hefty knockers and high waisted bikini bottoms. Back in the day the trend was to have big tits and a small ass. However, in the last 15 years we've noticed a sizable shift in the desire for a tasty big ass. Many of the girls on the babeshows have a perfect dump truck ass, perfect for twerking on Pervcam. This blog is dedicated to all those big booty babe channel babes out there like Preeti & Priya Young, Mia Yasmin, Bella Baby & Ashley Emma, as well as new recruits such as Arura Sky. For more curvy babes take a look at the hardcore videos featured in the Babestation VIP Members Area or come and enjoy a filthy phone sex chat.
Mia Yasmin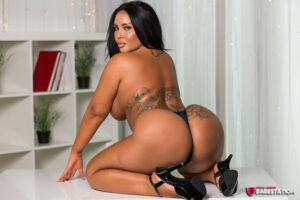 Since 2017, Mia Yasmin, a brunette big booty babeshow babe and glamour model, has been showcasing her amazing curvy form on the babe channels, mainly Studio 66 and Playboy TV. She has amassed a sizable following on Instagram where she likes to post bikini pictures. However, most of her spicy videos are reserved for her Onlyfans and the VIP members area where she shoots solo BSX videos for loyal Babestation members. Mia has big tits and a surgically enhanced big ass that guys can't get enough of. Coupled with her tits and shaved pussy, Mia Yasmin's private cam shows are hotter than anything you could find on Pornhub. How about a bit of sexting with the brunette bombshell to get you in the mood.
Bella Baby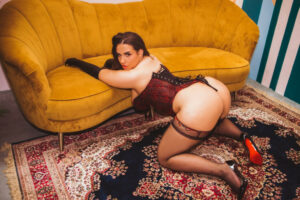 Say hello to big booty babe Bella Baby, the sexy new hire at Babestation. This gorgeous 28-year-old has years of expertise in the live babeshow business, having previously appeared on Studio 66 before its closure. For the past two years she has worked as a cam girl on S66Cams where she held the top spot on their rankings leaderboard. She is also an Onlyfans content creator. At only 5'4″ with tiny feet, a big ass, and naturally big tits measuring 34F, Bella is one of the more petite babes in the schedule but she is pure BSX Perfection. The three things that turn her on the most are filthy adult phone chat, foreplay and BDSM. Fun fact: Bella Baby is British pornstar Amber Reed's sister.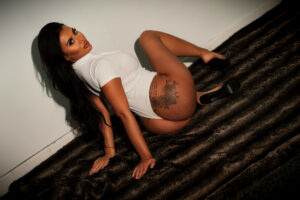 Valentina Maria is a popular brunette webcam model and live babeshow icon who frequently poses nude and engages in filthy phonesex on Babestation. Valentina was already well-known on the babe channels when she started working with Babenation, having previously appeared on Studio 66 and Playboy TV. Since then, she has gone on to become a trending cam girl on Babestation Cams and has won numerous fan awards on the babeshow forum. Every guy who sees Valentina on Pervcam or takes her private on webcam for C2C fun will experience a wild ride of naked filth and bondage roleplay. See how long you'll be able to last with Valentina!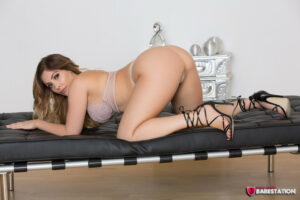 Ashley Emma is a live babeshow legend who first broke into the XXX profession in 2010 when she appeared on Studio 66. Throughout years she has become the curvy MILF sex siren you see before you. She is popular on Onlyfans and is one of the highest ranking big booty babes in the VIP members area, where her videos attract thousands of views daily. Ashley Emma enjoys teasing her callers with hot adult phonesex and detailed blowjob sex chat. Ask her nicely during a private chat on cam and she might just strip naked for you. Alternatively there's sexting and also pervcam for your discreet British porn fantasies.
Priya Young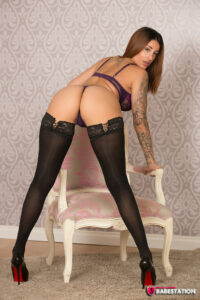 Along with her identical twin sister Preeti Young, Priya Young is one of the top trending babeshow models in the Babestation schedule. Since 2010 she has appeared on Studio 66 as well as their cam platform S66 Cams before it's closure. She now exclusively shoots for BSX and is a main feature on Babenation where her phonesex skills have landed her numerous fan awards on the babeshow forum.Priya has received offers from Pornhub and Brazzers to become a contracted British pornstar but she prefers the freedom offered by Babestation and Onlyfans. Priya frequently stars in private webcam shows with Alice Goodwin and Ashley Emma.
If you like these big booty babes pictures, see them and more like them in the babeshow booty big ass babes of Babestation gallery.