Bex Shiner – From Big Brother to Babe Channels and now opening up her own burger van, 'Bap Station' with a raunchy advert:
Former Big Brother contestant and Red Light Central model, Bex Shiner, had done a lot in her long successful career in the mainstream TV and babeshow industry. Let's take a look at how she started and how she become the fun-loving, wild glamour model she is today.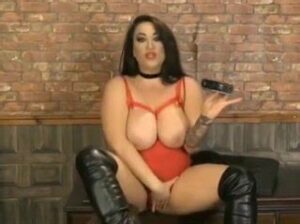 Rebecca AKA Bex Shiner, was a 21 year old nursery nurse when she first entered the Big Brother house. Her loud and fun personality made her the perfect choice for the show and on day 35 of Big Brother, Bex and Mario were nominated for eviction but a couple of days later Rebecca won the public vote and stayed in the Big Brother house.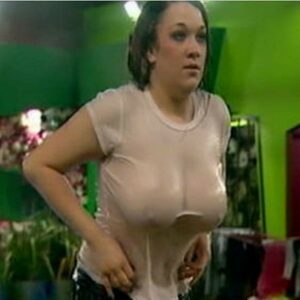 On Day 48, Bex Shiner was up for eviction again and on 25th July 2008, Bex Shiner lost the vote and became the sixth housemate to be evicted from Big Brother series 9. She never went back to working in a nursery but she did pop back as a guest to the Coundon Primary School, to help the children write a short biography as part of a project to improve their English. However, the kids seemed more interested in asking questions about Big Brother.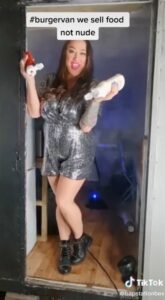 It's been nearly 15 years since Bex left the Big Brother house and since then she's appeared topless in the Daily Sport and flaunted her huge tits on the babeshows. She has also made an appearance on Tattoo Fixers. Let's not forget the time Bex Shiner unveiled Bap Station on her @bapstationbex TikTok page, where posted a video of fellow BSX and pervcam babe, Amelia Brooks lying on the floor with a phone, enticing viewers to call. Only when the camera zooms out, Bex is lying in front of her burger van, hence the name 'Bap Station'.  In another cheeky shot, Bex can be seen squirting ketchup and mayonnaise all over the floor. Typical hilarious Bex. If you thought the burger van that Bex was pictured next to was just some random van, you're mistaken. Believe it or not, Bex actually bought the van. She said: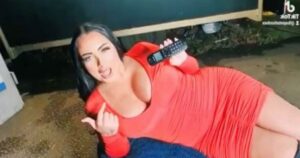 "So this time last week. I walked with my little girl out of playgroup and saw the burger van was for sale. I purchased it there and then. I have NO idea what I'm doing. But it's been a very very long week doing the van up and deciding what to do with it. I never thought I'd be a full business owner. And I want to say THANK YOU to all my family and friends who have stepped in to help. Now to make millions. Onto my next van soon. Thanks OnlyFans and Babestation for making all this possible. I'll never leave the adult industry ever. But now I have assets and I'm so proud of myself"
Keep smashing it, Bex!