We're using the Babe show Tardis to have a look back at what was going on in the world of the UK babe channels in 2020 by looking at the babes who were awarded the prestigious babe of the month award by Babestation. Some of the babes have retired and some are still appearing on the TV and on webcam.
On January 31st, 2020 the UK finally left the European Union after nearly three years of delays and political turmoil. The momentous event was marked with celebrations by Brexiteers across the country, as well as protests from those who remain opposed to Britain's withdrawal from the bloc. Prime Minister Boris Johnson vowed to make the UK "the greatest place on Earth" as it embarked on it's new chapter outside of the EU.
In the same month Flick Hill was announced as the Babestation Babe of the Month.
January 2020 Babe Of The Month – Flick Hill
Essex-born Flick began her career on the front page of The Sun after being spotted by one of the newspaper's photographers while out with friends before becoming a regular feature on the live babeshows. She was in great demand with the newspapers and promotional firms, who sent her their work all over the country, from car shows and boxing events to being the go-to tequila girl at celebrity parties. Her blonde hair and perfectly proportioned curves made her a magnet for reporters and photographers. She adored her high-profile existence, but it wasn't until she could mention 'Babestation woman' on a lengthy list of achievements that she felt complete.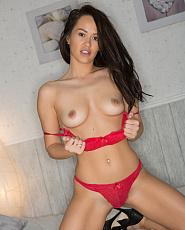 Starting her babeshow career at Studio66 Flick made her Babestation debut in October 2013.
Interviewed by Babestation in 2018 she told her fans:
What do you do when you're not working?
I love working up a sweat in the gym and building my booty. I'm also partial to a messy night out with the girls every now and then.
Have you ever experimented with girls?
I love to get naughty with both men and women…sometimes at the same time.
What do you wear to bed?
Nothing! I sleep completely naked!
If you were stranded on a desert island, what three things would you take?
Sun cream, hairbrush and chocolate
If you had to choose three Babestation babes to party with, who would you choose?
Charlie C, Atlanta and Danni Levy. Those babes know how to party!
February 2020 Winner- India Asia
In February 2020, the United Kingdom experienced a number of severe weather events, including storms Ciara and Dennis. These storms caused widespread damage and disruption across the country, resulting in several deaths. Little did people know what was about come around.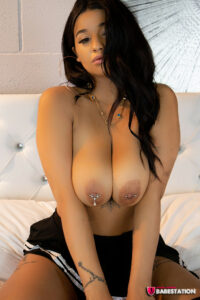 India Asia was the Babestation Babe of the Month for February. Starting her Babe show career as Sitara on Masti Nights, but went onto work across all the main Babeshows including Xpanded and Studio66.
Check out this great video of India Asia Introduction to Babestation
Interviewed for the Babe of the Month award India told her fans:
Who is your dream date?
Anthony Joshua
Whats the craziest thing you have done on a night out?
Had sex in a phone booth in London.
If you could live anywhere in the world where would it be?
Hawaii
March 2020 Award – Jamie Knight
On 13 March, Prime Minister Boris Johnson announced a nationwide lockdown in response to the outbreak. The following day, police declared that any gatherings of more than two people were illegal. This gave more time for the great British males to watch Babestation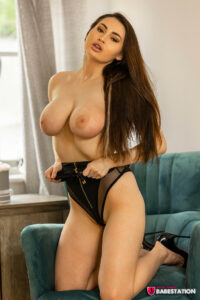 Jamie made debut on the babestation daytime TV show and it was only in Feb 2002 that she appeared on nights much to the excitement of the forum fanboys:
"she was full of energy and fun again last night lots of playing with her amazing big boobs great to see her naked for the first time working her perfect peachybum, all the time with lots of big smiles, I like her very much she got what it takes to be a real night show star I think"
Interviewed for the Babe Of The Month award Jamie told Babestation that:
If you had to pick a your favourite Babeshow Babe who would that be and why ?
Alicia Sweets. She's my modelling wife lol.
Your stranded on a desert island what three things would you take with you ?
Vibrator, Netflix, access to porn sites.
Since being Babe Of The Month Jamie's babeshow career has gone on to even greater heights and shes a regular on babestationcams and Babenation TV and often loves doing lesbian girl/girl shows
Babe Of The Month In April 2020 – Daisy Dillon
Daisy Dillon is a name that is well-known in the Babestation community, but her debut appearance was only in October 2017. Daisy was an unknown girl from Brighton who was simply trying to break into the world of modeling, and it's difficult to imagine her as the Babestation Star she is today.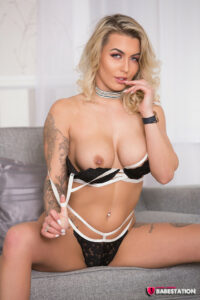 Daisy is one of those girls who just has a certain edge to her, which is manifested in her tattoos and manner of carrying herself. She's like the archetype of the tough, desirable lady in entertainment. I can picture her leaning up against a sports car in a leather jacket.  Daisy has killer boobs – although those are serious assets no doubt – but also due to her sultry appearance and captivating attitude on camera. Daisy Dillon also has a massive social media following that only continues to grow.
Interviewed for the Babe of the month award Daisy told us the strangest thing about her was that:
'My eyes change colour in water."
Whats your best achievement?
Buying my first house at the age of 20.
What would be your perfect day?
"Going to a beach abroad, drinking and eating nice food."
Which celebrity would you rate a perfect 10?
Ruben Loftus-Cheek or Tom hardy
May 2020 – Priya Young
Priya made her debut along side her twin sister Preeti made their the evening of 11th to 12th August 2010, and they set up a good foundation for themselves, rapidly going from complete beginners to top, feature acts in only half a month.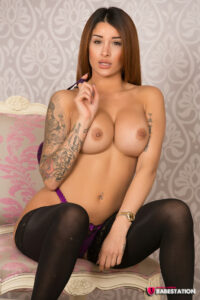 They've been featured in mainstream television documentaries like Hello Stranger and the Channel 5 series My Mum Is Hotter Than Me, as well as babeshow TV appearances on Babestation and the like.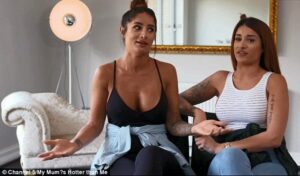 The Young twins' dedication and hard work have seen them rise to the top of the popularity pyramid for inclusion in most fans' all-time top 10 lists, in an industry overrun with flash-in-the-pan performers and also-rans who just couldn't keep it up.
Priya Young, who loves nothing more than wearing revealing lingerie for the audience, is well-known on the program for being a bit of a minx. Whether it's BDSM, feet, or role play, she caters to all of your needs, fantasies, and kinks. In reality, as she dressed in a pair of nylon stockings and a pencil skirt for a naughtily themed section, Priya gets especially aroused. When you catch a glimpse of Priya's toned, tattooed nude form, (see more tattooed babes in the gallery) you'll be unable to resist her charms. She isn't afraid to get naked on webcam and Pervcam.
Winner For June 2020 – Caty Cole
Caty gave an exclusive video interview about her life on the babeshows.
Caty first appeared on Babestation in 2009. As she approached the Babestation studio for her first shift, she was a bashful young-next-door type who was eager to learn and full of zeal. From the start, it was evident that we had found a one-of-a-kind diamond in the amazing Caty Cole.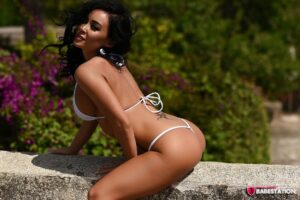 Caty who stands at just 4ft 11in tall, is one of the most petite babes on the babe channels worked for Studio 66, Red Light Central a.k.a. Playboy, and Babestation throughout her tenure on the babeshows. She usually seemed to return to Babestation, where she began doing regular BXS and private cam shows shows with her real-life bestie and babe channel colleague Mica Martinez.
Mica and Caty Cole were dubbed the "smoking hot" couple who couldn't be resisted! Whenever the girls appeared on S66 Cams, webcam or BSX together, the chemistry on screen between them was unmistakable and it felt like you were seeing something electrifying and extremely intimate. Before getting down to oily and sweaty naked touching and kissing, Mica and Caty had hot lesbian phonesex with their callers, followed by pussy play and fingering.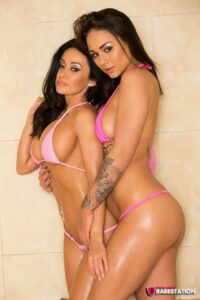 Check out the second half of this list coming tomorrow, same place, same time!