We're using the Babe show Tardis to have a look back at what was going on in the world of the UK babe channels in 2020.  By looking at the babes who were awarded the prestigious babe of the month award by Babestation. Some of the babes have retired and some are still appearing on the TV and on pervcam.  Here's part 2 of the list, see who made the grade!
(Don't forget, you can check out the first half of this list here.)
Babe Of The Month July 2020 – Lynda Leigh
If you are into the MILF and mature cougar genre of UK porn then it doesn't get any better than the one and only Lynda Leigh. She has decades of experience in the British mature porn XXX and glamour industries under her belt, and she is the creme de la creme of babeshow models. Lynda Leigh is the sex expert in all aspects of filth, from JOI / CEI, hardcore phonesex, and Strip tease to naked massage and bondage. She has worked for various babe channels such as Studio 66, Playboy, and Red Light Central.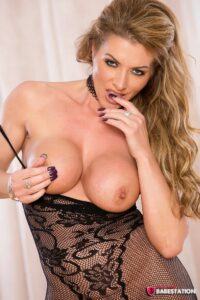 Lynda Leigh has been in the business for many decades. She deserves a lot of respect.
Do you ever come across old clients from years ago?
Back when I was doing the men's magazines I would meet some guys through 'photography days' we used to do, that's not really a thing in today's world. But those same guys I used to meet years ago, sometimes come through on cam and are shocked I'm still around. One guy said to me, 'I used to wank over you in the magazines, now I can see you on cam in front of me'.
You're known as the ultimate MILF, how do you like playing that role?
I'm not going to lie, it took me a while to get used to it. I thought being a MILF meant I was regarded as old, but that's not what it is! I'm more than happy to be regarded as a MILF, most of the guys that come through to me tell me that I'm the best MILF they've seen. It's interesting, because my body is still in great shape, so my looks may not represent the generic MILF look, my clients love it!
What do you enjoy most about being a Cam Girl?
I get a massive buzz out of performing for guys on cam. When they give me compliments via the text chat, it just makes me so happy. I do also enjoy being in charge of some clients, having that control over a guy! A lot of lovely pleasant guys come to chat to me as well, so speaking with them is always enjoyable.
August 2022 Winner – Mia Yasmin
Mia Yasmin, a Reading native with huge breasts, even huger ass, and a complexion of rich mahogany. With more curves than a coke bottle, Mia Yasmin has the big tits and the big ass that wouldn't look out of place in a hip-hop video.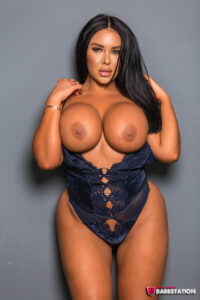 Starting out on the babeshows way back in 2009 as Abbee Kimberly on the TVX daytime show Party Talk. Her magnificent tits were the talk of the babe show forum and there was great excitement as to when she would "unleash the puppies" Abee also appeared on Studio66TV when it was EliteTV in 2012.
"What a mind-blowingly hot & mind-blowingly sexy show from Mia last night. Mia Looked great in her lingerie & got hotter, sexier & filthier as the night went on including the mind-blowingly hot sight of her naked apart from her heels."
Kimberley made her Babestation debut back in 2010 but it's fair to say that Kimberley is one of those babes who has got better as she has got more experienced.
In the Babe of the Month interview Mia told us of the craziest thing she had ever done:
MY: I had a threesome with my ex-boyfriend and a stripper. We went to a strip club and got really drunk and really naughty with her. I love strippers, they're so naughty and she had the best ass. Almost as good as mine
BS: What is your favourite thing about being a Babestation Babe?
MY: Working with the best girls and the best producers. Getting to talk sex to my naughty callers. Getting to shoot naked content which i enjoy doing, I like being nude in front of the camera and working my curves
when asked what If you weren't a Babestation Babe, what would you be?
MY: I'd be a DJ. Because i get to look sexy in the club and play my favourite tunes and meet loads of sexy boys and bust down Thotiana! I'd love to learn how to get on the decks.
BOTM Award September 2022 Poppy May
There's something of a change in the Babes Of The Month from September whereas earlier in the year well established long term babes like Preeti and Lynda Leigh had won the coveted prize in September the choice is a much more recent babe, Poppy May and this trend continued into the subsequent months.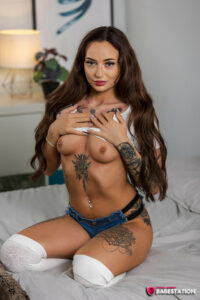 Poppy made her Babestation debut in may 2019 having previously appeared on S66cams, Poppy appeared alongside bosom buddy and fellow babeshow legend Lucky Lorenzo.
"It was quite a show they put on!"
"Wow! I was not expecting Poppy to be that hot with Lucky mostly leading her as she looked a little nervous but then peeled off her thong and revealed all-She just might grow on me, although still don't think the piercings are her. Definitely eye-popping!"
"She got fully naked, spread her legs and squeezed a big dildo into her very tight 19 year old pussy 
She also fingered it a lot, spreading her pussy lips wide showing off how wet she was inside."
Babe Of The Month October 2020 Missy LeAnne
Missy started at Babestation in the summer of 2020 so it was remarkable that she was awarded the Babe Of The Month award in September 2020. Missy had made an immediate impact like few babe channel babes are able to do.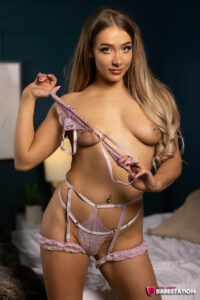 One forum fan said: "Missy was the best girl on BS TV last night I think, she's got a lovely freshness about her I am loving her energy, I really liked the variety she was bringing lastnight , makes me wonder why some of the experenced girls she was working with lastnight where finding it so hard to be interesting when it was just coming naturally to Missy, hope she becomes a regular on TV."
Babestation:  What's your greatest achievement?
ML:  Earning more than what my parents made when i was nineteen and being able to provide for my family.
BS: Who is your biggest idol?
Missy LeAnne:  Lana Rhodes. She was eighteen when she joined the porn industry, did it for a year and now she's the most searched pornstar on PornHub.
BS: If your friends described you, what would they say?
ML:  Bubbly, outgoing and good sense of humour… (dark).
What do you enjoy most about being a Babestation Cams Girl?
I like getting told what to do by strong & dominant men!
How would you describe yourself?
I'm cheeky, cheerful, submissive, adventurous and ambitious!
Describe your cam shows?
I love being submissive to 'Missy's Masters' but I also be dominant to 'Missy's Misters!' I also love a good oiled up session. The feeling of my naked body being wet and slippery when my ass claps on yours really sends me to a whole new level!
November 2020 Award – April Mae
April Mae started on the Babeshows at the beginning of 2020 becoming the cam girl of the week in march 2020 and then Babe Of The Month in November. It took April a while to overcome her shyness but by May 2020 forum viewers were starting to see a different more exciting April.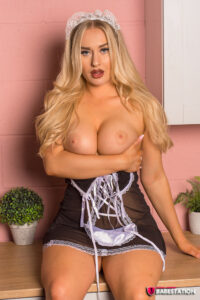 "April is getting better and better, every show she seams to be getting more naughty, we had her usual legs wide pussy play show but for her next goal she fingered her sexy asshole love it when girls do that, showed off her lovely boobs as well, when she hits a goal she dose a quiet long show after which I like can see why she's building up a following from the buzz gang, definitely think her best shows are from the London studio."
"Wow what a show, BOTN on her first proper night show, she looked stunning and so happy to finally free her perfect big boobs , wow she knows how to play with them, so much energy lots of different positions, she really showed off her perfect peachy bum very well, that was everything you want a night show to be.  BS have found a true star , I really liked that show just amazing all night."
"YES!!!! WE have been waiting so long for the "unveiling" PROBABLY in desperation that it wouldn't EVER happen!"
"Then as from last night we have a NEW true night-girl! She looked so happy after she "released" her lovely BIG boobs: What a fantastic night of her: she was so good on BOTH shows that I will keep BOTH!"
"I have liked her since I first saw her on the nightshows: it's a boob and bum thing!"
"Thanks April and WELL DONE!! Naked next!?; when you are ready!! We are!!!!!!"
Being interviewed for the Babe Of The Month award April explained her favourite fetish is a foot fetish.  You can watch a sexy video of Aprils feet here.
How would you describe yourself?
Fun, silly and permanently aroused
What's your favourite outfit to wear on cam?
I like matching underwear sets. Pretty much anything that shows a lot of skin
What turns you on?
OMG, having my feet played with really gets me wet. I don't know what it is about having my toes sucked and massages but it's so arousing. I'm also a big fan of oral
What's on your sexual bucket list?
I'd like to suck and wank two cocks at the same time!
December 2020 Babe Of The Month – Hayley Maye
Hayley's a naughty brunette with 34G breasts and a love for kink who you'll want to meet. This baby has a vibrant, outgoing personality that makes you feel comfortable from the moment you meet her. She loves having a laugh with people, whether on cam or in her personal life and claims that laughter is the best medicine. She classes her peachy ass as top feature, hates rude and impolite guys and vows to never take life too seriously.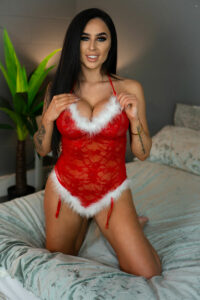 Chav porn babe, Hayley likes to get down and dirty with the sexy toys
She had the full buzz gang in buzzing her pussy non stop and she put on an amazing show for them , so sexy how she says cunt and not pussy like most girls,
"Her reactions as she got buzzed more and more where brilliant, when she finally took the toy out to do a tip goal the look she gave was like after someone has been running hard and just finished a race."
"Lots of her lovely pussy on show in different positions, loved seeing her taking a huge dildo deep in her very wet pussy, I feel one of the best most entertaining girls on the shows at the moment, her mic work is the best and no surprise to see so many wanting to buzz her."
What's the naughtiest thing you've done on Cam?
I squirted after a caller told me to massage my G-spot. He said "I'm going to make you squirt" and I'm like "yeah right" because I'd literally never squirted in my life. I didn't think it was possible. He talked me through it and advised me how to touch myself and I just felt it happening. I still can't quite believe it.
What's your favourite outfit to wear on cam?
Being an ex stripper I have lots of naughty outfits but I love nothing more than being naked with my only my skyscraper heels on.
What's on your sexual bucket list?
To perform a double blowjob with my best friend
That was 2020 a nice mix of new and experienced Babes and many of that have gone onto great things in the UK Babe Channels.