Disclaimer: This fantasy fiction story about Tiffany Chambers has been submitted by a fan and has no connection to the babe.
After 10 months of working alongside my smoking hot work colleague, we were finally going out. Granted, it was with the entire office but I was hoping something would happen between Tiffany Chambers and I. Everyone in the office wanted a date with Tiff, who was an ex-glamour model and lads mag favourite once upon a time, I'd known her from Studio 66 and the S66Cams too between appearing on Babestation. The other women in the office were all jealous of her whilst all the guys wanted to fuck her. With the office party looming, I got dressed up, spritzed myself with aftershave and shaved my pubes (just in case I got lucky). I arrived at the cocktail bar where we had a private function room out back. Tiff was standing at the bar looking sensational in a figure-hugging red dress, cleavage on display and a big ass that looked like a peach.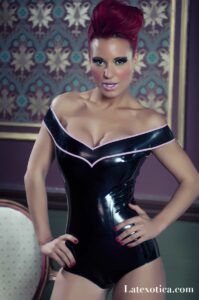 The evening flew by and everyone began to get tipsier as the drinks flowed freely. About an hour before the party was drawing to a close, I saw Tiff walking over to me with two shot glasses in hand. "Tequila or Sambuca", she asked. I hated both but I figured sambuca would be the lesser of two evils so I thanked her and clinked glassed before downing my shot. About half hour later, a now tipsy Tiffany, started asking me all kinds of personal questions such as how many women I'd fucked and if I liked blowjobs. I told her all about my love of deepthroat and cum facials with my ex-girlfriend and Tiff said she enjoyed that too. I was actually joking because I'd never in my life had a girl allow me to spunk on her face but I thought it would be funny to try and shock Tiffany.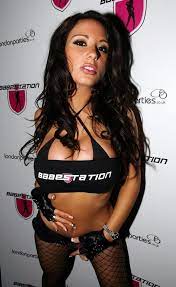 My plan clearly backfired because the next thing I knew, Tiffany is grabbing me by the hand and leading me to the bathroom. She locks the door behind us and pushes me up against the wall like something out of a porn film. Sliding her hand down my trousers, Tiffany Chambers grabs my cock and wanks my semi hard dick up to a full blown stiffy. My hands explore the curves of her body, groping her big tits as I slide a hand under her dress to squeeze her ass cheeks.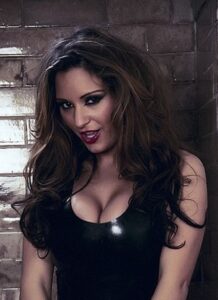 My fingers graze over her knickers which I can already feel are pretty damp from her pussy juices. Tiffany Chambers pulls her knickers to the side and guides my hand to her wet pussy. I've never had a woman be so sexually confident before. My fingers slide easily into her wet snatch and I finger fuck her until her moans of pleasure engulf the room. Suddenly there's a loud knock on the door. It's our boss wanting to use the loo. Uh oh. Getting caught finger fucking a fellow employee wasn't on my list of reasons to get sacked from my job. Tiffany straightens her dress and gives my cock a last-minute cheeky squeeze. We sneak out of the bathroom hoping not to get noticed. No such luck. The boss raises an eyebrow but then gives me a thumbs up when Tiff wasn't looking. That was definitely one work event I'm pleased I went to.
If you'd like to see more pics and video content of Tiffany Chambers, going all the way back to 2006, simply follow this link to become a Babestation VIP Member now!