This post by @Babe_TV first came out on October 25th 2014 and is as true then as it is today as it describes Babestation legend, Lori Buckby.
It's not difficult to find Lori Buckby on the babe channels as we approach the final phase of 2014. As I write in October '14 Lori has been continuously and intensively employed at Babestation for almost three years, and during that time she's unshakeably weathered every change in the organisation, proving herself thus far invincible, and seemingly immune to the slump which has bitten all of the babe channels hard. But when Lori began this current term with Babestation on 14th December 2011, it was already well known what a dynamic earner she was. She'd been a big name on Babestation before. I've looked at Lori's intervening spell on Elite TV in the Lori on Elite post, but I'm now stepping into more familiar and obvious territory…
Long time fans will remember Lori from old daytime shows such as Lads Lounge and Party People, back in the noughties. But in addition to these Sky TV broadcasts, Party People also had a Freeview 'night show', and as the babeshows seemed to hit an exponential buzz in the latter throes of 2008, Lori was one of the happening names on that 3am Channel 37 programme. There was no toplessness on Freeview at this time, and Party People was in any case classed as a day show, but these were very sexy transmissions, which in many ways were much more erotic than the current Babestation output. The opening pic recalls Lori on Party People in a relaxed pose which few viewers would expect to see from her today.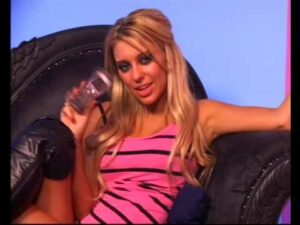 On 27th January 2009, Lori gave her first hint to the Freeview audience that she may move away from day and tease shows and into the realm of much more clearly defined night shows. Her appearance that night on the ass-kickin' Babestation parallel Party Girls created a lot of excitement, and she was promptly roped in for more episodes in the short remainder of the series. Above, Lori is seen on her first Party Girls show.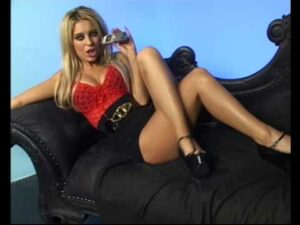 The inevitable progression was of course regular work on Babestation nights, and Lori became a primary focus of the Channel 33 Babestation Freeview show, starting in June 2009. Lori's early Babestation nights appearances can look very much like Party People stills when seen in the form of screen captures. In video form they're more energetic than a typical PP sequence, but there are still lots of traits from daytime and tease, and there's no toplessness. You can see some examples above. It's all from BS on Channel 33 except for the bottom right pic, which is from Lori's notable Partyland Channel 50 appearance of 5th August '09.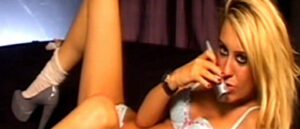 Lori incorporated a 'boob tease' into her performances through much of the summer 2009, so only those who bought her download pics got to see more than the odd nip slip here and there. But in September 2009, Lori's first tentative topless moments on live TV began to creep into the viewing. Lori notably appeared in a see-through body stocking in the middle of the month, but on the 19th, all of this was trumped with a very surprising fully naked appearance on Party Girls' special 'Naked Night'. After that, longer fully topless sequences became the norm. Above top left you can see typical 'boob tease' – hand on bra, then top right the eye-opening body stocking routine. The main pic beneath that shows a late September '09 shower set in which Lori is soaping down Rachel Cole – clearly no longer in tease mode. The unthinkable had happened, and Lori Buckby from Lads Lounge and Party People was now one of the "rudie-nudie" girls.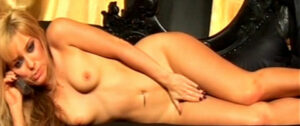 By spring 2010, Lori was undeniably the epitome of what Babestation nights was about. But things were changing. Bluebird was promising a huge complex of babe channels which looked set to open up the market and give the girls more power and choice than ever before. Babestation's plan, meanwhile, was porn. A new encrypted channel, with big promotion on the primary Freeview show, looked almost certain to give the advantage to XXX-rated girls, and put the squeeze on the glamour babes. If I'd been someone like Lori at that time, I would have left Babestation. Lori did leave, along with other glamour models, and whilst I don't know what her reasons were, I suspect that at least some of the above would have had a bearing. In the above pic, Lori is seen on BS Xtra shortly before leaving Babestation in 2010.
With Bluebird still preparing to get started, Lori's initial move was to Bang Babes, in April 2010 – which maintained her Freeview presence. In the summer, Lori did move on to the now active Bluebird, but it wouldn't be for long. Again, I don't know what her reasons for leaving were, but by the middle of autumn when she was heading for Elite TV, there was a widespread notion that Bluebird had over-hyped itself, and the optimism of the spring looked to be in dramatic regression. Just days later, Bang Babes was effectively shutting down, model supply and demand had inverted, and Lori's decision to go to Elite was already looking like a clever one. The channel suited her at that time. She didn't end up looking desperate, or panicked, and in the ensuing year she stood out so blatantly at Elite that she must surely have consolidated her value in the market.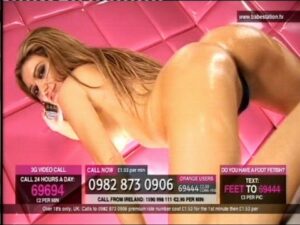 The above pic comes from 14th December 2011 – the night of Lori's return to Babestation. This time, Lori would be much more central to the cut and thrust of the channel. She was a big name before, but very quickly it became clear that now she was a bigger name, more important – in the course of time, supremely important.
There's little doubt that Lori has had an almost world-beating level of personal success on Babestation, and I wouldn't put that down to luck. Lori has thrived on a range of maverick or unusual techniques for calling customers to action. She appears to pay a lot of attention to suggestions or feedback from producers, and she looks to favour some of the more 'avant garde' or risky concepts. But she's also very instinctive. She knows where the money is, and she knows what to do when things aren't going to plan. As I see it, Lori's perception of her role is much more as an advertiser than a service provider. She's obviously both, but the advertising is a much more predominant component in what she does than is the norm across the babeshows.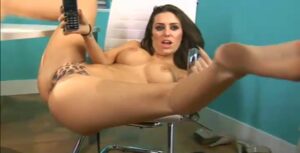 It would be naïve not to recognise that Lori is a very driven (and in some respects ruthless) money-making machine. But she does have an extremely affable and likeable manner, and that never disappears. In six years of live babeshow footage I've never found one instance of Lori looking anything other than upbeat and enthusiastic, and that must be incredibly hard to achieve – especially when you're right at the forefront of the business where the pressure is at its highest.
As things stand, Lori has probably worked more hours on terrestrial UK television than any other babeshow girls. She might be a sexy little cutie with a killer body, but it's her killer instinct that's given her all that success.