Sabrina Jade Bares It All: South Coast Beauty In The Spotlight
If you're a fan of sultry British beauties, then Sabrina Jade needs no introduction. She's been in the spotlight for a while , and her nude modelling career has made her quite popular among fans of all ages. In this blog, we will delve deeper into who she is, her journey to fame, and her most popular nude scenes.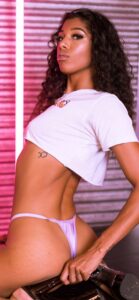 Who is Sabrina Jade?
Sabrina Jade is a British model and social media influencer, who has gained popularity for her sultry photos on Instagram and OnlyFans. Two years ago, Sabrina was introduced to the world of webcam by a friend who suggested that she use her old college uniform to attract viewers on cam.
Sabrina quickly gained popularity due to her naked solo shows and provocative performances on pervcam. Being a camgirl has allowed Sabrina to focus on her studies while also exploring her sexuality and fetishes. With her athletic build, brunette locks, petite breasts, and perky buttocks, Sabrina is the ultimate university student that you would want to have sex with!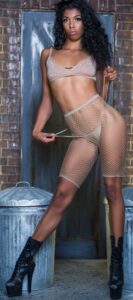 Sabrina Jade Babestation
Sabrina Jade is a British south coast beauty who has made a name for herself in the world of nude modeling. Sabrina leads a dual existence, pursuing her studies during the day and performing nude and topless stripping at night. For the past four years, she has been showcasing her talents in Gentlemen's clubs throughout the UK, thoroughly enjoying entertaining her male audience.
Sabrina Jade's Popular Nude Scenes
Her performances have captured the eye of both webcam and fans of Babestation Unleashed BSX making her one of the most rising stars in the industry. Her popular nude scenes have sparked conversations about body positivity and representation in the entertainment industry.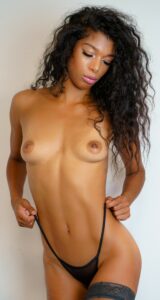 Where to Find Sabrina Jade's Nude Content?
As well as on social media and Onlyfans account we have some super scenes here at Babestation
Sabrina Jade – Flexible British Ebony Babe
Sexy Babeshows Girls with Natural Small Tits and long legs
Become a VIP to access Sabrina Jade XXX content
Babe Of The Month-May '22
Sabrina Jade was interviewed when she was awarded the prestigious Babe of the Month award in May of 2022
Babestation: How would you describe one of your cam shows in 5 words?
SJ: Energetic, flexible, fun, wild, oily
Babestation: How did you get started with BS Cams and what do you like about it compared to other cam sites?
SJ: I literally adore Babestation. I have been in the industry for 6 years and have never been part of such a beautiful network of people from management, the babes and also all of the amazing guys who interact and play with us online!
Unfortunately due to the pandemic I was jobless and homeless because all the strip clubs had closed, then Babestation reached out and asked if I wanted to try studio work! From my first shift I was in love with the atmosphere, job itself and all the gorgeous people I interact with. Now I have a lovely flat, I'm surrounded by beautiful people and have a wonderful career on babecall cams and on stage.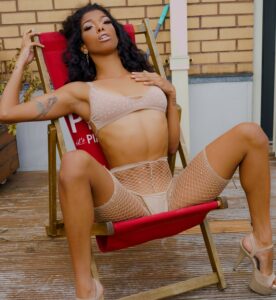 Stripper of the Year 2022
For twenty-six years, the Sexual Freedom Awards have been recognizing and celebrating practitioners, performers, and activists who advocate for positive attitudes towards sexuality. The awards are presented in nine categories, such as Activist, Ally, Event, Performer, Pioneer, Publicist, Sex Worker, and Somatic Sexologist of the Year. The unique and handcrafted 'Golden Flying Cock' trophy is awarded to the winners. During the awards ceremony, Sabrina was awarded Stripper of the Year after impressing the audience with her outstanding performance that surpassed those of other contenders.
For a period of 6 years, Sabrina Jade has worked as a sex worker, performing in various venues such as strip clubs, dominatrix sessions and babestation shows on both TV and the internet. Her performances often showcase her pole tricks, impressive splits and flexible flair, which have left audiences amazed across the UK, Australia and Norway. In addition to her remarkable performances, Sabrina has also garnered numerous pole-related awards including regional medals, judging accolades and the professional silver medal at Authentics UK.
She works towards making the pole industry more inclusive and diverse. She demands respect for strippers and sex workers in the industry. She has recently become a judge and consultant for Pole Dance Stripper Movement (PDSM), an exclusive competition for strippers.
Stripping has helped many overcome financial insecurity, embrace sexuality, and build confidence along with a pole career. In a recent interview, Sabrina emphasized the importance of workers' rights for strippers in the UK. She believes that access to sick pay and job security is crucial for people working in strip clubs. It's frustrating that instead of protecting workers, the UK is choosing to close down strip clubs, putting many at risk.
Sabrina is a striptease legend. IG: @sxbrinajade Twitter: @sabrinajadex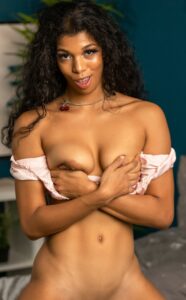 Social media and Onlyfans
Sabrina Jade is active on social media platforms like Instagram and Twitter, where she shares updates with her followers. However, she also has an OnlyFans account where she shares exclusive content.
Those who wish to access her exclusive content can subscribe to her Sabrina Jadee OnlyFans account.
Watch Sabrina Jade Babestationcams
Sabrina, an accomplished international performer and Babestation star, is now pursuing a first-class master's degree in biochemistry and has even published a thesis. Along with her intelligence, she takes pride in showcasing her toned physique and assets through oil shows featuring various toys – even including a strap-on for those seeking a submissive or kinky experience. She enjoys both playful interaction as well as engaging conversation so don't hesitate to say hello!
Sabrina Jade babeshows keywords
porn milf natural tits masturbation
hd cumshot blowjob vintage
big tits big natural tits luke hotrod threesome
stockings creampie big ass
amateur pussy fun bdsm sabrina jade shows
big dick plumber orgasm
bondage big boobs
vxxx txxx tattoo sunporno
pornoxo momvids
lukes doggystyle action – luke hotrod hotmovs
hdzog hclips
cougar cleavage cunt cleavage amazing tittie fuck sex toy