We are massive fans of boxing at Babestation.  Which is why we were gutted when we heard that it looks like the exhibition between boxing legends Ricky Hatton and Marco Antonio Barrera is going to be postponed along with the much-anticipated Hughie Fury vs. Michael Hunter showdown. In addition to posting some pictures of himself and his son, Campbell Hatton competing in the ring together, Ricky Hatton announced on social media that his portion of the tournament would be postponed to November.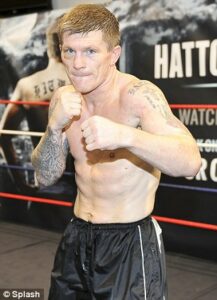 Referring to the exhibition with Barrera, Hatton said:
"Gutted the fight fell through. I'd worked so fucking hard. But I'm staying at it. Me and Barrera will be back in November. The show still goes on, passing all my experience to my son."
Campbell Hatton (7-0, 2 KO) is due to return to the ring on Matchroom's August 6th show in Sheffield.
Hopefully a new date is set for the Hatton-Barrera show, and everything runs smoothly. Exhibitions are a great chance for fans to witness former stars return to the ring and put on a show, usually for a good cause. It's obvious that Hatton and Barrera are excited about this. Here's hoping there won't be all that WWE-type nonsense. Ricky Hatton recently posted a few snaps showing off his weight loss in preparation for the exhibition. This coming from the guy who was previously labelled as "Ricky Fatton" between bouts. Damn! People are mean.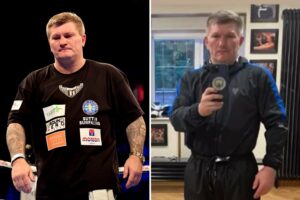 Remember the time during lockdown when Ricky Hatton posted a video of himself with Babestation playing in the background along with this message to his twitter fans:
HI EVERYONE, RICKY 'THE HITMAN' HATTON HERE. BEEN IN ISOLATION FOR SEVEN DAYS NOW. AND IT REALLY IS HARD WORK ISN'T IT. BUT WHAT YOU'VE GOT TO DO, YOU'VE GOT TO KEEP POSITIVE AND KEEP YOURSELF BUSY. FIND THINGS TO FILL YOUR TIME WITH, KEEP KNUCKLING DOWN TO IT AND THINGS WILL COME OUT GOOD
This isn't the first time the babe channels and sports stars have rubbed shoulders.
Brilliant! You can't say Ricky 'The Hitman' Hatton doesn't have excellent taste in entertainment. Ricky's fans agreed, with one person commenting: "Filling your time wisely I see". Another said: "A mans gotta do what a mans gotta do". Yup! We wholeheartedly agree!
Join the babestation babes on cam now!