The following blog about Ava Whyte on Dirty Wives comes from the incredibly in-depth Tumblr account of babe_tv who's archive of blogs is sadly no longer available to view.  However, we have a selection of them and we are going to continue posting them here and on the Babestation.tv blog so you can read them and enjoy a nostalgic look back at some of the history of Babestation.
Dirty Wives was one of the themed nightshows which Babestation trialled on Freeview Channel 97 starting in late 2011. It wasn't the first, but it looked initially to be by far the most successful contender to snatch airtime away from the channel's previous monopoly – Babestation Blue. Essentially, Dirty Wives was pitched into competition with BS Blue and a number of other ideas, each of which would be allocated as many of their own nights on Channel 97 as they could commercially justify.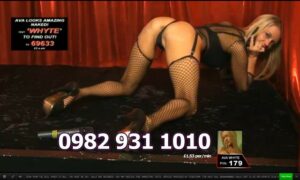 The Dirty Wives theme of more mature women in all shapes and sizes wasn't everyone's idea of a suitable replacement for a selection of twenty-something glamour models, but it did quickly start to dominate the channel, easily subordinating the likes of Masti Nights and the 'recruitment show' Babestation Apprentice – as well as Babestation Blue itself. After rising to a peak of five nights per week in winter 2012, however, Dirty Wives just as quickly lost its footing, crashing to two nights per week by early spring. The decision to scrap the show looks to have been taken in May '12, with a further reduction in airtime to just one night per week for the remainder of its run, through to July. Having kicked off on the night of 7th to 8th December 2011, Dirty Wives was in existence for about seven months.
Could it have lasted? Well it was certainly a niche concept, which obviously wasn't going to rival Babestation's more typical phone-in shows commercially in itself. But Babestation already had channels running their trademark output, and the idea with the niche concepts was, I'm sure, to test whether having something different, albeit commercially less potent per se, would make more sense than simply duplicating one content type across all channels.
The niche concept does make sense when you look at it like that, and there's undoubtedly a lot of interest in older women. But in entertainment, any type of restriction is… well, restrictive. Not only are you restricting the audience – you're also restricting the pool of acts from which you can draw. Trying to find really big commercial hitters is hard enough when you include everyone. But trying to find them when you restrict the parameters to a niche, is going to be a much, much bigger challenge.
The final nail in the coffin for Dirty Wives was probably Babestation's policy of putting three women on screen at a time – sometimes women with very different spectrums of appeal. The logic of having something for everyone is fine, but if you're mixing too wide a range of different tastes, you probably have to budget for the fact that one viewer's "sexy", can be another viewer's "passion killer".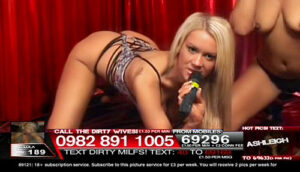 AVA WHYTE
The pic heading this post shows Ava Whyte on Dirty Wives. Ava was interesting in a number of respects. Firstly, she seemed to me to be more compatible with a regular, glamour-orientated babe channel than a 'mature' channel and I wondered why she was on Dirty Wives as opposed to Babestation. Secondly, she was the subject of a prank call which went viral on YouTube. She dealt with it very well and came across as a really nice lady. She wasn't the most ruthless in turning the conversation sexual (which could have adversely affected her eavesdropper stats on night shows I suspect), but it was hard to see, given her attractiveness and excellent capacity for interactivity, why her tenure on the channels was so short-lived.
However, amid her term on Dirty Wives, Ava had a very brief association with Bluebird TV, and there was talk on Twitter about her having "walked out" of Dirty Wives. In a public response, Ava stated that she'd gone home after an "emotional moment" but hadn't left the show. Later in the year (mid September 2012), Ava was one of the first models signed up to Dani O'Neal's British Babes Live Web project. Once again, though, the association seemed very brief indeed, and unfortunately, Ava since looks to have disappeared from the babe show scene entirely.
Check out more milfs like Ava Whyte and the others you'd find on dirty wives by watching babestationtube for a massive selection of clips and vids from babestation's history.