Since her move from S66 to Babestation early in summer 2014, Caty Cole has clearly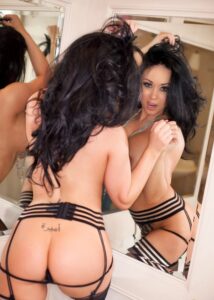 been one of the Babestation channels' top attractions. However, those who can remember the equivalent channels prior to autumn 2009 will know that the night of 8th July '14 was not Caty's Babestation debut, but her return. Before her long and much celebrated term with Elite TV / S66, Caty worked across the range of Babestation-related shows, including the Freeview shows Partyland, Party Girls (revival version), Babestation 2, Babestation 1, and BS Xtra. Her actual Babestation debut came on the night of 11th to 12th September 2009, but let's not get ahead of ourselves…
One factor which I suspect has had a bearing on Caty's babeshow career has been the presence on the scene of her younger sister Amanda Rendall. It seems the two girls made it a rule that they would never both appear on the same babeshow, and indeed it was stressed by Amanda (in a live response to a Babestation texter back in September 2009) that babe channel viewers would never see the two of them together. That has always remained the case. But back in the noughties, Amanda was established as a leading name on Babestation, and that would have made scheduling the shows very difficult had Caty Cole also entered the arena as a Babestation girl.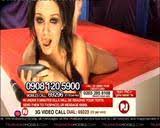 Hence, if you trace things back to 2008, before the Channel 46 Party Girls series and the real rise of babeshows on Freeview, you find the sisters in different places. In summer 2008 Amanda was already well known on Babestation, and Caty Cole was newly established on the Sexstation channels, which at the time incorporated the premium glamour show Babecast TV. Both operations fell under the auspices of the same parent company, but they were, in practical terms, completely separate entities. Whilst Amanda was also known to the Freeview audience courtesy of some eye-opening work on Party People, and would become much better known through autumn '08 after Party Girls went to air, Caty's channels were Sky-only.
However, at the end of winter 2009, the Sexstation group replaced Babecast with Partyland – a very similar premium glamour concept, but importantly different in that Partyland had a Freeview presence. And on the night of 19th to 20th March 2009, Caty Cole introduced the first ever episode of Partyland to Freeview, making her terrestrial debut in the process, alongside Reede Fox. Caty Cole remained a top choice for the original Partyland show through the spring and summer of 2009, but at the end of summer, all of the former Sexstation channels (or at least what was left of them) fell into the hands of Babestation, which effectively meant all of the shows merging and being run from the same studios.
From here, there must have been at least some scheduling issues, as both Caty and Amanda would have been on the same rota. Caty tended to stay on Partyland, and the newly revived Party Girls, whilst Amanda primarily worked on Babestation 1 and 2. However, Caty made a very limited number of Babestation appearances, the first of which, as I previously mentioned, came on the night of 11th September '09. Because the shows didn't hit Freeview until after midnight at that time, Caty's first BS Freeview appearance came just into the morning of the 12th.
One of Caty Cole's very rare 2009 appearances on Babestation 1, captured during the period when both she and Amanda were Babestation girls. There's another rare pic of Caty on BS in 2009 heading the Text Chat post. (No there isn't but click the link to read that one)
Near the end of October '09, Amanda left Babestation in a move to Bang Babes, and almost immediately after that, Caty also left the BS channels for Elite TV.(a.k.a Studio 66). Caty's last night on Babestation before moving to Elite was 6th to 7th November 2009. There were a lot of big changes at BS around that time, and quite a number of departures. Some staff left and some were let go, but it seems almost certain from the timing of her move (i.e. after the month end), that Caty's departure was her own decision. I also suspect it was quite a blow for Babestation given Caty's excellent temperament and customer focus, and of course the obvious market for a pretty Scottish babe with a figure and charm factor to die for.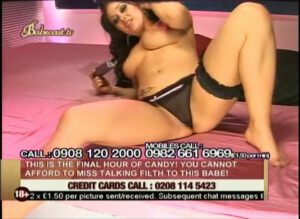 Caty was a regular on Babestation's revival series of Party Girls, which ran between late August and late October 2009. Caty's prominent employment on Party Girls 2 could well explain why original Party Girl Amanda barely appeared on the revival series. As far as I'm aware (and I have schedule notes and footage from every night), Amanda made just a single appearance on PG2 – in the period of a few days when Caty was still working at the old Sexstation studios and was therefore not yet available to the new Party Girls show.
Since her 2014 return to Babestation, Caty has been a particularly familiar face on BS Xtra, and her long bouts of screen time at peak periods have suggested that she's been very effective commercially. Not that that would be any surprise. Through her career, Caty Cole has been no stranger to the number one spot in popularity polls, and her whole approach to the business makes her very easy to like.