Babestation icon Amber Paige opened up to The Sun newspaper about her experiences with trolls and creepy callers on the live babeshows. Teen 18+ Amber from Buckinghamshire has been working on the babe channels for several years and despite loving her job, she says it can sometimes be scary. Amber is one of hundreds of cam girls who work for Babestation which is an adult phone chat show. She also works as a webcam model on their cam platform Babestation Cams.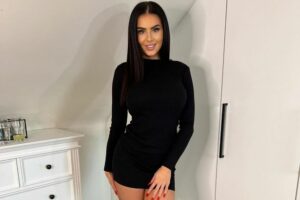 Amber recently shared the darker side of her job – and the creepy things guys have said to her. She told The Sun:
"You think you've seen it all but then things just keep coming. I still get shocked every week by something someone says or asks me to do on camera. Every time you think you've dealt with everything someone says something and you think 'God, I haven't heard that one before'. On the other hand, sometimes I hear things and I don't even bat an eyelid – but then I say some of them to my friends who aren't in the industry and they are shocked. They think my job is really weird and in fairness there are a lot of odd things. And sometimes things get a bit too close to home – like when she meets fans outside of work."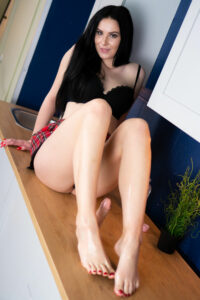 She explained:
"I was in ASDA the other day and later that day I went on Cams and I got a message saying 'were you in ASDA earlier'. I said 'ehhh yeah?' It was weird because they didn't come up to me in person but later on they messaged me. It is sort of scary sometimes because obviously we talk to so many men all of the time and you don't really know who they are, but they know what you look like. Like with the ASDA thing, I thought 'that guy saw me in the shop and knew me and I didn't even know he was there.' You think 'oh god, anyone could just follow you home or whatever'. But obviously everyone at Babestation is very good at taking care of us."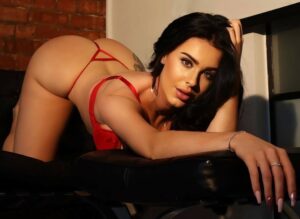 Amber Paige loves stripping off on Babestation and taking naughty pictures and videos for the VIP members area but her favourite thing to do is to put on a nude / topless show on Pervcam or to C2C with a caller on webcam. Amber has been working at Babestation for two years – but she reveals that her parents were pretty shocked at first when she first told them about her spicy career. She explained:
"I just thought well I'll give it a go while I have spare time and if I don't like it I can always leave. I was a restaurant manager and then I left to do this. My friends weren't very shocked but my family very much were. I think they were shocked because I had finished my education and I had gotten this great position in a restaurant. But now they're supportive. They're just happy as long as I'm safe and happy. That's the main thing."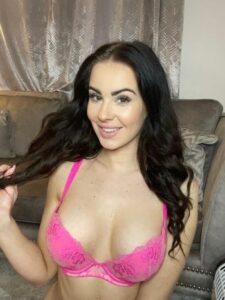 Amber is one of our top cam girls and her shows offer variety and spice. If you're looking for a sexy brunette 22-year-old with perfect tits and a big ass, you'll struggle to contain your excitement when you see Amber Paige. She loves to cater to your British porn fantasies and she enjoys teasing her pussy whilst she participates in a steamy sexting session with you. If you want to see for yourself, come and play with Amber on cam or check out Amber Paige videos or see her on Babenation and Babestation Tube.