I recently uncovered Amanda Rendall's very first Babestation interview which was shot shortly after she joined the live babeshows and I was immediately drawn into the rabbit hole that is Miss Rendall. I now encourage you to come along for the ride down the rabbit hole with me.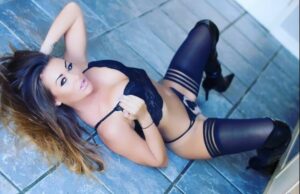 It all began in 2005 when the brunette Scottish sex siren had just made her debut appearance on the babe channels. She had real stage presence and a playful yet mischievous personality that sucked you in. Her confidence was loud and alluring yet but she wasn't arrogant. Standing at just 5ft tall, Amanda Rendall had a petite curvy figure and 34DD natural tits that were the perfect handful. She was one of the tiniest models on Babestation but she sure did pack a punch, figuratively speaking. She radiated raw unadulterated sex appeal and she didn't take much convincing to get topless and nude on screen. In fact there were many pre-watershed near misses when Amanda was on screen back in those early days on freeview and Sky TV. She would often appear on live TV wearing the smallest thong known to man and show off her gymnastic skills by putting her legs behind her head. I'm sure you can guess what happened next. Yup, you guessed it – a pussy slip usually followed. Amanda's daredevil nature and energetic XXX phonesex sections made her a fan favourite and it wasn't long after her entry to the industry that Amanda was put on Babestation's premium channel at prime time.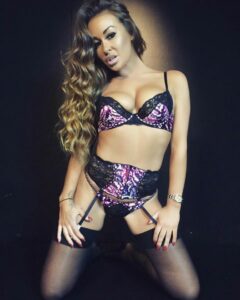 During her first interview, Amanda reveals her biggest sexual fantasy:
"I'd love to go to a swingers party with my friends and sleep with as many men as I can knowing I'm never going to see them again. I don't know if it will ever come true but here's hoping…"
She also spills the beans on her first ever threesome experience:
"When I was 18 I had a threesome with two girls. It was really good. It was one of those drunken nights when I was a bit wild. Not that I'm not wild anymore…"
Don't miss your chance to watch Amanda Rendall earliest known intervew.
Fast forward to 2021 and Amanda Rendall is still the iconic babeshows legend and glamour powerhouse. She recently starred in the Channel 5 documentary, 'Porn Stars: Our Secret World' where she discusses her life as a top British pornstar. It's safe to say she never lost her edge. She has starred in multiple girl-girl and boy-girl porn scenes for BSX and during private cam shows where her cock sucking blowjob skills are other worldly. She has catered to many porn genres including feet worship, humiliation, domination, lesbian, deepthroat, anal teasing and squirting. When Amanda Rendall steps in front of the camera, whether on Babestation, Pervcam on webcam, she becomes a sexual deviant and she can take on the role of any character you want. She loves to play with large toys and she adores fucking her tight wet pussy with a dildo. Take Amanda Rendall private on cam or browse her X-rated picture and video galleries in the VIP members area.