Sex Mishap Story
Japanese man almost masturbates himself to death
A 51-year-old dude in Japan almost wanked himself to death according to a medical case report. The unnamed man was a keen masturbator until it nearly killed him last year when he suffered a stroke just minutes after blowing his load. Doctors said that the kind of stroke the guy suffered is often one triggered by having sex or vigorous coughing, although in this case it was tugging himself off.
The man said he was instantly struck down with agonising 'thunderclap' headaches after he ejaculated, which was followed by bouts of vomiting and dizziness. Thankfully he took himself off to the hospital where a CT scan showed that the man had a bleed on his brain known as a subarachnoid haemorrhage – a life-threatening type of stroke that was caused by a blood vessel in his brain rupturing.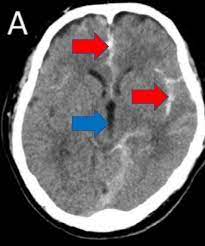 The white stuff you can see in the CT scan next to the red arrows is fresh blood and definitely shouldn't be there. Doctors also noticed that the man had low blood pressure and was disoriented – which are two of the biggest tell-tale signs of a stroke. Dr Masahiro Oomura who treated the man offered no explanation as to why the guy may have suffered a stroke from masturbating but simply said it could be caused by physical exertion.
Thankfully the man survived his ordeal, and was discharged from hospital after nearly two weeks. I hope it hasn't put him off wanking. Apparently this type of thing isn't too uncommon and is mostly seen in people aged between 45 and 70. Taking drugs like Viagra or cocaine during sex can also increase the risk of having this type of stroke so it is advised to go au natural in the bedroom and not rely on stimulants.
Our babes are all the stimulation you need so if you need a bit of fun to satisfy your needs call or of our babes on Babestation TV or head to Babestation Cams for an intimate one on one session with lots of topless and nude XXX porn fun!  Send in your buzzes and tips and you could reach the top of your babe's leaderboard and become king of the day!.