A woman known only as Phoebe has spoken about the time she found out she was a kinky minx after she invited another girl into the bedroom with her and her husband, so she could watch the other woman have sex with him. Phoebe revealed that she had always had XXX fantasies about other women fucking her husband. However she didn't think she would ever do it for real for fear of being jealous but after her sex life took a nose dive, Phoebe decided it was time to take action.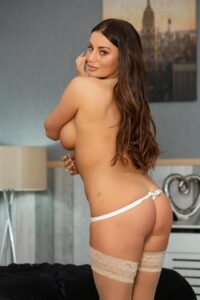 40-year-old Phoebe recalled how she had previously been married and had a "very vanilla" sex life before she met her current boyfriend. She confessed to her husband one night that she thought she might be interested in girls – and he encouraged her to experiment with her sexuality. On the anonymous podcast, Phoebe goes into detail about how, rather than finding hot women to play with on her own, she started searching for women that the couple could play with together. They joined a few dating apps and began searching for potential women to have a threesome with. Phoebe then started fantasizing about being tied up and being forced to watch her husband have sex with another woman right in front of her. The thought made Phoebe so horny that every time her and her husband would discuss it, they would end up having hot sex. Phoebe said on the podcast:
"One day, I told him that I had this fantasy to be tied up and watch him have sex with a girl in front of me. We had at that point a girl that we'd played with a couple of times, that I felt very comfortable with and was completely smitten by, and we made it happen.
I wanted to be tied up because, firstly, I think the whole bondage thing looks hot, but then I said 'I need to be tied up or else I'm just going to get involved. 'There's just no way I'm going to be able to keep my hands to myself'."
You're probably wondering how the heck someone can watch their partner have sex with
someone else and not get jealous but Phoebe admitted that these hot encounters never make her feel jealous. She said:
"When I have those jealous feelings, it's not that I'm feeling like he wants them more. It's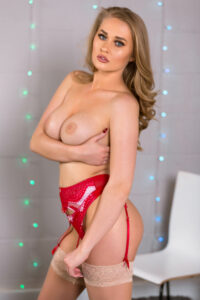 just I want it, I'm being selfishly jealous in a way."
Phoebe enjoyed the experience so much that she now wants to experiment further and watch her current partner have a threesome with other women. She added: "That would be my ultimate porn fantasy".
Wow! That's certainly a hot & steamy sex fantasy. If you fancy getting some of that porn action yourself and explore your kinky side with BDSM, restraint, bondage or to have a hot threesome, our babes are more than willing, and they are often inviting sexy friends over to play with on cam. Stay updated with shows and appearances via the Babestation Twitter account or browse BS Cams for a smoking hot babe!
Twitter: @BabestationTV @BabestationCams