Saskia Jade is a brunette glamour model, fitness model and live babeshow star who loves to talk dirty to callers on TV and webcam. Having appeared on Studio 66 and Babestation daytime, Saskia is an expert at phonesex and knows all the tricks to get you turned on and leave you feeling satisfied. With a curvy hourglass figure and perfect natural tits, Saskia has a classic model look and has been compared to models such as Lucy Pinder and Kelly Brook. For topless and nude action check out her sections on the babeshows or take a peek at her Pervcam for a glimpse of her oiled up naked curves and shaved pussy.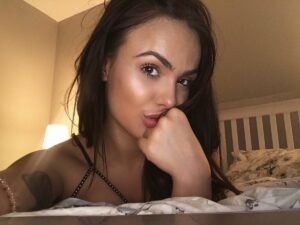 Saskia Jade has appeared in several mainstream media outlets as well as being interviewed by the popular lifestyle blog, Refinery 29 for the companies' sex and relationship section.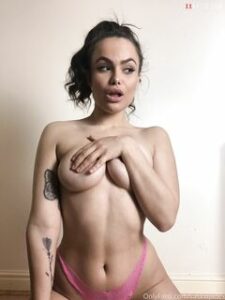 During the interview Saskia revealed what it was really like being a cam girl and opened up about her earning and themed shows she performs. Saskia revealed that she was first introduced to the world of cam after a friend told her she could make money alongside her gig on the babe channels. Saskia says she can earn anywhere between £4000 and £8000 a month just by appearing on cams. That doesn't take into account her other incomes including the babeshows and fitness / lingerie modelling.  When asked about what the most common request is from callers Saskia Jade says that she typically gets asked to strip topless or naked and wank using either her fingers or a dildo whilst the caller watches and pleasures himself or herself. When Refinery 29 asked Saskia what was the most crazy request she has ever received she revealed that a guy once asked her to piss down her legs, to which she politely declined as she isn't a fan of watersports. Although she isn't into water sports Saskia did say she is up for most other things including oil / shower shows, fingering, pussy play, spanking, JOI, bondage, humiliation and foot worship.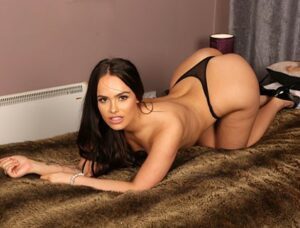 When asked if Saskia Jade ever gets horny after appearing on Cam / Babeshows / Pervcam, she said that she often comes off cam being super horny and needing some dick. She did reveal that she does sometimes have real orgasms on cam but sadly not everyone knows how to please a woman but luckily Saskia is on hand to coach you and give you the tips and advice should you need it so you can be the ultimate UK porn king and please your woman or tinder hookup. Whether you're looking for advice about anal, pussy play or how to make a woman squirt – Saskia is here to help!
Check out Saskia's hottest pics and vids in the Babestation VIP members area: https://www.babestation.tv/vip
Cam with Saskia Jade: https://babestationcams.com/performer/saskia-jade