When looking for the right porn it can be a confusing and frustrating experience, searching through mountains of links and pages coming at you from all angles.  So if you'd like to streamline your experience when you delve into the world of adult entertainment whether you want to keep up to date on the latest wheelings and dealings of the industry or just want to locate a specific genre you have a hankering for, we're here to offer our list of the top porn blogs.  The best examples can break down the information and options into easily navigable categories, making the user experience and therefore the overall outcome as stress-free and enjoyable as possible.
1 – Naughtyblog.Org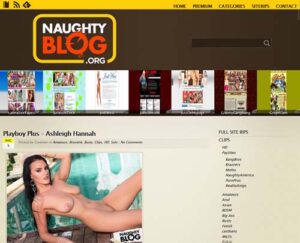 If you're looking for a place where you can download free porn videos in 1080p HD quality. Then look no further than the first porn blog on our list, Naughtyblog.Org.  It organises it's porn content into clips, movies, pornstars and full site rips.  And the site's authors have also made lists of the most popular catagories to help you find what you're looking for, from amateur to blow job to interracial.  It also features some niche pleasure like Euro babes, threesomes and fetish.  When you find the scene you want to download you simply click the designated link and you'll be redirected to one of the hosting websites like keep2share.
2 – Erohut.com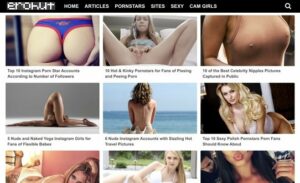 Erohut lists a huge amount of top porn stars and porn sites.  It is easily supported on mobile phones and has a clean, easy to use website with no annoying pop-up ads to click through.  As soon as you land on the page you are off to the races with everything set out in simply categories, with appealing images to help you understand what you are getting in to.  Erohut is probably the simplest porn blog we've reviewed so far, both here and on our other porn blog post on babestation.tv.  If you can't find what you're looking for immediately on landing on the page, you can always search in the search bar at the top of the page or choose from the separate categories that the page is set out in, namely: Pornstars, Sexy, Sites, Articles, Cam Girl or Contact.
3 – Boobieblog.com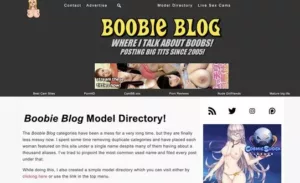 'Posting big tits since 2005'.  While Boobieblog sets it's stall out early and with obvious enthusiasm for all things boobie, it's not just boobs you'll find on this porn blog.  They also include links to sites containing all kinds of different niches and categories from teen to anime to sex doll to sex machine to name but a few.  However if it is tits you'll be wanting you really couldn't have come to a better place.  With millions of boob related vids and pics in loads of sub-categories to narrow down your booby search from mature big tits, big black tits and the porn discount boobs.  Not only that but a useful directory of busty pornstars so you can find your favourite babe easily.
4 – LeTagParfait.com
Don't let the Frenchness of the name put you off, you can easily switch the page to the English translated version and when you do, you'll be glad you did.  What you'll find from this porn blog is an elegant, modern, avant garde selection of news articles, topics and catagories that represent porn as art, porn as culture and delves into the underground, non-mainstream aspects of porn.  With 'gifs of the week', interviews with performers and purveyors of all things sexy, shocking or taboo and a live sex cams link directing you to a wide range of webcamming options organised by age groups, region and genders.
5 – Alrincon.com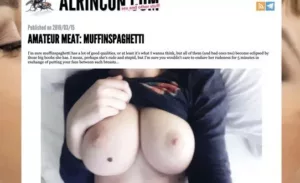 To say that Alrincon has a lot to offer is something of an understatement.  HD quality videos featuring an array of European porn stars; a sex shop with every kind of sex toy and apparel imaginable; blogs, porn star directories, recommended site links and live sex cam links; not to mention a large amount of non-porn videos too, everything from fail vids to funny stunts and back to.  The downside with all this choice is it can make the page look a bit busy so navigating to what you want to see can take a bit longer.  However the vids and pics they use are eye catching and intriguing enough that spending a little bit of time browsing will more often than not yield interesting and attractive results.
More Great Blogs