Babestation model and cam girl, Megan Rox, opened up to The Sun about what it's REALLY like to strip on TV. Last year, 26-year-old Megan Rox, was working in palliative care where she would wear loose fitting scrubs and trainers. She provided care for patients during the pandemic who were near death or who had life-limiting illnesses but were unable to meet their relatives due to self-isolation regulations.
After a particularly stressful day at work, Megan logged into her Instagram account only to discover a job offer from Babestation. She jumped at the chance and she soon traded in her carers uniform for suspenders and a thong. The Birmingham-based pervcam model now shares a realistic account of life in front of the babe channel camera. She told The Sun: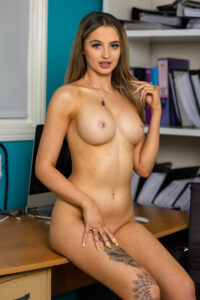 "It really has changed my life. Working as a carer during the pandemic was a lot. I went through a lot. Now I make a lot more money and I can support myself. I was on minimum wage as a carer. Now I make commission from each call and get paid for cam work too. I've been able to get myself a car which is nice."
Speaking about how her friends and family dealt with the news on her career change, Megan Rox said:
"Obviously, when I switched from working as a carer to Babestation my parents were a bit shocked but my friends were really supportive."
Megan mainly works on the nighttime show where she enjoys stripping nude on TV and for pics and video content between the hours of 8pm to 4am. She likes talking to horny guys and having hot phonesex. When asked what sort of adult phone chat calls she receives on the babeshow, Megan explained:
"You get typical sexual calls but then you get a lot of calls with people who just fancy a chat. I get a lot of people who call up and they're just a bit lonely and want to hear someone else's voice. I get a lot of regulars who come back again and again so you do make relationships with these people. They're just a bit lonely or just want a bit of contact. They'll talk about normal things, its not all sexual stuff. We obviously do get a lot of weird calls and requests but at this stage, it feels like I've seen it all."
Megan Rox continued:
"I don't think there's anything that could phase me anymore. We get people who call up with all sorts of fetishes, lots of foot fetishes. At the beginning I thought it was just going to be older guys but it really is everyone of all ages."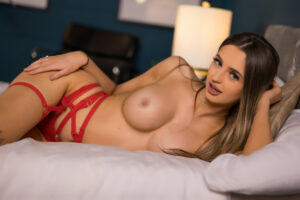 It's not only men and fans of British porn stars who call Megan for naughty phonesex, she also gets female callers and couples who want to spice up their relationship. Megan loves chatting to hot couples! Despite all the XXX calls Megan receives on a daily basis, she insists she is still single and says that when the time comes where she wants to date again, it's paramount that the guy fully accepts her career. She said:
"I did get recognised once when I was in nightclub. A guy came up to me and said 'I know you from the telly'. At the start I was embarrassed but you just have to own it really.
I don't have a boyfriend at the moment. I would never get together with anyone who doesn't like what I do. If I go out with someone they've got to like all of the parts of me."
We wholeheartedly agree!
Megan Rox is the Babe Of The Month for July 2022 and she'll be slashing the price of her webcam shows when she joins with her friends Amber Paige and April Mae.  So keep an eye out for that!