Who wants a filthy encounter with Babestation live presenter Lucia Maria? Well what are you waiting for? Come and experience all the British porn action Babestation online cams has to offer by browsing the girl's individual profile pages. But first, let's delve into who Lucia Maria is and how she came to be top of the leaderboard in the babe channel industry.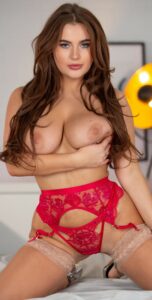 From dental nurse to naughty nurse 
Did you know that Lucia Maria is a former dental nurse? Petite Lucia Maria began a camming side hustle alongside her dentistry career but when her nude cam earnings surpassed her day job, she debated quitting her job as a dental nurse and concentrating on cam work full-time. However, her boss got there first after discovering Lucia's spicy side hustle. Lucia Maria revealed that her boss confronted her with the topless nude model photos and pressured her to quit her side gig. Lucia explained:
"He said it was unprofessional and said I can either carry on working there or I can leave to do this. He said if I didn't stop I would have to leave. I told him I was going to go and Babestation picked me up and since then I have been really happy doing what I do and I have made a really good career for myself. I earn more money than the dentist now. But I was shocked it had been found and I was even more shocked that I was faced with that big decision. I was glad I chose what I did because it was right before lockdown Babestation just found me and it was a bit like fate."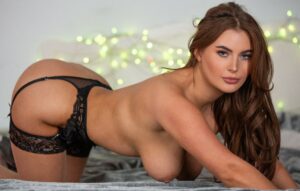 Speaking to Daily Star about being sacked over page 3, Lucia said:
"It is literally the best decision I have ever made. I wouldn't be at this stage of life now otherwise. My life would look very different. I am now doing better than him and I drive past there all the time and I wave and am like 'ha ha'. They are all still the same people working there. The money and freedom I have now is amazing and everything turned out good for me. It is a shame I couldn't do both but ultimately I made the right call."
Lucia Maria joined Babestation TV when Babenation noticed Lucia was growing increasingly popular on the Babestation adult cams platform. Babestation bosses invited Lucia to appear on the babestation daytime babeshow where she quickly gained a devoted fan base with her striking good looks and big tits. She offers incredibly explicit hardcore phone sex despite being on the daytime show, where she caters to all kinds of porn phone sex fantasies, such as foot fetish phone sex, BDSM, dominant phone sex, JOI, Swingers phone sex and nude pervcam displays. She has even collaborated with other babestation babes adult work porn models for girl on girl tease shoots.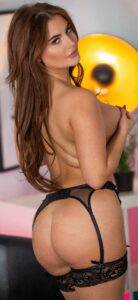 Amazonian Charlie and Petite Lucia Maria 
One of Lucia Maria's most popular picture shoots is a naughty college girl shoot with leggy babeshow star, Amazonian Charlie. Charlie is a 6ft 5inch tall glamour model who took the British sex cam world by storm when she joined BS Cams in 2022. Having been bullied for her height when she was younger, Amazonian Charlie is now embracing her height by posting giant themed pictures on adult work independent and Onlyfans and shooting X-Rated videos for Babestation's VIP members area as well as her own adult work videos. The picture's Amazonian Charlie and Lucia Maria took for Babestation show the huge height difference between the two brunette phone sex babes and highlights Lucia Maria's petite physique.
What can you expect from Lucia on Babestationcams.com?
Lucia Maria is a naughty babestation girl next door performer with the sex appeal of a British porn star. Take her private on BS porn cams for C2C nude filth and 36p phone sex fucking roleplay fantasies. This babe will tempt you with naked oil shows and live pussy teasing. From private one-on-one sessions to group shows with other models, Lucia did a sexy lesbian show with hot blonde April Mae. Lucia loves to show off her natural big tits and sexy big ass.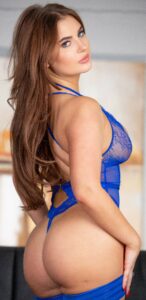 If you'd like to watch Lucia Maria Babestation videos in full, check out the Babestation VIP Members Area! as well as Nude videos pussy play show porn adult work videos
Don't miss the chance to experience Babestation's finest online babes – sign up to Babestationcams.com today!